Mexican ambassador: U.S. perception of Mexico needs to change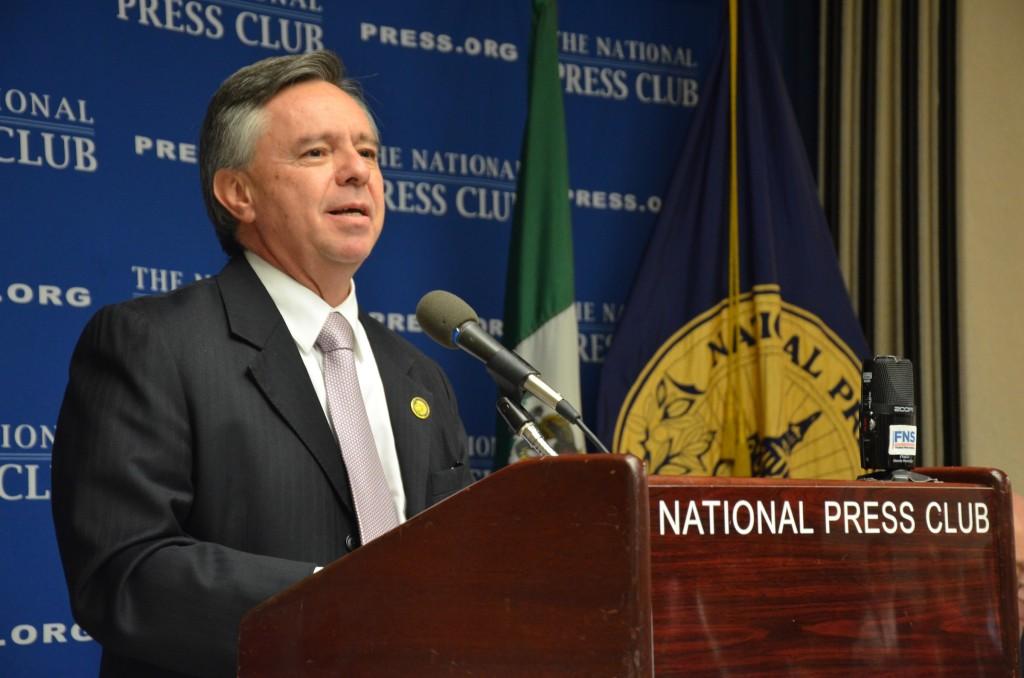 Andrés Rodriguez, SHFWire Reporter
September 13, 2013
WASHINGTON – Mexican actor Demian Bichir has played a gardener and a drug dealer, two professions that Mexico's ambassador to the U.S. said Friday need to stop being linked to his country.
"Mexicans in the silver screen are usually portrayed as poor and uneducated at best, corrupt and violent at worst," Ambassador Eduardo Medina Mora said at press conference at the National Press Club.
Bichir was nominated for an Oscar for "A Better Life," in which he played a gardener in East Los Angeles.
Medina Mora brought up Brazilian news reports that the National Security Agency had spied on the personal communications of leaders in Brazil and Mexico.
He said President Barack Obama and Mexican President Enrique Peña Nieto spoke about this during the G20 summit in St. Petersburg, Russia, but  Mexican leaders are awaiting word on the details of a possible investigation by the U.S.
Medina Mora was appointed to the ambassador's job in January. He said that so far he has seen three public policy areas that need to be addressed: advancing trade competitiveness of both countries, migration and Mexico's reputation in the U.S.
"Cinema is not just a manifestation of the attitudes of society, it also reinforces and perpetrates those attitudes. So when movies continually stereotype Mexicans as a certain kind of people, the American public, which consume those types of movies, will inevitably be influenced by them," Medina Mora said.
"Confronting the complexity of any nation is a daunting task, and broad generalizations of nationalities can be entertaining and even informative at times," he said.
But making decisions based on those stereotypes, leads to problems, he said.
The ambassador, who served as Mexico's attorney general from 2007 to 2009, did not deny the existence of gardeners and drug dealers in the country, but maintained that they are overrepresented in film and do not represent the true demographics of Mexico.
Of Mexicans portrayed as drug dealers he said, "It is not only racist, it is totally wrong."
He cited the rise of the middle class in Mexico, from 38.4 percent in 2000 to 42.4 percent in 2010, according to the country's statistics and geography institute, and the tripling of the country's gross domestic product and students pursuing a higher education.
"I'm still eagerly waiting for the movie where Salma Hayek plays a Nobel Prize-winning chemist that teaches young Americans to create new forms of alternative energy," he said.
Hayek was nominated for an Oscar for "Frida" in 2002 and was executive producer for the TV show "Ugly Betty."
He said that advancing competitiveness in the shared economic space of both countries is important to the economic growth of both. Mexico is soon to surpass Canada as the largest importer of goods to the U.S., he said.
"Mexico and the United States compete together as one unit in the global economy," Mora Medina said, noting that NAFTA is often misunderstood. "The United States and Mexico as well as Canada build these things together."
Imports from Mexico have on average 40 percent U.S. content, imports from Canada have 25 percent and imports from China have 4 percent, according to the National Bureau of Economic Research.
He called on the audience to think of Mexico through a lens other than Hollywood's.
"The next time you see one of those movies, like 'From Dusk Till Dawn,' where the characters who cross into Mexico enter a dusty barren land just this side of purgatory, please remember, that 10 cities in Mexico are World Heritage Sites, remember that we are one of the most biodiverse countries in the world, remember that most real Mexicans live in urban areas and have more in common with people in L.A. or New York than they do with people in the backwater village of Hollywood."
Reach Andrés Rodriguez at [email protected] or 202-326-9871.