UTEP librarian to showcase his works at the El Paso Museum of Art
Local art collector and UTEP librarian, Juan A. Sandoval II, will be exhibiting his work: "An Expansive Regard: Selected Works from the Collection of Juan Sandoval" at the Gateway Gallery at the El Paso Museum of Art. He will showcase more than 100 pieces of art he has gathered from other artists throughout the years.
The exhibit focuses on the human figure, whose distortions, surroundings, or groupings with other bodies imply uncanny narratives, which mark the collecting pursuits of Sandoval.
Sandoval collected hundreds of pieces of art from different media as well as different cultures.
His collection extends from  150 autographs by Mexican and Mexican-American writers and artists to prints, photographs, paintings, sculptures and pottery from different areas of México, specifically Oaxaca, El Paso, Russia and Poland.
Some of the artists represented in his collection are Manuel Acosta, Marta Arat, Francisco Delgado, Luis Jiménez (with approximately 50 of his pieces) and Mauricio Olague. Many of the works in his collection are by artists he knows or knew personally.
Sandoval began collecting as a young boy. He started with a rock collection in his hometown of Monte Vista in Colorado's San Luis Valley. Since then, his curiosity developed into what remains as Sandoval's singular passion for discovering new treasures and he has made this a part of his life.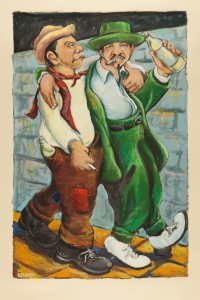 Sandoval earned his master's degree in library and information science from Denver University in 1975, and since the early 1980s, he has worked at the UTEP Library
Sandoval serves as a reference librarian and a subject specialist in art and Chicano studies. He also works closely with the departments of African-American Studies and Asian Studies, which show their influence in his collections.
His exhibition free to the public beginning on Sept. 22 from noon to 5 p.m. and will run until Feb. 17, 2014.
Museum hours are Tuesdays through Saturdays from 9 a.m. to 5 p.m., Thursday evenings hours are extended until 9 p.m., and Sundays from noon to 5 p.m.
Parking is available at the Convention Center, Camino Real Hotel,and Mills Plaza Parking Garage for a small fee. Limited metered parking is available on Main Street.  Free-metered parking on Saturdays and Sundays.
El Paso Art Museum is located at 1 Arts Festival Plz, El Paso, TX 79901.
Leonardo Montañez may be reached at [email protected]