The next big thing finally arrives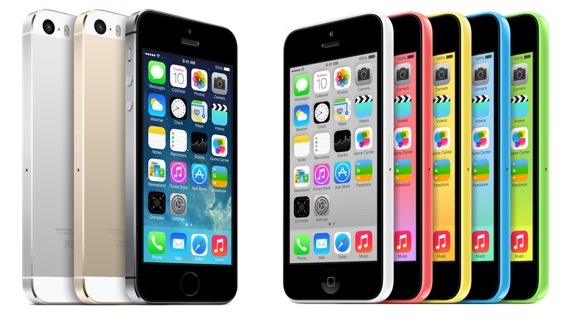 Apple has predictably launched its new iPhone nearing the final quarter of the year. Breaking tradition though, they have released twins, the iPhone 5c and iPhone 5s.
Both have been speculated in forums, but speculations are usually followed by disappointment. Each device shines in it's respective abilities, one is smart and one is sexy. You can decide for yourself which is which.
The IPhone 5c
The iPhone 5c is more than just a new phone for Apple. Besides the MacBook Air, Apple has finally made the move to affordable smartphones. Elitism being one of the most common critiques of the company, this is definitely a strange move.
With a contract, this phone sells for $199 for the 32 GB and $99 for the 16 GB. Considering what this phone can do, that's more than a healthy price for anybody's budget.
First and foremost, the body has been rebooted. It now has a plastic body with a steel reinforcement, which gives a sturdier support and feel. This plastic cover comes in five different colors. This is a refreshing twist to the black and white menu.
You should know the A6 chip, which processes information, is the same as last year's model, so there was no update there. The 5c still boasts an impressive 10 hour web browsing, talk and video playback time.
As far as connectivity, the 5c contains 13 LTE bands. This increase in bands means more LTE coverage around the world. So while you aren't getting faster download speeds than LTE, it does broaden how much LTE coverage you get. With more LTE coverage, you have less chances of dropping back down to 4G networks.
Including the bands and body, this model is only a modestly revamped version of the previous iPhone 5. It can't be emphasized enough that the price has a significant drop while still future-proofing your phone.
The IPhone 5s
The iPhone 5s is where the standard has been raised for Apple.
After the passing of Steve Jobs, new CEO Tim Cook has been under fire for a lack of innovation that Jobs was famous for. This is the phone that Cook brought out in response.
Like the 5c, the 5s has ditched its black and white body and opted for silver, space gray and gold frames. A change in color scheme doesn't seem big, but for a company that has been running black and white since 2006, it's worth noting.
Where we really see something new is the hardware assigned to the phone. The A7 chip, which is an upgrade from the previous A6, boasts twice the CPU and GPU, meaning a faster processing of data and faster graphics to keep up with your games.
Apple has added the M7, which serves as coprocessor that takes on the duties of the accelerometer, gyroscope and compass.
Because of this dual processing, the iPhone can do what no other smartphone has been able to do, a 64 bit OS. This phone is essentially outputting the same power as a desktop computer. With the new iO7—that was built to support 64-bits—this phone will fly through tasks and give a better graphic performance.
Another big feature is the new home key. This button, aside from managing just about every function of the iPhone, now comes with fingerprint identification. Aside from the typical locking, your phone now only opens upon recognizing your fingerprint. Furthermore, you can even set it to recognize friends' and families' as well. It's a new level of security that will open many doors
Finally, the camera is also seeing plenty of upgrades. The camera itself receives the same 8 MP as before, but what has changed is an increase in the size of the lens sensor. While big MP numbers seem impressive, if your lens sensor doesn't have the size to compliment it, it means very little in quality. Essentially, your camera will be taking cleaner, clearer pictures than if it had a large MP with a small sensor.
The camera has a new flash as well. The True Tone flash—a white LED and an amber LED—balances your night-time pictures to appear warmer and essentially more natural.
Burst mode in photos, live video zoom, slow motion capture and eight new photo filters make you the professional photographer you want to be.
Coming from a time where small upgrades were the norm, iPhone 5s has out-done itself by leaps and bounds. The iPhone 5c is a cheaper alternative with a new colorful disposition and offers an affordably fun upgrade. Either way, Apple has finally stepped up to the innovative standard it set with the world's first smartphone.
Jaime Quesada may be reached at [email protected].