White House officials visit UTEP as part of the Hispanic education tour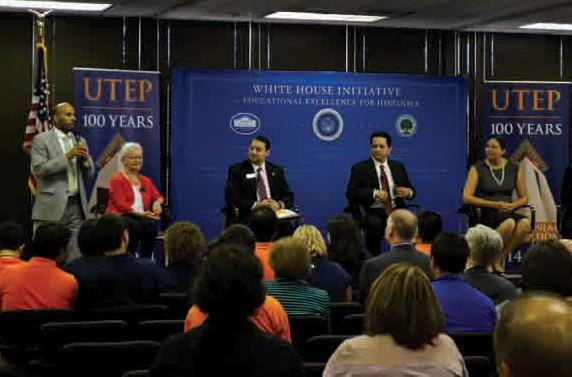 A town hall meeting on the White House's efforts to increase Hispanic education in science and math, or STEM fields, was held Friday afternoon at the Tomås Rivera Conference Center and was open for UTEP students, staff and faculty and local school district officials to attend.
UTEP was one of the few border schools visited by the initiative with their back-to-school tour, which traveled throughout the Southern United States. This initiative invited the community and encouraged their feedback concerning education for Hispanics.
White House representatives said El Paso was an area of interest for the tour because of the Hispanic population and recent work in STEM research.
Alejandra Ceja, executive director for the initiative, said officials will be in El Paso next Tuesday and that this would not be a one-time visit.
"People used to say that UTEP was Harvard on the border and they did that as a joke; well, now we are bordering Harvard," said UTEP President Diana Natalicio.
The percentage of Hispanic students in STEM fields at UTEP was unavailable, but El Paso Community College President William Serrata said that Hispanics currently make up 85 percent of STEM students at the college.
Key leaders agree that the way to began a change in education has to start in early education to motivate students to attend a university.
Ceja said that the White House is fighting to keep the interest rate for student loans at 3.4 percent.
Attendees voiced concerns about loan rates and wondered if President Barack Obama was going to affect financial aid for students.
Marco Davis, deputy director of the initiative, said that they will be taking the synergy that exists between the local K-12 system, EPCC and UTEP and try to apply it in other places.
Members of the LIMBS group, a prosthetics development project at UTEP, attended this meeting.
"UTEP is very involved in the community and it's a big difference from other schools," said Cesar Cantu, a masters student in mechanical engineering and member of the LIMBS group.
Even though Rep. Beto O'Rourke (D-Texas) was not able to attend, Esteban Terrazas, district representative for his office, sat in his place.
"Ultimately, it's unfortunate that sometimes the border region get's demonized," he said. "One thing that my boss (O'Rourke) has always tried to encourage folks in Congress is to try to remember that people on the border represent the constituency of the United States as a whole."
Flor Flores may me reached at [email protected].