Artist Guild to host inaugural event
The El Paso Artist Guild, a non-profit, will be hosting an inaugural exhibition to raise money and awareness of their organization. The guild is dedicated to helping artists and musicians find affordable health care.
The show will feature art and live music at 7 p.m. on Sept. 27 at the Spine and Rehab Specialists on Edgemere.
"This is our first event," said  Greg Sosa, EPAG organizer. "We're really trying to bring the community in."
Sosa said that musicians and artists frequently do not have health insurance.  He hopes that EPAG will help the creative community network with medical professionals who will provide discounted rates to members.
Membership requirements for the guild are still being finalized. Sosa said that they want to  extend standards to include individuals who provide support for community arts such as sound operators, lighting technicians and art curatorial staff.
EPAG's creation was inspired by Eric Salas, a local drummer and painter who died in January after fighting a particularly aggressive form of brain cancer.  Salas did not have health insurance, leaving his family with a pile of bills.
Four regional artists will be featured at an art sale during the event. One of the artists will be Fran Santelli, UTEP alumna.
Catering will be provided by Elouise.  The evening will have jazz performances by Crosstown Trio and Pancho Anguino.
Admission is free. Some proceeds from art sales will benefit the El Paso Artist Guild.
For more information contact Laura Apodaca at 562-8525 or [email protected].
S. David Ramirez may be reached [email protected]
About the Writer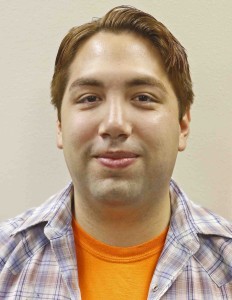 S. David Ramirez, Staff Reporter
S. David Ramirez is currently an English and American Literature major wrapping up his final year at UTEP.

He has written for the Lakefront, the Thing...