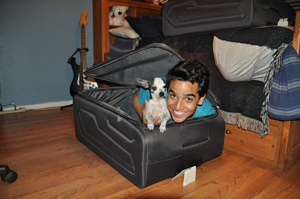 I'm currently taking applications for anyone interested in traveling in a 32'' bag for eight hours to London. Well, if only. But really, I can fit a person and a chihuahua dog in one of my suitcases.
Manchas and I do fit in one suitcase comfortably.
The time has arrived for me to pack two suitcases with a four-month supply of clothing and toiletries. Not the easiest task, but it has been completed. It turns out I'm quite good at packing since I was able to fit it all in a carry-on and just take up ¼ of the check-in bag. That 32″ bag you see in the picture is practically empty, which will be beneficial once I purchase a whole lot of souvenirs and have no place to put them.
As much as I stressed over packing, I don't think it was as hard as letting go of my editorial position at the newspaper, or my other job, which paid the few bills I have (had).  The worst, however, was saying goodbye to everyone I love at home. Sure, the trip is temporary, but it feels like the beginning of the rest of my life. Going in and out of my hometown just for the holidays and such. Upon completing my term in London I will be departing again to an internship, hopefully. Once that is completed, I will graduate and then my life really does begin.
That's a year away, though. I shouldn't be stressing over that and I won't. I need to be thinking of all the great things I will see and experience once in London and neighboring countries as well.
My list of countries to visit so far include Ireland, Spain, Italy, France and Scotland. More may be added to the list, but all that will depend on my budget.
He really wanted to come with me.
Wish I could take this little guy with me on all my adventures. We would be like Tintin and Snowy from "The Adventures of Tintin," except my dog's name would be a bit more uncommon. You don't necessarily hear dogs with the name Manchas.
I finish this blog as I sit waiting for my flight. Seeing strangers makes me think of how I will start a whole new life in London. No one knows me and I don't know anyone. It's a perfect time to start an adventure and meet new people. I'll get to know cultures, gain a new set of knowledge and humble myself a bit more. Slowly but surely I'll be able to mark off each country I've visited. London can now be marked off…
-This blog was previously published on the AIFSabroad website. See more at: http://blog.aifsabroad.com/alumnus/someone-fits-in-my-luggage/#sthash.5F7ZXVNS.