Zombies take over El Paso
On a late August evening, locals at the Grocery Gallery were having a night out listening to some local bands when a small drove of zombies slowly made their way from across the street into the unsuspecting venue.
"We announced this year's EPCON only a week after the season finale of Walking Dead," EPCON organizer Julian Lawler said. "We knew immediately that a zombie crawl was something was fun and had to be done."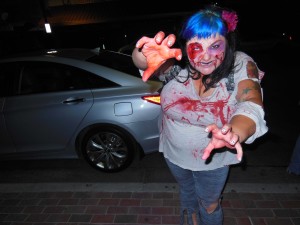 The horde of zombies coming together wasn't the infection men and boys alike dream of, but actually an effort to promote EPCON, an annual comic book convention, to promote this year's event.  With  zombies being the 2013 theme, EPCON will bring special guest stars such as Michael Rooker, Irone Singleton, Anthony Guajardo from the AMC hit show "The Walking Dead."
"I saw them coming from down the street and I just couldn't stop staring," UTEP alumn Sunny Duran said. " You could see the zombies walk and gran towards the Grocery Gallery located on the corner of the street."
The Zombie Crawl began at 7:30 p.m., with individuals meeting at the restaurant called La Huerta in the patio area located at the Camino Real hotel. Many individuals showed up in full costume and make up although EPCON still hired make up artists to give individuals a more than convincing zombie flare. Surprisingly, it is a very 'do it yourself' process that can be done with mostly household products.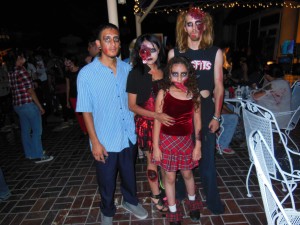 "To make burn marks or skin decomposition, we just use cotton balls or toilet paper that has been wet, painted and then dried again," make-up artist NIck Mendoza said.
At La Huerta, the zombies kept amassing for the following hour and half. However, what made the scene more odd than having zombies at a restaurant, was that the patio was being shared by another event. That same night Last Thursdays was being hosted where artisans from around El Paso get to showcase their work.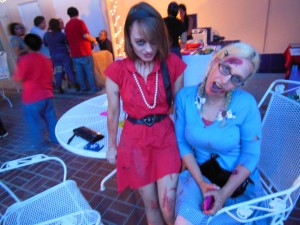 "Dressing up as zombies these days doesn't come off as too strange," Brittney Dean said. "I along with my sister dressed up as zombies by ourselves, we plan to show to the EPCON this year dressed as Harley Quinn and Poison Ivy."
The horde was led by Joseph Paz who studied automotive engineering at EPCC. They left for the Grocery at 8:45 obeying all traffic laws when crossing streets as zombies are known to do. From the Gallery they went to loft light studio where the zombies crashed an art show.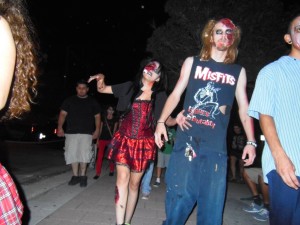 Overall, the zombies were surprisingly comically conscientious of themselves. They waited at red lights, before crossing streets and left the Loft Light when asked. This was a successful event that definitely let El Paso know that EPCON was coming back.
Jaime Quesada may be reached at [email protected].