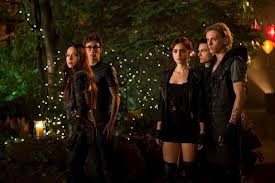 Playing off the trend of teen paranormal romance, "City of Bones" attempts to establish itself as the next must-see franchise.  Fans of Cassandra Clare's "The Mortal Instruments" series will be pleasantly surprised by the screen adaption, while those unfamiliar with the books will find the movie bogged-down with fan service.
The film follows Clary (Lily Collins) as she falls into the world of the Shadowhunters, a clan of part-angel warriors devoted to defending humanity from demons.  While questing for a sacred chalice, Clary falls for the broody Jace (Jamie Campbell Bower), who quickly becomes her protector.
The film climaxes with the arrival of the turncoat villain Valentine Morganstern (Jonathan Rhys Meyers).  When an army of demons is summoned, the young Shadowhunters must work together to survive.
The film ends without resolution leaving an opening for the next film, "City of Ashes," which is already in production.
With a half dozen books in the main cycle, there is the potential for an extended run of Mortal Instrument movies.
Though the books are targeted at an early-teen demographic, the film version seems to seek wider appeal by casting older actors.
Costuming was rather lackluster; all the characters are clad in variations of black, leather, capes and studs.  This is curious considering that one of the major sponsors of the film was Rue 21, which is featuring a line inspired by the movie.   The trope of leather-clad demon/vampire/werewolf hunter feels very played out. All the female protagonists wore high-heeled footgear making the running and fighting sequences feel less realistic.
The film interprets some of the more risqué themes of the books in pleasantly shocking ways. Rather than dance around the sexually charged tension between Alec (Kevin Zegers) and Jace, the film spends time developing it as if it were any other romance.  Though Jace is in love with Clary, Alec is often seen in scenes wistfully staring at the blond Shadowhunter, until the pan-sexual Warlock Magnus Bane (Godfrey Gao) flirts into the scene.
Incest, or rather the threat of it used by the antagonists to manipulate Jace and Clary, was less prevalent in the film than in the books, however it was still present.  The producers deserve commendation for including these themes and not pandering to a more conservative audience.
Overall, the film feels like another cookie-cutter movie with long stretches of exposition interspersed with intense action sequences which are surprisingly not bloody, thanks to a PG-13 rating.
Fans of young adult paranormal literature will enjoy this take.  General audiences may see it as just another supernatural romance flick.
2 out of 5 picks.
David Ramirez may be reached at [email protected]