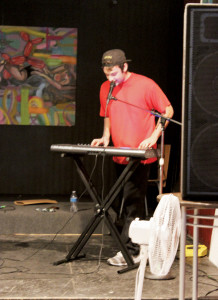 Four months after the UTEP Picks Talent Show on Apr. 24, Kilo and the Dew, a band formed by two UTEP students got to work on releasing an EP due out in October, which will be followed by a South-to-Southwest tour. They are also looking forward to performing at Minerpalooza on Sept. 6.
"We are excited to be performing for the UTEP community," said Daniel Rivera, lead drummer of Kilo and the Dew. "It's great to have the support of our own school at such a huge event, carefully put together every year."
Rivera, known as "Kilo," and keyboardist and lead vocalist Jason Daw (The Dew), sophomore media advertising  major, have been playing together since the spring. Then have composed original songs, which they say fall  under the indie pop music genre.
"As an effect of the auditions taking place, Jason called me one day and said 'I need a drummer'," Rivera said. "After joining forces, liking how it sounded and receiving great feedback on our original material from students, we just kept going."
According to Rivera, he is in charge of the technical aspects, involving the recording of the tracks, while Daw focuses more on the creative side, which involves the melody and writing of the lyrics.
"The lyrics of our original songs really do have something to say. They are not usual love songs, but instead are songs with a message and a purpose," Daw said. "While most artists write about love,  I write about how you can't live in fear, because personally I think that fear is the deepest emotion that often times  connects with people. Our music is different, it is not like everyone else's, we are trying to make a movement so people are a part of our band and the show."
According to both members, their influences come from bands such as 21 Pilots, MGMT and others, they describe their shows as "highly energetic."
"You would have to come to one of our shows to see. We have a lot of energy on stage, it is just not sitting down, people like to get up and move around," Daw said. "I go crazy on stage."
According to Rivera and Daw, they gained a different edge by not only having a band that consisted of two members, but also by their musical backgrounds. Rivera began playing drums at the age of 14 and member of the UTEP marching band.
"We only had time to get two people and we practiced one week before the talent show," Rivera said. "From there, logistically coming from someone who has been in bands all over El Paso, I think it is easier to manage two people rather than four and it gives us that different edge."
Daw said that although an up-and-coming band and having a lot to prove, Kilo and the Dew doesn't really need more than two people to be considered a real band.
"We use a lot of technology in our shows. For the most part,  I'll be playing the keyboards while  Kilo is just on drums," Daw said. "We both have enough energy on stage compared to other bands that consists of five or more members standing on stage with no energy–nothing cool."
Noe Cardenas, sophomore commercial music major, saw Kilo and the Dew for the first time and felt it was something he hasn't seen here in El Paso.
"I've seen different kind of bands throughout El Paso, and Kilo and the Dew is really something I haven't seen," Cardenas said. "There are many duos out there, but you don't really see many bands with the energy Kilo and the Dew have."
Kilo and the Dew is a band that people need to see, Cardenas said
"I think Kilo and the Dew have the potential to be a great band if given the opportunity, because you could
see the people in the audience rise and move with their music," Cardenas said. "You can really see or feel the kind of energy they give when they are on stage."
For more information, visit Facebook.com/kiloandthedew or at kiloandthedewmusic.com
Leonardo Montañez may be reached at [email protected]