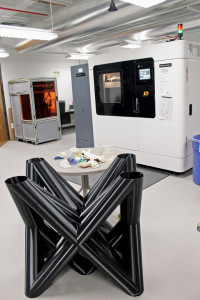 Advances in 3D-printing technology at UTEP have led to innovations in health, according to university specialists.
Mahesh Tonde, project analyst for the W.M. Keck Center for 3D Innovation, said printing technology helps with organ implants that can now be made to fit the patient instead of the patient receiving a standard size.
"It's really fast, it's convenient and it is a game-changing technology that has come out," Tonde said.
In 2001, Ryan Wicker, director of the Keck Center, wrote a proposal and received a grant from the W.M. Keck Foundation. This led to UTEP receiving a $1 million grant to start up the laboratory.
Rodrigo Enriquez, senior mechanical engineering major, works at the center and is excited to work on the research.
"On my first day of orientation, I saw the lab and I said 'one day I'm going to work there,' and three years later I'm working here," Enriquez said.
The center has worked on various projects and has sent some parts made at the university to space.
Tonde said 3D printing involves building prototypes from raw materials and laying them down layer by layer on a platform.
The lab also conducts surveys and builds prototypes for companies.
"This lab is big and we have more projects," Tonde said. "We don't only do research… there are two sides, we are a business and a lab."
Enriquez said students can visit the lab to have a prototype built for their classes.
Tonde encourages students and community members to be informed about the center, adding they should stop by and take a tour.
"I am fascinated by it, so I think they will be also. It is a great technology, it is the future," Tonde said.
The W.M Keck Center for Innovation is located in room 108 in the Engineering Building. Students can also visit wmkeck.utep.edu for more information.
Amanda Guillen can be reached at [email protected].