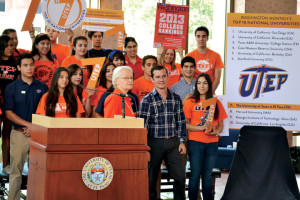 UTEP is ranked 7th best national university by the Washington Monthly, President Diana Natalicio said Monday at a press conference in the Undergraduate Learning Center.
Criteria used to rank the university were based on social mobility, the recruiting and graduation rates of low-income students, research, scholarships and PhDs awarded, and service by students to their country.
Natalicio spoke about the contributing factors, the effects it may have and future plans for UTEP.
"It is going to give us much more national visibility and attention," Natalicio said. "For students, I think it validates the decision that they made to be a UTEP student.
"They are not only getting a very high quality education, but also getting a very affordable cost compared to other universities. That is a combination you don't really find anywhere else."
Natalicio said though the university may increase its population, tuition would be made as affordable as possible.
"We made a really strong commitment to keep tuition cost low, we will do our best to keep it that way, but our students have demonstrated that they care a lot about a quality education, and in order to keep quality we will need additional resources," Natalicio said.
Rodrigo Lugo, sophomore biology major, feels it is a stepping stone for UTEP's image.
"Right now, the university is greatly underrated and people tend to think it is a mediocre university," Lugo said. "But in reality, UTEP grants many opportunities, even for freshmen."
The national recognition demonstrates how UTEP is getting closer to Tier 1 status.
"One of the criteria of the rankings is research and doctoral degrees, and research is an area we focus a lot on our tier one quest," Natalicio said.
She said new hires of faculty has led to more doctoral degrees, more laboratories for undergraduates and research.
Cynthia Annette Reyes, sophomore biology major, said UTEP will grow now that it has achieved national recognition and is not concerned about changes.
"People will be more excited to come from other universities and high schools, and not only from El Paso but abroad," Reyes said. "I am not afraid of a raise in tuition, because that is what UTEP is about, good quality education and affordability."
Leonardo Montanez may be reached at [email protected].