"The World's End": The final bite of the "Cornetto" trilogy is one great treat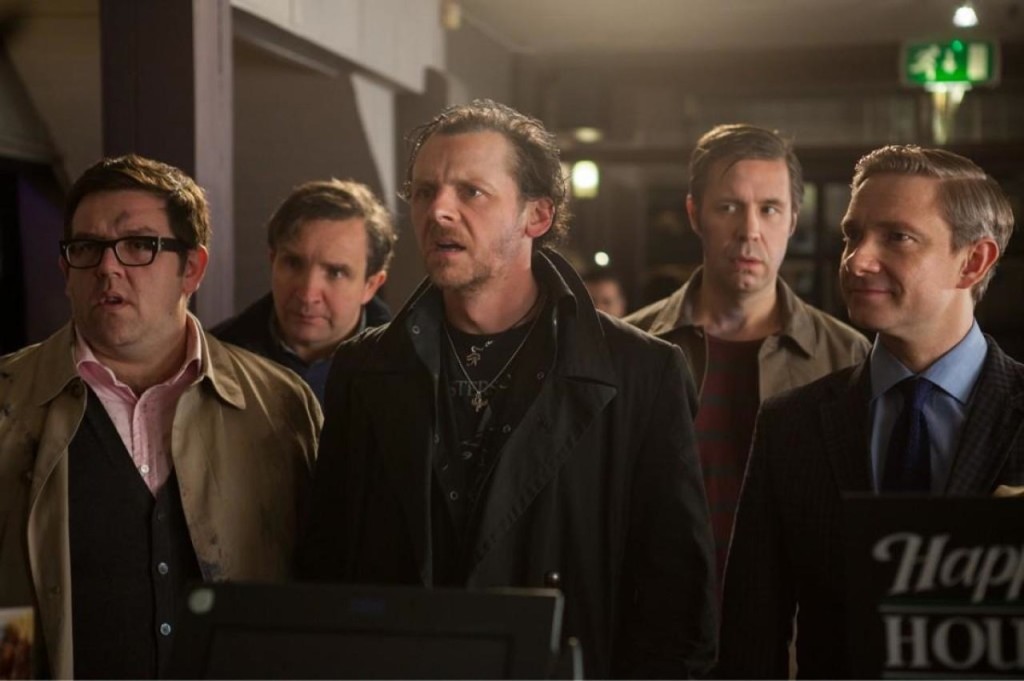 Oscar Garza, Staff Reporter
August 26, 2013
"It's about closure," says Gary King, a character played by Simon Pegg. In this winning performance, these words clearly refer to King's decision to complete a pub crawl for the second time with his childhood friends in "The World's End."
Written and Directed by Edgar Wright and written by Wright and Simon Pegg ("Shaun of the Dead," "Hot Fuzz"), the film is presented in an emotionally resonant way by exploring themes such as friendship, becoming an adult and learning how to leave the past behind. It also portrays a sincere touch that is emblematic of theirentire trilogy.
King, a self-absorbed alcoholic who is determined to finish a pub crawl (12 locations) in his hometown of Newton Haven, UK, decides to bring four of his childhood friends, Andrew, (Nick Frost) Peter, (Eddie Marsan) Steven (Paddy Considine) and Oliver (Martin Freeman) along with him to a reunion unlike anything they have ever experienced, which will ultimately lead to the world's end.
Much like the film itself, the reunion at Newton Haven starts out as "unfinished business" on King's part. However, everything is not what it seems to be, as the residents don't remember them, but rather behave strangely. Plus, the sudden return of Oliver's sister Sam (Rosamund Pike) brings out a sense of competition for both Steven and King.
Just as Wright and Pegg begin to show that the town is not what it looks like, something eerie and mysterious is definitely going on as personal and exterior problems start to arise in each individual's life–Gary, who is looking after his own interests, Andrew, who is unsure of his old friend, Steven  who is in the process of  finding a way to tell Sam about his feelings, Oliver, who checks up on his business, and Peter, who deals with an old acquaintance from younger days.
It's all about maturing amidst the strangeness surrounding their hometown.
Wright and Pegg's wonderfully layered script is full of character moments. The camaraderie between the cast is stellar, as well as the clear underlying themes dealing with maturity versus youth, the bond between friends, life's mistakes, forgiveness, regrets and finally maturing.
But it's not all just wonderful mature themes floating around in "The World's End." Wright's film is also highly entertaining. His energetic sensibilities are on full display with all of his visual flourishes (captured beautifully by DP Bill Pope), as well as fast pacing, a great score  and riveting action sequences.
With "Shaun of the Dead" and "Hot Fuzz," they managed to turn their respective genres of zombie and buddy cop on their heads., With "The World's End" Wright and Pegg send up a science fiction/invasion/post apocalyptic film with such wit and love, clearly paying tribute to previous works such as "Invasion of the Body Snatchers" and "The Stepford Wives."
Reuniting in feature film for the third time with Wright, Pegg and Nick Frost are excellent in delivering some of the most nuanced, mature and best work they ever done by collaborating in this third entry. It's a great change of dynamic that they created with their characters, as Pegg is portrayed as a wilder character, while  Frost is a more  calm, serious, member of the group. These two portray a reversal of their characters who appeared in "Shaun of the Dead" and "Hot Fuzz."
The entire cast, consisting of Considine, Marsan, Freeman and David Bradley, all have a terrific chemistry and are perfectly suited for Wright's inventive world where anything goes. The witty banter and fast-flowing dialogue are right in sync with all of Wright's fast cuts and crazy zoom ins, which have long been a staple of his entire body of work, ever since "Spaced."
With its wild action sequences, clever and mature writing, marvelous cast, and original take on the science fiction genre; "The World's End" is a rich summer fun movie that not only is one of the best films of the entire summer, but one of the best films of the year.
Oscar Garza may be reached at [email protected]