Watts ready for journey as head coach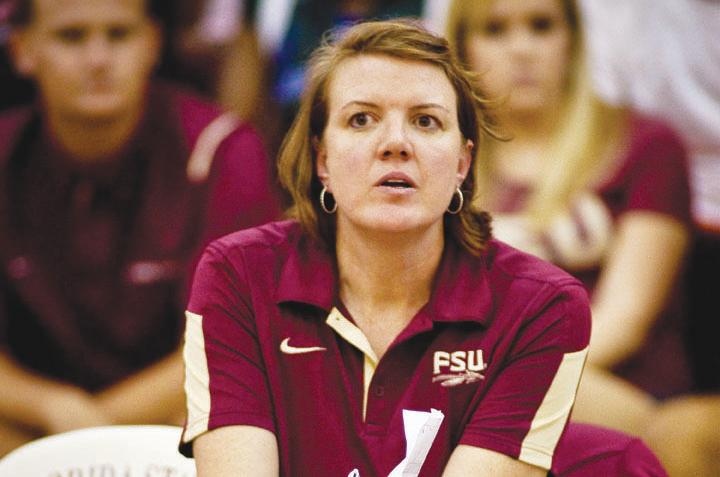 Audrey Westcott, Staff Reporter
July 20, 2012
UTEP volleyball welcomed more than a hundred girls for its first volleyball camp of the summer along with new head coach, Holly Watts.
Watts has assisted many of the nation's top coaches and is ready to start working with the Miners.
"Everyone has been really welcoming and nice," Watts said. "The team has been encouraging and excited to get started for the year, so I am excited to get started too."
Taking the place of Ken Murphy, who served as UTEP volleyball head coach for the past seven years, Watts brings 19 years of Division I coaching experience and a passion for volleyball.
Originally from Devine, Texas, Watts began her volleyball career on her junior high team and continued playing through high school. She went on to play volleyball for the University of Texas at Austin from 1989-93. Watts helped keep the Longhorns ranked in the top 20 as they won five conference titles. She was elected the team's most valuable player in 1993.
Watts also earned All-Southwest Conference honors and was a member of the All-South Region Team her senior year.
She tried her talent on the Texas basketball team, where she played for one season, helping the Longhorns to an SWC title and top-25 ranking.
UTEP volleyball players are ready to learn all that they can from her and to play it out on the court.
"I am excited about coach Watts," junior outside hitter Taylor Nix said. "Having a new coach is going to change a lot. I think we are going to be more disciplined and I think for our program it is going to be exactly what we need."
Watts graduated in 1994, with a degree in coaching from the University of Texas at Austin. Her first full-time job was as an assistant coach for the University of Texas at Arlington, while she coached the Texas Impact volleyball club simultaneously.
In 1996, Watts moved to the University of Arkansas where, as an assistant coach, she helped coach the Lady Razorbacks to nine SEC Western Division titles and nine NCAA Tournament appearances.
In 2008, she followed then Arkansas head volleyball coach, Chris Poole, to Florida State, where she served another four years on his coaching staff.
At Florida State, Watts helped groom a team with a 130-34 record, with four NCAA appearances and an appearance in the NCAA tournament semifinals in 2011.
That same year, Florida State went on to be ranked as the No.7 team in the country and Watts was named the AVCA Assistant Coach of the Year.
Having known of Watts before her commitment to UTEP, assistant coach Julie Allen said that the knowledge and skill Watts carries from other programs will give UTEP a boost to the top.
"It's an honor to work with coach Watts," Allen said. "She has a great record and has done well in previous programs, so I am looking forward to what she can do here at UTEP."
Watts is ready to see what the Miners can do, and assuring fans that this upcoming season will be one to watch.
"I think UTEP fans are going to be excited with the solid play we are going to have," Watts said. "We are going to be fast. We are going to keep working on our ball control, so that we can be dynamic on the outside. We want to be dynamic in the middle with options all the way across the net, so I think our fans are going to really enjoy watching us play."
The Miners will open their 2013 season at the Chevron Rainbow Wahine Invitational Aug. 30- Sept. 2 in Honolulu, Hawaii.
In the tournament, the Miners will face off last year's NCAA champion and Watts' alma mater, University of Texas at Austin, as well as San Diego and Hawaii.
UTEP will then return home  and host Southern University, Oral Roberts and Texas Southern in the El Paso Sports Commission Volleyball Invitational at Memorial Gym.
Audrey Westcott may be reached at [email protected]