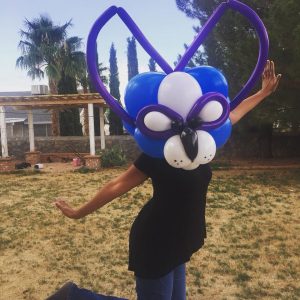 Flowers. Swords and Shields. Aliens. Octopuses. The next time you notice high quality balloon art in El Paso, thank Kiki's Balloon Twisting.  Since launching at Ice Cream Fest in 2017, this startup company has spent the last year providing unique balloon art to El Pasoans.
Kiki's Balloon Twisting is a one woman show operated by owner/balloon artist Camila Viana. The concept of balloon twisting is simple – twist balloons to create objects that resemble popular characters and creatures. "Balloon twisting is an art that brings joy instantly" says Viana. "You get to see it being created right in front of you and you take it with you in the moment."
While the concept of balloon art is simple, the road to mastering the craft, and entrepreneurship, is more complex. Her main challenge has been finding a niche in a surprisingly saturated market. Many competitors specialize in balloon décor, while balloon entertainment is still a lesser known alternative. "There are so many ways to work in balloons," Viana said. "birthdays, giant sculptures, balloon deliveries, organic arches, shows, etc."
As El Paso's premiere balloon artist, Viana keeps her skills sharp by practicing as often as she can, while juggling a fulltime job and raising a son on her own. Every week she tries out a new technique or design.
Viana furthers her craft by networking at ballooning conventions. "They're a big deal," she says. These are events where balloon artists from all over the world convene to network as well as learning better ways to run ballooning businesses as new techniques to make better art.
Kiki's Balloon Twisting typically performs at birthday parties with balloon twisting and balloon games. "I'll take the kids and play a bunch of games. This gives the host an opportunity to sit back and enjoy his or her guests without worrying about entertaining the kids," Viana said. She also twists at PBS kids' events and annual events such as Eat the Street, and of course Ice Cream Fest.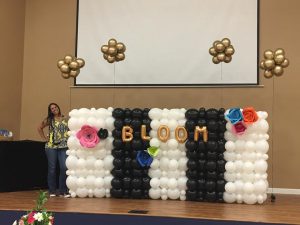 How does this benefit students at the University of Texas at El Paso? Those with children now have a unique and exciting form of entertainment for birthday parties. For the campus clubs and organizations hosting events, Kiki's Balloon Twisting provides décor to brighten the atmosphere. The best way to increase membership and retention is to be the life of the party.
Kiki's Balloon Twisting can be found on Facebook and Instagram @kikisballoontwisting