Dimel announces 2018 football signing class amid sold-out crowd
A sold-out crowd and media members were given a glimpse of the new UTEP football team, as head coach Dana Dimel announced 27 signees to the program.
Just stepping foot into the Larry K. Durham Center on Wednesday afternoon, one could hear the hum of about a hundred Miner boosters, coaches sitting at different tables and media members gathering to hear the news by Dimel.
It was a thirst of energy El Paso had longed for, and everyone got a sip of it during National Signing Day.
Dimel took the stage after Athletic Director Jim Senter formally introduced him, and he began showcasing talent, detailing recruitment and talking highly of his plans.
"Great excitement in the room today," said Dimel, the former Kansas State offensive coordinator. "This is a great time to talk about the recruitment. First off, we've tried to sell El Paso everywhere we go. As we were going through the recruiting weekends, I was getting recruited too… Hey if I was a recruit, I'd love to go to school here."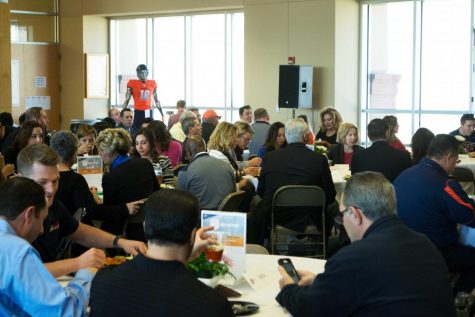 Six of the 27 recruits are already on campus and will prepare with the team in spring ball. Dimel and staff recruited 14 offensive players, 10 defensive players and three special teams players.
"When you come in as a coach, you evaluate all the things you have at each position and what you have with different players," Dimel said. "Some of the most important leads were to build a young offensive line numbers, defensive back numbers and wide receiver numbers. Also get some guys who can rush the passers."
Through the recruitment process, the coaches used social media to their advantage and highlighted each commit as the time went by.
"It's all about seeing themselves on social media," Dimel said. "It serves a two-way path because we want our fans to get to know our players. All that stuff goes a long way with these players."
There are 14 commits from Texas, eight from California, two from North Carolina, one from Colorado, one from Arizona and one from Maryland.
"We hit Texas hard and used our connections—signed 14 players in the state of Texas, signed eight players in Southern Cal," Dimel said. "Build our foundation in the state of Texas – that talks a lot of details on our stories of recruiting, but the most important thing is how excited we are to keep going with UTEP."
More specifically in Texas, Dimel saw a lot of potential in San Antonio for future recruits.
"Just going in and selling to San Antonio, four players out of metroplex, three players out of Houston," he said. "I think San Antonio could be a great, great fit for us."
One big spot that Dimel looked at when recruiting was the quarterback spot, where he filled it with a skilled player in Kai Locksley, a 6-foot-4 dual-threat quarterback and JUCO transfer.
"Quarterback position – we want to fortify the now to put the best team and the best program, but we also want to look for the future," Dimel said. "We got Kai Locksley who was the JUCO Offensive Player of the Year. He's very athletic, very intelligent in the program. He's on campus working, showing off his leadership ethics. Kai, even though he's a quarterback, has an 80-inch wing span.
"We added (Brayden) Hawkins, a very talented quarterback who's coming from North Carolina," Dimel said. "Has a great arm, and also has a great thing you have to have as a quarterback—good leadership and good feet."
Spring ball could have a lot of impact on the quarterback position right away.
"There's a quarterback in all four classes," he said. "We'll have each quarterbacks compete for their starting spot. Everyone in the program will have a chance to compete. Really pleased about that position."
He said that landing offensive lineman and former Tyler J.C. standout Tres Barboza was a huge landing that saw national attention.
"He has a great story. When we recruited him and we ended up offering him, and before he comes back, he has two power five offers," Dimel said. "He went back home, thought about all the offers, and said I'm gonna take all the visits. The bond he built with the players here, was good. That night he thought about it, talked with it and decided to commit here."
They filled gaps at the receiver position as well, signing JUCO transfer Justin Garrett and high school players like Ricky Baker, Andrew Nwachukwu and Jonathan Patrick.
"Justin Garrett is a great scorer," Dimel said. "His mom's done a great job of raising him and giving him a chance to get a college education, which is a great story."
"Andrew has a good length and good speed. When we recruit receivers, we want all different types of receivers. Johnathan Patrick – a speed guy who's going to do a lot for us."
He said he plans to see guys like defensive end CJ Reese, safety Justin Prince, Locksley, Barboza and punter Oscar Draguicevich take the field as early as next year, but also says to keep an eye on younger defensive lineman that could work their way into the lineup.
When asked about his son, fullback Winston Dimel, coach Dimel said that he will be taking his official visit next week.
"He's the only recruit I've been able to talk about constantly," he said. "What he brings to the table is the same thing he's brought to K-State. If he doesn't say he's coming, I'll put him in his room."
The coaching staff also plans to keep local recruits at UTEP, and alluded to landing some hometown El Pasoans who once left the city for another college out of high school that want to come back home to UTEP.
"There's going to be some guys who are at some big programs and are thinking of coming back," he said.
Overall, there was a sense of joy in what Dimel was saying, and an undeniable pride for El Paso
"Before I took this job, I talked to people about this job and ask what people thought about living in El Paso. They all said they loved it. If you feel that way then the coaches will feel that," he said.
Below are the full recruits:
Kai Locksley QB 6-4 200 Fort Washington, Md./Iowa Western CC
Brayden Hawkins QB 6-3 215 Charlotte, N.C./Myers Park HS
Gamaliel "Tres' Barboza OL 6-4 290 Castroville, Texas/Tyler Junior College
Sheldon Benson OL 6-2 305 Schertz, Texas/Schertz Clemens
Cameron Cooper OL 6-5 260 Aurora, Colo./Grandview High School
Zuri Henry OL 6-5 280 Wylie, Texas/Wylie HS
Elijah Klein OL 6-4 300 Mt. Baldy, Calif./Upland HS
Chris Love OL 6-4 290 Tujunga, Calif./Crespi HS
Solomon Polk OL 6-7 290 El Paso, Texas/Andress HS
Tristin Tuialuuluu OL 6-3 300 El Paso, Texas/Del Valle HS
Ricky Baker WR 6-0 175 Plano, Texas/Prestonwood Christian Academy
Justin Garrett WR 5-11 185 Compton, Calif./Cerritos College
Andrew Nwachukwu WR 6-3 205 Wylie, Texas/Wylie HS
Jonathan Patrick WR 6-0 170 Houston, Texas/Cypress Falls
Savien Jenkins DT 6-0 275 Schertz, Texas/Clemens HS
Jenson Misaalefua DT 6-2 335 Carson, Calif./Carson HS
Trent Thompson DT 6-2 270 Houston, Texas/Cypress Falls
Praise Amaewhule DE 6-3 225 Katy, Texas/Katy Taylor HS
Nathan Logoleo DE 6-0 235 Garden Grove, Calif./Mater Dei
CJ Reese DE 6-2 250 San Antonio, Texas/Kansas State
Josh Caldwell DB 6-0 170 Norwalk, Calif./Cerritos College
Justin Prince DB 5-9 190 Inglewood, Calif./Long Beach City College
Ray Walters DB 6-0 170 Los Angeles, Calif./Locke HS
Cal Wallerstedt LB 6-0 225 Harrisburg, N.C./Hickory Ridge HS
Gavin Baechle K/P 6-1 160 McKinney, Texas/McKinney HS
Oscar Draguicevich P 5-11 185 Hutto, Texas/Austin CC
Ryan Warren LS 6-2 175 Gilbert, Ariz./Perry HS