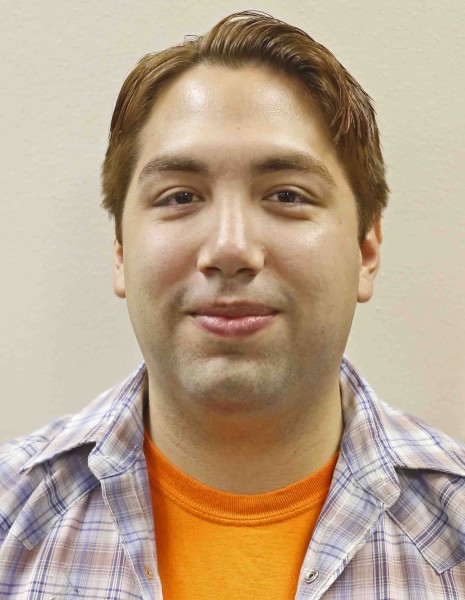 S. David Ramirez is currently an English and American Literature major wrapping up his final year at UTEP.
He has written for the Lakefront, the Thing Itself literary magazine, the Tejano Tribune and The Prospector.
When not striving for journalistic excellence, he helps organize fandom conventions around the Lone Star State, including El Paso Wintercon and San Japan, San Antonio's largest Japanese culture and anime convention.
He hopes to spend his academic career educating the public about the dangers of Jane Austen and the medicinal benefits of reading the Brontë sisters.
His research in popular culture studies has taken him across the nation and he hopes to continue presenting findings on music, media and literature at future conferences.
David says his success is due to a pact with the dread Lord Cthlulhu of R'ley fame, but he may just be reading too much H. P. Lovecraft in his off time.
He is currently applying to graduate schools for communication rhetoric or writing and rhetoric. If you, or someone you know, is on these admissions boards, please contact him directly.
S. David Ramirez, Staff Reporter
Feb 26, 2014

Hope for Texas marriage equality

(Story)

Feb 26, 2014

Monarch showcases spring and summer fashions

(Story)

Feb 25, 2014

Smoking: nostalgia and allure

(Story)

Feb 18, 2014

I GET BY WITH A LITTLE HELP FROM MY VOTERS

(Story)

Feb 10, 2014

Gay-friendly bars celebrate Valentine's Day

(Story)

Feb 04, 2014

Y U NO CARE? Affordable care act Lukewarm with students

(Story)

Jan 28, 2014

UTEP L.I.V.E. starts centennial leadership conference

(Story)

Jan 28, 2014

Career expos aim to provide opportunity to business and liberal arts majors

(Story)

Jan 23, 2014

Voter registration deadline approaches, city prepares

(Story)

Jan 21, 2014

A guide to Cloudcroft, N.M., a hipster paradise

(Story)

Jan 21, 2014

New options for buying books this semester

(Story)

Dec 03, 2013

Affordable care: The good, the bad and the ugly

(Story)

Nov 26, 2013

One Direction to light up Sun Bowl like nobody else

(Story/Media)

Nov 26, 2013

'Moral imperative' not a motivator

(Story)

Nov 26, 2013

Healthcare stumbles as full rollout looms

(Story)

Nov 19, 2013

In memoriam: Achim Schweighofer

(Story)

Nov 19, 2013

Holidays call for shopping and travel

(Story)

Nov 12, 2013

Political involvement a must

(Story)

Oct 29, 2013

Hawthorne reimagined in 'The Scarlet Letter'

(Story)

Oct 15, 2013

Students may receive benefits for working in poor areas through Affordable Care Act

(Story)

Oct 10, 2013

Nordstrom racks up fans at Fountains

(Story/Media)

Oct 08, 2013

Thursday I'm in love: The Cure world tour stops in El Paso

(Story)

Oct 08, 2013

Students react to glitches in insurance exchange

(Story)

Sep 24, 2013

Removal of inner campus parking leads to overcrowded perimeter

(Story)

Sep 24, 2013

Dramacare: students face affordable care act

(Story)

Sep 17, 2013

Avatar returns with Korra's spiritual journey

(Story)

Sep 17, 2013

The brain drain of El Paso

(Story)

Sep 13, 2013

New Miner Volunteer Corps to mobilize students

(Story)

Sep 13, 2013

UTEP celebrates Mexican independence with Grito

(Story/Media)

Sep 12, 2013

Technical tribulations due to rain

(Story)

Sep 12, 2013

Miner Volunteer Corps launches

(Story)

Sep 10, 2013

Bomb threat unresolved

(Story)

Sep 06, 2013

Artist Guild to host inaugural event

(Story)

Sep 04, 2013

Newly-enacted Texas legislation that may affect you

(Story)

Sep 03, 2013

Campus renovations lead to tailgate changes

(Story)

Sep 03, 2013

'Lexicon' features liberal arts secret agents

(Story)

Aug 30, 2013

The Mortal Instruments: Shadowhunters overshadowed by backstory

(Story)

Aug 27, 2013
Aug 27, 2013

Student Government: Plan to Unify Campus Organizations

(Story)

Jul 20, 2012

Border Conference Commences

(Story)