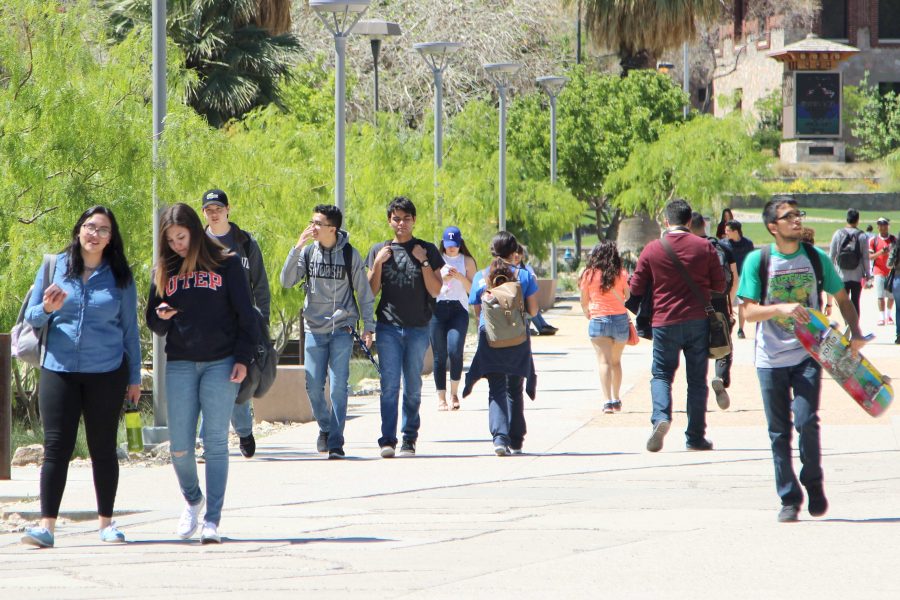 Prospector file photo /Gaby Velasquez
As universities reopen and get back to "normal," students share their feelings about the reopening of campus and how their organizations were affected by the shutdown.
UTEP announced May 3 that classes would start the transition back to in-person sessions with a mix of online and in-person for the summer semester. By fall, UTEP plans on most classes being in-person.
On the education front, students struggled to learn their prospective careers properly.
UTEP nursing student Aileen Contreras struggled during the pandemic because her learning process is most suited to in-person instruction. While nursing students did gain some hands-on learning to complete clinicals, but they still had lectures online.
Contreras appreciated some of the benefits of online learning, like being able to re-watch lectures; there were several downsides.
"It was hard to do the hands-on part of nursing. We learned everything through the computer, so it was difficult to experience what everything is supposed to feel like," Contreras said.
Some students experienced college before the pandemic. Senior George Macias did not and will only be on campus for a single semester.
Macias was a member of the Montwood Early College program and completed his junior year through online learning. "I feel a bit nervous and excited about this being my first and last year on campus, since I haven't really experienced it, so I don't know what to truly expect," George Macias said.
Students like Isabela Favire  and Jeremiah De La Rosa will experience their first year on campus. De La Rosa says he prefers in-person learning so he can get direct help from the professors and have a chance to meet new people.
"I feel excited to be able to explore UTEP in person, but also nervous to attend a big school for the first time," De La Rosa said.
For Isabela Faivre , returning to campus is something she looks forward to. Faivre prefers in-person learning and felt she didn't learn much with online courses.
"This summer would be the first time experiencing my classes on campus and needless to say, I'm really eager to finally begin living the college experience," Faivre said.
UTEP Extracurriculars struggled with being online as well.
Danica Lopez, Vice President o f the Women in Business Association at UTEP, said the global pandemic came with significant shifts in the dynamic of the association's meetings and gatherings.
"It was a challenge to go from seeing all the girls side-by-side in a classroom setting to having to encourage members to turn their cameras on during Zoom and Microsoft Team calls," Lopez said.
WBA plans to bring back some of their annual events during the fall, such as the Professional Fashion Show, Pinky Party for breast cancer awareness and their biggest event, Coffee, Tea and Careers.
"The most special thing that will come with the re-opening of campus will be seeing our members gathered together as we pride ourselves on the relationships we built with this organization," Lopez said.
Relationships were tested by the shutdown in Sorority member of Alpha Xi Delta Gabriela Munoz's experience. Munoz says that the sorority experience during the shutdown was challenging since they also could not meet in person.
"We couldn't see our sisters or have college events which is what made college so much fun; even though we found ways to work around it like Zoom meetings and Netflix parties it wasn't the same interactions we would have before," Munoz said.
UTEP Golddigger Destiny Velasquez says being a dancer was difficult for her during the shutdown. The team resorted to hosting practices through Zoom and were required to test twice a week for COVID-19 to attend games.
"Coming into college, I didn't know what to expect, so starting online has been my norm for now," Destiny Velasquez said. Spending the past year online tested the resilience and creativity of students, clubs and organizations. Whether they prefer to be in-person or online, experiencing the fall semester on campus will provide some relief.
Julia Lucero may be reached at [email protected]