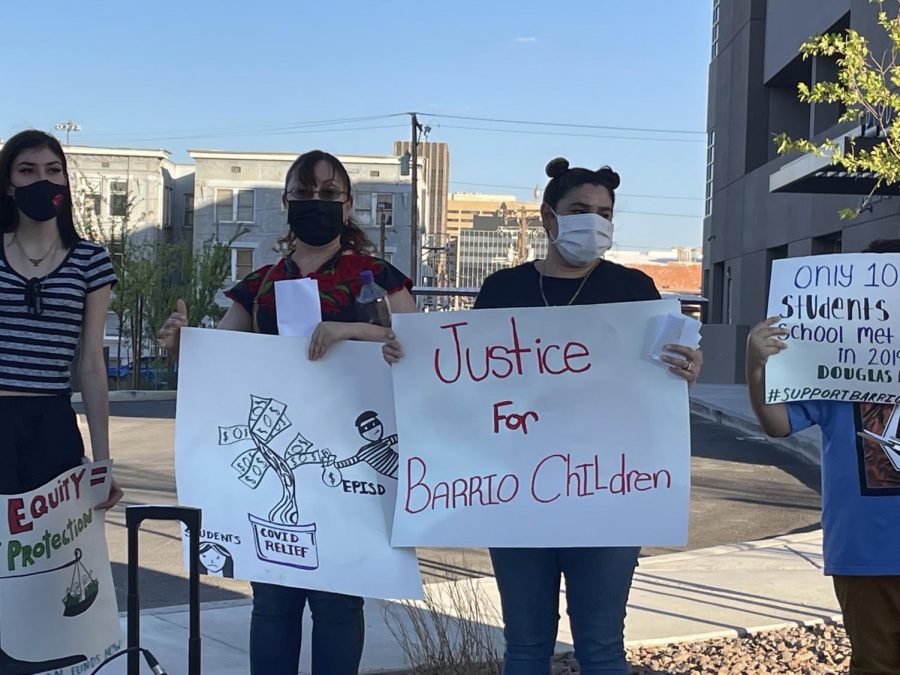 Parents and educators gathered outside of the new El Paso Independent School District (EPISD) administrative offices downtown June 15 to protest the quality of education that their children and students are receiving.  
 Hilda Villegas, parent to EPISD students, organized the event in an effort to address the shift of educational quality due to COVID-19 and a lack of resources for children, which parents claim is being seen most apparently in schools located in the Segundo Barrio, one of El Paso's oldest and most historic neighborhoods. 
 "The Chamizal community has been long forgotten by EPISD," Villegas said. "We're here advocating not just for COVID relief, but our efforts and our struggle is for Barrio education." 
 According to city data, the Segundo Barrio has an average household income of $14,684, making it one of the lowest-earning neighborhoods throughout El Paso county.  
 Villegas claims that the district is expected to receive millions in dollars under the American Rescue Plan from the Biden Administration, which is to be used for schools located in the Segundo Barrio, including Bowie High School, Guillen Middle School, and Douglass Elementary School.  
 "COVID relief funds are critical to be able to recover the education in the Barrio and to truly assist the children to be able to recover that year and a half they lost," Villegas said.  
 EPISD receives funding based on student attendance. Since the beginning of the pandemic, EPISD lost 4,900 enrolled students.  
 Xavier Miranda, an EPISD teacher and graduate, claims that the district is using the money and funding they are receiving for projects that do not benefit their students. 
 "This particular building cost over $25 million while closing the schools in the Barrio," Miranda said about the new EPISD administrative office located downtown. "At this moment, we need to have all these community organizations supporting our folks here." 
 Burleson and Beall Elementary School were closed in May 2019 due to declining enrollment rates. Douglass Elementary was at risk of being closed as well.  
 Susana Herrera of La Red Fronteriza is one of the many parents whose students had to move schools because they attended Burleson as it shut down.  
 "It is very important that we, as parents, pressure them because if we let them choose, they will choose the worst for our children," Herrera said about EPISD school board members.  
 Herrera, like other parents, acknowledges the conditions that students from the Barrio live in. Protestors said that it is up to EPISD to help students navigate through these conditions by investing more in their school buildings, materials, and resources. 
 "It is important that they use this money to invest in our schools and that they do not use it for something else such as schools that are well-equipped," Herrera said. "Here, as always, they leave us in the worst and poorest conditions." 
 Data show that from 2018 to 2019, EPISD used $25 million of their funding for payroll costs and only $5 million was used for supplies and materials. Miranda said that the money  supposed to act as COVID-19 relief for EPISD schools took a turn for the worst.  
 "This superintendent spent about 190 million in the last five years on ed-tech reform that proved to be fruitless during the time of the pandemic," Miranda said about the EPISD superintendent.  
 The EPISD school board works closely with members from the Council on Regional Economic Expansion and Educational Development, which is an organization that aims to enhance the quality of education for students in El Paso. Miranda said that there needs to be more parents on the school board as opposed to CREEED members.  
 "They have programs that are not based on the human development of our kids," Miranda said about CREEED. "They just want to make a business on this and they need to listen to what we're saying as educators, as parents and we need to be out here and demand that these folks do right by our children."  
 Lucero Sanchez, parent of a special education student at EPISD, said it was a difficult year for both her and her child. 
 "It has been a year where many parents cannot work because they have to be educating their children," Sanchez said.  
 Sanchez, among many other parents, said that virtual education at EPISD only worked to keep her child busy as opposed to focusing on their knowledge intake.  
 "I can tell you that my child spends most of their time exercising," Sanchez said. "Virtual education has negatively impacted their knowledge."  
 Data show that the rate of graduation of at-risk students at EPISD dropped from 77% to 75% from 2017 to 2018. Villegas said that academic performance and the level of education at EPISD schools have always been a problem. The COVID-19 pandemic only further complicated these issues.  
 "Barrio schools have always had issues with staff and teachers," Villegas said about EPISD schools moving teachers around through the school years. "Our schools have always struggled to be able to provide an equitable education for our children." 
 Villegas' daughter, Catherine Villegas, experienced these issues herself when she graduated from Bowie High School in 2019.  
 "One of the things I remember is that, as a senior, we were supposed to get MacBooks and we spread the word because we had never gotten anything like that, but they completely forgot about us," Catherine Villegas said about her and her classmates at Bowie High School.  
 Catherine Villegas said that EPISD went to other schools to distribute materials before they reached her high school.  
 "I was so mad because Franklin (High School) got laptops for all of their students including the freshmen, sophomores, juniors, seniors, and we only got them for our freshman class," Catherine Villegas said.  
 Catherine Villegas is one of many students that had teachers who left during the middle of a school year and had several substitutes to replace absent teachers.  
 "As a student, you would think 'we don't have to do anything in class today' and then now that I really think about it, I was cheated out of an education and so were the rest of my classmates," Catherine Villegas said.  
 Parents will continue to ask EPISD to allocate their anticipated funding under the Biden Administration specifically for schools in the Barrio. 
Nicole Lopez can be reached at [email protected]; @nicoleilopez on Twitter.