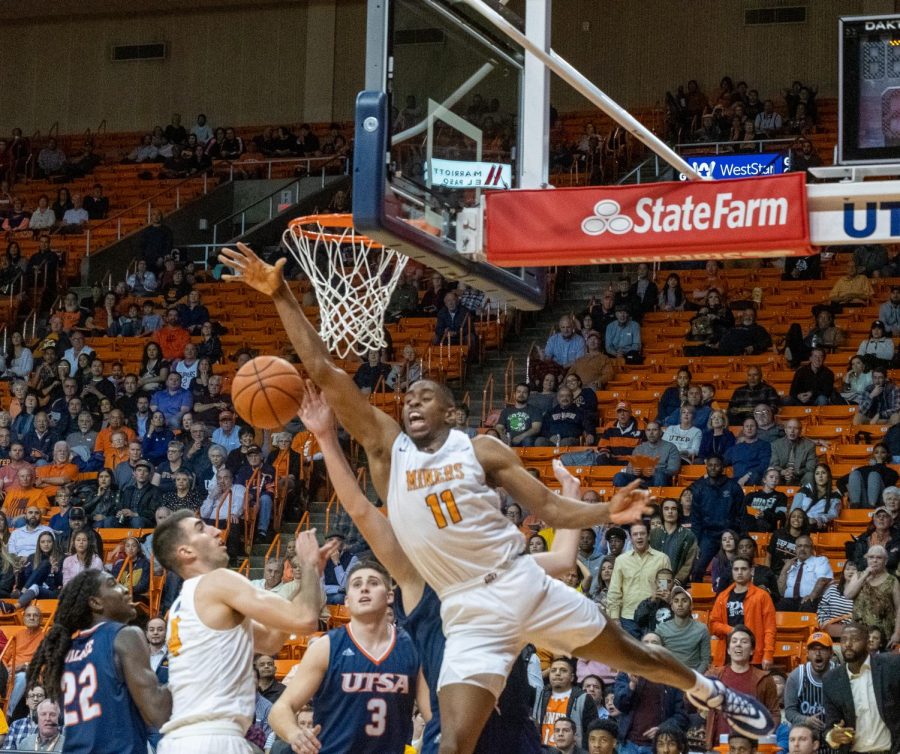 Michael Cuviello
After weeks of speculation senior forward Bryson Williams has announced that he is taking his talents to Lubbock Texas to play for the Big 12's Texas Tech Raiders. From the announcement on April 15 that Williams had entered the transfer portal, it was likely that he would leave for a POWER- five school to display his talent on a bigger stage. 
Williams had followed former UTEP coach Rodney Terry to El Paso from Fresno State when Terry was hired as coach of the Miners. This will be the first time in his college career that Williams has played for any other coach other than Terry. The coach player relationship could have continued with Williams receiving interest to play at Texas with Terry as an assistant under newly hired Chris Beard who was the previous Texas Tech coach. 
Now Williams will take his considerable talents to Tech under former Beard assistant Mark Adams after considerable interest from multiple power five schools including Texas, Georgia Tech, Arkansas, and Washington. Adams has coached basketball since  1981 and was an assistant for Texas Tech for the past five seasons. This is the eighth signing this offseason for the Red Raiders since Beard departed. 
Last year as Miner Williams scored 15.1 points, 7.4 rebounds and shot 48% a game  from the field, earning third team all-conference honors. As a Miner Williams averaged 16.6 points and 7.35 rebounds and 49% shooting for his career. Williams was the first Miner to be named to back-to-back all Conference USA team two years in a row since Vince Hunter in 2014-15. 
Joining a perennial NCAA Tournament team will give Williams a second chance to play for a championship in his career after being a part of the 2017 Tourney run for Fresno State that ended with a first-round exit. Texas Tech has made the last three tournaments and was runner up in 2019 to national champion Virginia. 
In his first game action at UTEP, Williams scored 19 points against the Red Raiders in an exhibition and now ironically will be playing his final college season for his first UTEP opponent. 
UTEP currently stands with 13 players currently on the roster and are still looking to add to the team through the portal and lose its one scoring option in the front court. 
Williams put out a statement on Twitter  his decision to sign with Texas Tech. 
"First off, I'd like to thank God for all of his blessings and for giving me the ability to play this game that I love, as well as my family, for supporting me with my dreams from day one," Williams wrote. "I would also like to thank Arkansas, Georgia Tech, Texas and Washington for recruiting me. Your time and effort was greatly appreciated. Also, I want to thank all my former teammates at UTEP and everyone in the athletic department for the support they gave me during my time in El Paso. Offensively, I have proven what I can do against some of the best in the country throughout my collegiate career. However, I wanted to challenge myself in other areas and I needed someone I knew could help me with that. With that being said, I am excited to announce my decision to join the Red Raider basketball family, and to have the chance to play for Coach Adams. I enjoyed my visit earlier this week and had a great time getting to know all of the players and the rest of the coaching staff. I believe this will be the best fit for me, nevertheless I can't wait to get to work with the rest of the team. The Big 12 is the best conference in college basketball and I can't wait to play in front of Red Raider nation, the best fans in the country. Time to get to work… GunsUp… Wreck'Em." 
Michael Cuviello may be reached at [email protected]