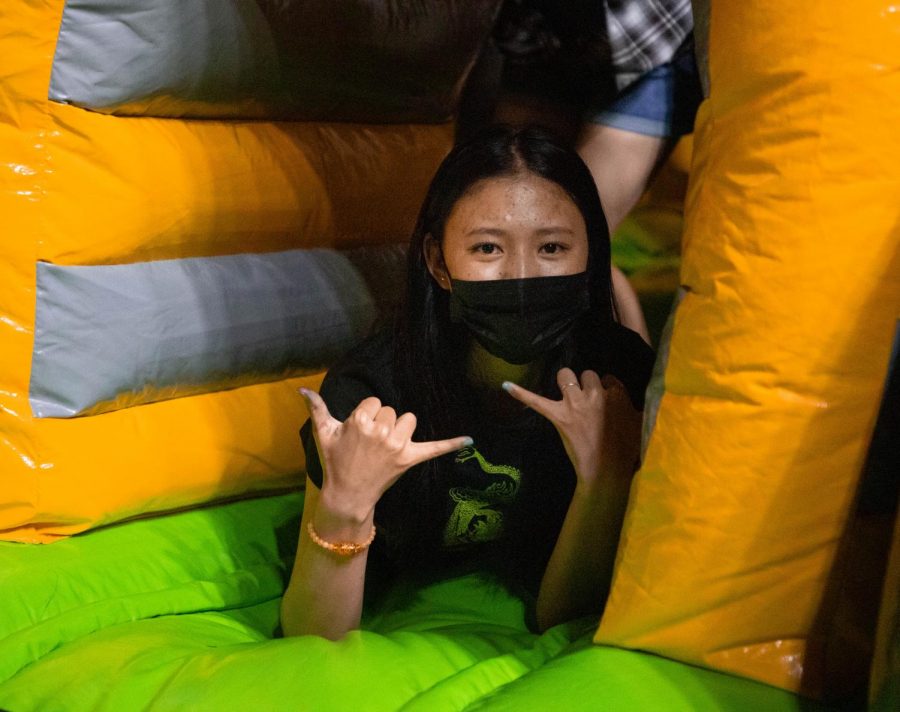 Jasmin Campoya
UTEP's Up All Night event brought students together at Centennial Plaza for a social celebration and relaxation activities before Spring semester finals commence. 
Designed to encourage community interaction and provide a space to alleviate the stress that comes with the end of the semester, Up All Night is an annual event curated by the Student Engagement and Leadership Center with a host of activities, therapeutic practices, and entertainment. 
"This is a way to offer students some time for self-care, to relax as they're going back and forth between their finals," said Nancy Herrera, a doctoral intern with UTEP's Counseling and Psychological Services.  
Herrera stated that a combination of the environment and the services provided at events like Up All Night send the message that the University is paying attention to the physical and mental health needs of the student population.   
"I think there is definitely something about our presence as staff and faculty. It's like a community: we are here for you, and we know it's going to be really stressful, but we are here to provide support," Herrera said. 
In previous years the event ran until midnight, but in order to encourage social distancing and maintain a safe environment, the event was held outdoors and lasted until 10 p.m. Despite some overcast and windy weather, there was no shortage of attendants or activities. 
The main attractions were two large inflatable obstacle courses of varying difficulty. Students used them to race one another and test their athletic abilities. There were also activity stations around. One station had towels spread on the ground where s students and guests were led through the process of making their own tie-dye t-shirts and bags.  
UTEP spirit shirts, neck gaiters and stress balls were some of the comfort objects handed out by the CAPS table. A raffle table gave students the chance to win an assortment of unique items such as water bottles, poseable table lamps, and polaroid cameras. A line of food service tables gave out free breakfast items including cereal, tea and coffee, and pre-packaged pancakes with bacon. One of the most anticipated activities by students was the UTEP-themed lotería game, held every hour, which would reward the winner with various UTEP prize packages and other surprises. 
 "I definitely think this [event] is helpful, especially now when we don't get to interact with a lot of people. We get to learn more about UTEP and get to see all the students interact with one another," said Nadia Elias, a sophomore studying Chemistry at UTEP.  
Elias said she attended the event to see more of UTEP in person and for the opportunity to meet one of her professors. 
Faculty and students alike expressed their gratitude for events like Up All Night on campus to re-integrate themselves in social environments in a supportive community of fellow Miners. Ivan Jimenez, a freshman nursing student at UTEP, attended the event for the first time to meet up with classmates he'd only interacted with virtually. Other students were long-time friends, gathering once again at the tables to eat and catch up on stories from the past year.  
Perhaps the most moving sight was the great number of students walking around campus and through the event donning their cap and gown, taking graduation photos on university grounds. While the pandemic has changed life for many, the pride and spirit of Miners at the University stands unshaken. 
Julian Herrera may be reached at [email protected]