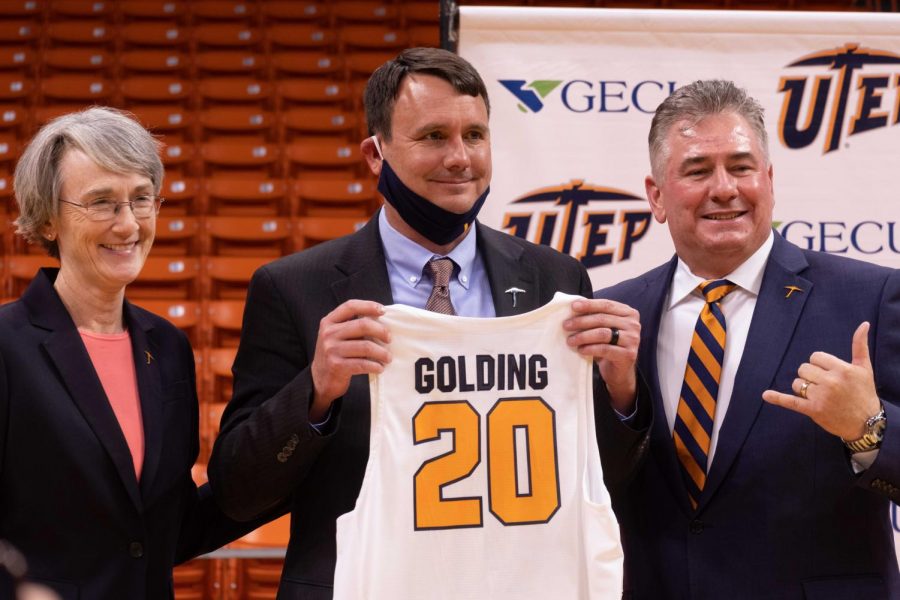 Michael Cuviello
The UTEP Miners wasted no time in finding its replacement for departed coach Rodney Terry with Tuesday night's announced hiring of former Abilene Christian (ACU) Wildcat Coach Joe Golding as the 20th coach in the history of the program. 
"I'm honored and humbled to be the next head coach at UTEP," Golding said.  "Growing up in Midland and West Texas, I know all about the storied history and tradition of the Miner program – the 1966 national championship, the NCAA Tournament appearances, the conference titles and all the tremendous head coaches who have come through the Sun City, including the legendary Don Haskins.  I look forward to putting the Miner program back on top in Conference USA." 
"Joe has the combination of experience, character and grit that will be a good fit at UTEP," said Heather Wilson, President of UTEP.  "We look forward to welcoming Joe and his family to El Paso."  
UTEP selected Golding over four other finalists that included Baylor assistant Jerome Tang, New Mexico State Coach Chris Jans and former Miner coach Doc Sadler.  
Golding led his Southland Conference team to its second NCAA tournament in the past three seasons and advanced with an upset victory over third-seeded Texas 53-52. The victory was the first NCAA tournament win for ACU in their short Division 1. History.  Since taking over as coach, Golding has overseen the move up from Division 2 to Division 1 for the Wildcats. 
Over his decade–long career, which began in 2011 at ACU, Golding has compiled a 158-144 record at the school, including three straight 20-win seasons. He is the only coach in school history to have won 20 games or more three consecutive years. 
 In 2018-19  the Wildcats finished  27-7 overall and won its conference tournament before losing to Kentucky 79-44 in the first round of the NCAA tournament. His 27 wins tied a school record for wins a season that was set during the 1979 season. 
During the Covid-19 shortened 2019-20 season, Golding led the Wildcats to a 20-11 record but the southland and NCAA Tournament were canceled.  
Last season the Wildcats under Golden started out 9-2 on the season with the only losses to Power Five and NCAA Tourney teams  Texas Tech and Arkansas.  ACU finished the year 24-5 and made the tournament as a 14th seed. Following its upset of Texas in the first round, ACU was eliminated by the final four bound UCLA. 
Golding, 45, is an alumnus of ACU and played guard for the program from 1994-98 and over his four-year, 108 game careers averaged 4 points and four assists per game. . He graduated from ACU with a bachelor's degree in exercise and sport science in May of 1999.  
Starting his coaching career as a high school assistant in 2000 at South Garland HS in Texas, Golding became an assistant coach at both Seminole Community College in Oklahoma and Collin Country Community College in Texas. In 2005 Golding became an assistant at ACU until 2008 until he took a similar job at Arkansas Little Rock until he was rehired as the head coach for the Wildcats in 2011. 
During his tenure as an assistant at Arkansas–Little Rock, the team had a 50-47 overall record with one NCAA tournament appearance. 
In his first season as head coach at ACU, the team went 12-6, followed by a 12-14 sophomore season before the school transitioned to Division 1 in 2013. Through his first six seasons as the wildcats coach, Golding endured losing seasons in each as he worked to build up the ACU program to a Southland power. 
In 2017 the Wildcats finished 16-16 and competed in the College Invitational Tournament before going on its current three-season 20-win run. 
Golding's teams are known for their swarming pressure defense masterminded by his coaching assistant  Brette Tanner. ACU has been the top defensive team in the conference and ranked fifth overall in the NCAA in scoring defense this season, surrendering only 60.4 points a game. 
Golding's teams have also excelled in the classroom. This past season his team carried a 3.2-grade-point average and every one of his players who exhausted their eligibility graduated from ACU.  
"We couldn't be more excited to announce Joe Golding as our new head coach," UTEP Director of Athletics Jim Senter said. "He is well-connected in the Lone Star State with deep ties to West Texas. He has built Abilene Christian University into a successful Division I program in the Southland Conference. Coach Golding is highly thought of by his peers and is a defensive-minded coach. His ACU team's amazing upset of the Texas Longhorns at the NCAA Tournament less than a month ago caught everyone's attention.  We are excited to launch a thrilling new era of Miner Basketball." 
Michael Cuviello may be reached at [email protected] and @dlockz Twitter