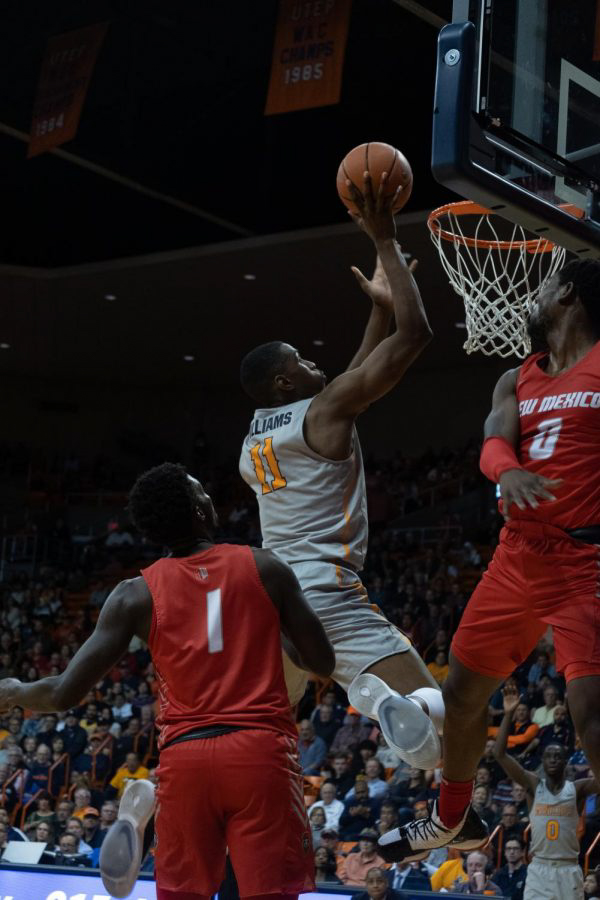 Michael Cuviello
Since the season ended for both the UTEP men's and women's basketball teams, have a combined 10 players that have entered the transfer portal. 
For those not aware, the transfer portal was created by the NCAA in 2018 to simplify and bring uniformity to the process for athletes to be able to change schools. Before the formation of the transfer portal, each school had a complicated process where they had to ask the coach for permission to switch schools and if denied, they continued with appeals up the chain of the school and NCAA.  Each transfer request was limited to one particular school, so each transfer possibility had to go through the entire process again 
Currently, a player informs the school of his intent to enter the transfer portal and is placed with the opportunity to change schools. Once a player enters the transfer portal, any university can recruit them for its team. The one major downside is that a school can reduce or end athletic aid to the player once the current academic term ends. If a player withdraws from the portal and wants to return to the university, it is up to the school if the athlete can return and regain scholarship and aid. The risk to many players is that they are giving up their scholarship for the possibility of getting one from another school but if no offers of interest come, the athlete could end up without a scholarship. 
The UTEP men's team just had its sixth player enter the transfer portal, with third-team all-conference center Bryson Williams deciding he wants to play elsewhere.  Williams started 56 straight games for the Miners in his two seasons and averaged 16.7 points and 7.3 rebounds a game. Williams is receiving interest from multiple Power Five schools, including Texas, USC, Texas A&M, Oklahoma and Texas Tech. On Twitter, Williams said, "Feels like I'm in high school again with this recruiting process." 
On April 1, starting forward and junior Tydus Verhoeven announced his intent to depart the Miner program. After becoming a starter midway through the 2019-20 season, Verhoeven has been a staple in the lineup for the Miners. Verhoeven started all 24 games this season and increased his points per game to 4.9 along with 4.4 rebounds per game. Although limited offensively, Verhoeven was known as a stout defensive presence for the Miners during his time on the team. Previously transferring from Duquesque, this would be Verhoeven's third team if he leaves. 
One day after new head coach Joe Golding was announced, sophomore Kristian Sjolund announced his entry into the transfer portal. Sjolund 6-8 forward transfer from Georgia Tech this past season enters the portal for the second time in a year. Last season Sjolund appeared in 24 games, averaging 4.9 points on 48% shooting. As the team's best three-point shooter, the Miners will sorely miss his 47% shooting from the arc on 66 attempts.  
Junior Efe Odigie broke onto the UTEP scene with an outstanding freshman season that landed him on the Conference USA (C-USA) all- freshman team averaging a double–double on the season with 12.7 points and 10.1 rebounds per game. Odigie was the first UTEP player since the 81-82 season to average double figures in rebounding and scoring. Unfortunately, since his freshman season, Odigie has fallen out of the starting lineup and seen his minutes cut in half. Over the past two seasons, Odigie has averaged 5.7 points and 2.6 rebounds a game. 
Also in the transfer portal are freshman guard Vuk Vukilic and little-used transfer guard Adam Hess.  Vukilic as a freshman, appeared in 14 games for the Miners and was only able to score 15 points and dish out 16 assists on the season. Hess, a sharpshooting transfer out of Salt Lake City Community College, was only able to appear in seven games this season, scoring 17 points while shooting 30% from the floor.  
Currently, the Miners have eight players on the roster from the season and there is still the possibility of more players entering the portal. Over the past two seasons, over a dozen Miner players have entered the transfer portal. 
At his introductory news conference April 14, new Miner coach Golding spoke about players entering the transfer portal.  
"I think everyone knows the world we are living in with the transfer portal. College basketball changed two or three weeks ago," said Golding. "If players want to stay here and be Miners, we'll make it the best opportunity for them. If they do not want to be Miners, we will help them get to the opportunity they want. From that point, we're going to recruit." 
UTEP women's basketball was able to secure a second seed in the west division finishing 17-8 before falling to the eventual C-USA champion Middle Tennessee State in the conference semi-finals. Overall, the Miners had its best season since the 2015-16 season in which the team finished 29-5. 
By midseason, Head Coach Kevin Baker had lost both Ariana Taylor and Tatyana Modawar to the transfer portal. Taylor had previously been a starter last season, averaging 6.6 points a game but appeared in no games this season. Modawar played in five games averaging 10 minutes and 4.6 points per game.  
Since the end of the season, five more players have entered the transfer portal leaving three full-time starters from last season in sophomores Katia Gallegos and Avery Crouse, along with freshman Arina Elike.  Junior Destiny Thurman also returns after starting 15 games last season. Two freshman Dagne Apiste and Brenda Fontana, also return for the Miners. 
Sophomore guard Isis Lopes is among the most significant possible losses to the transfer portal. Averaging 25 minutes a game after becoming eligible as a transfer from Clemson, Lopes was UTEP's best outside shooter hitting on 37% of her shots from the arc. Lopes averaged 25 minutes and 9 points per game for the Miners this season. 
After earning substantially more playing time for the Miners, senior Michelle Pruitt became a key contributor for the Miners averaging 9.3 points and 6.7 rebounds per game. Pruitt's inside presence leaves a massive hole on the roster. 
UTEP's longest–tenured player, junior Sabine Lipe, who has been with the team since 2018, has been a steady presence off the bench for the Miners during her three years with the team. Known for her toughness and ability to draw charges, Lipe has averaged 4 points a game for her career with the Miners. 
Sophomore Arina Khlopkova, who had a promising freshman season averaging 4 points a game, saw her minutes fall in half due to the promising play of freshmen and transfers entered the portal after only averaging eight minutes and two points per game this season. 
Also leaving the Miners is backup point guard senior Tia Bradshaw, who averaged 11 minutes and 2.6 points per game this season. 
Currently, the women's basketball team has six scholarship players remaining on the roster and has announced two incoming players to this point.  
Transfer guard Eliana Cabral is transferring from New Mexico Junior College, where she averaged 9.4 points a game. Over the final five games of the season, she averaged 15.4 points game. Cabral, a native of Portugal, is also on the Portuguese national team 
"We have been recruiting Cabral for several years now," Baker said. "We have watched Eliana grow into a solid, all-around basketball player. She has the ability to attack the rim off the dribble, score from mid-range and has become a great shooter from the three-point line. She is very athletic and can defend well."
Also joining the Miners will be high school recruit Gracelynn Alverez, a point guard from Heights High School in Houston. As a senior, she led Heights to a 24-5 record averaging 15 points, four rebounds, four assists and 2.4 steals per game as a senior in 29 games. 
"Alverez is one of the top high school players in the state of Texas," Baker said. "She is a point guard that can score the ball multiple ways, create scoring opportunities for others and can rebound at a high level. Grace has terrific court vision and speed. She will fit in well with our high tempo and fast-paced offense. She has tremendous range from the three-point line. "
Both the men's and women's teams will be busy in the transfer portal to replace critical players and replenish depth. Some players currently in the portal may decide to return to the university. For the men's team, losing a head coach always creates an abundance of transfer candidates and the women's team is somewhat a victim of its own success with players looking to benefit from more playing time elsewhere. 
Much of the success of either squad will depend on the ability of each coach to convince players of the viability and virtues of UTEP basketball. Baker has proved himself as a top coach in C-USA, while Golding has a lot of buzz after leading his team to an upset over Texas in the NCAA tournament. Both coaches have a busy offseason to improve their squads with all the players in the portal. 
Michael Cuviello may be reached at [email protected] and @dlockz on Twitter.