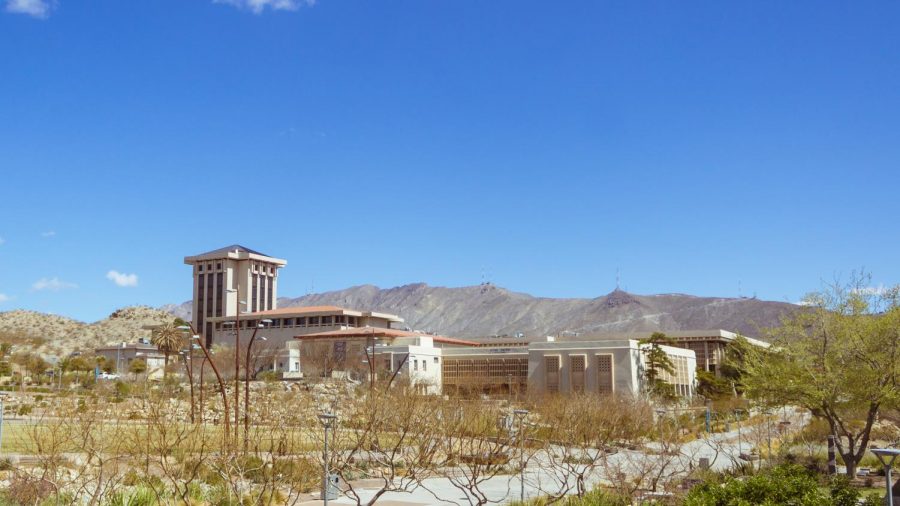 Hugo Hinojosa
With UTEP set to offer in-person classes this fall,  faculty and students predict how in-person classes may impact student enrollment and safety amid the COVID-19 pandemic.   
 According to the Division of Students Affairs at UTEP, 2,408 classes out of a total of 3,432 organized classes will be offered face-to-face this fall. The university plans to offer 291 hybrid classes and 733 online classes. 
 With 24% of El Paso's population now being fully vaccinated, UTEP staff is hopeful attending class in person will not be detrimental to the health of the UTEP student body.  
 According to Amanda Vasquez-Vicario, assistant vice president for enrollment services, it's important to understand in-person classes do not guarantee an increase in enrollment. 
 "It is too early in the fall registration cycle to speculate about Fall 2021 enrollment, but I will caution that course modality is not the only factor that will affect students' enrollment decisions," Vasquez-Vicario said. "There are a number of factors that affect students' enrollment decisions, however, finances are among the most prominent." 
 The COVID-19 pandemic has taken a toll on students and their ability to afford higher education. With layoffs and the difficulty in finding work, a report by CNBC revealed 56% of college students across the nation have said they do not have the financial means to attend school.  
 "We realize that the COVID-19 pandemic affected many of our students and their families, especially those who experienced job loss and job reduction," Vasquez-Vicario said.  
 According to UTEP data, there was an 8.7% drop in enrollment from fall 2020 to spring. For fall 2020, there was a total of 24, 879 students enrolled at UTEP. For spring, there is currently a total of 22,707 students. 
 To help college students stay enrolled, UTEP students were reimbursed fees that covered services which were being unused when COVID-19 first broke out in El Paso. However, according to Vasquez-Vicario, finding the means to cover costs has been difficult.  
 "Some students and their families may still be recovering from these impacts and they may be working to balance the pandemic's effects with their enrollment plans," Vasquez-Vicario said.  
 Associate professor at the department of communication, Eraldo Chiecchi, is one of the various  faculty members at UTEP hoping  in-person classes will work safely for both staff and students.  
 "If we are over, or mostly over the pandemic, and everything is safe, I'm thrilled," Chiecchi said. "I think that we (UTEP) have done very well with online education, the best we could, but at the end of the day, it just doesn't compare face-to-face."  
 One of the classes Chiecchi teaches at UTEP is digital photography. Chiecchi said it can be hard to construct a class where he is teaching students about how to use a camera when he cannot physically show them how to use all of the features cameras come with.   
 "As of right now, all I can say is 'read your manual," Chiecchi said. "I don't feel that that is a sufficient answer."  
 Chiecchi wants to help his students grow academically and professionally, whether it's done virtually or in-person.  
"There are journalism conventions that are held in person that are going to be starting very soon," Chiecchi said. "I would love to take students to that."  
 Chiecchi would also like to engage his students more in the content he teaches by providing them with field trips.  
 "I like to take my students to the Big Bend area, maybe go to the McDonald Observatory as part of one of my photo classes and go photograph Fort Davis," Chiecchi said. "We'll get to do that if it's safe."   
 Attending class online poses its challenges, but Chiecchi understands there has to be some kind of regulation if students want to be able to attend class on campus.  
 "What I recommend my students do is to continue wearing a mask," Chiecchi said. "Because as good as things may become, I still think we need to be careful." 
 UTEP requires students and staff to wear masks while they are on campus and social distancing is enforced throughout the buildings.  
 "Of course, I will follow whatever the school says that we need to do," Chiecchi said. "I want to still wear a mask every day, all the time." 
 Although it's hard to say what enrollment will look like for fall 2021, Chiecchi hopes it will take a turn for the better. 
 "I think that the level of instruction should improve and I think that the enrollment should improve," Chiecchi said 
 Just like Chiecchi, UTEP students want to see safety enforced, even if it means limiting what students can do on campus.  
 Isaiah Munoz, a clinical laboratory science student at UTEP, empathizes with those who have grown tired of the pandemic and its limitations, but he said students and staff cannot become too comfortable if they do plan on attending class in person this fall.  
 "They (students) had a year of quarantining and they want to get out again," Munoz said. "I get that, but I don't know if we're at the right time." 
 Munoz suggests UTEP encourages more students to get vaccinated, enforce wearing a mask, and separate students out just enough for in-person classes.  
 "I am okay with UTEP enforcing a mask rule and enforcing social distancing," Munoz said. "It protects everyone and yourself at the same time."  
 While some students are ok with having in-person classes as long as restrictions are enforced, others believe that UTEP should limit in-person options to hybrid courses.  
 "I think they (UTEP classes) should be offered in a hybrid position because there are so many of us," Mariana Ortiz, an international busines student, said.  
 Ortiz finds that it could be perilous if several students are placed in the same buildings, making it difficult to enforce social distancing.  
 "If we all don't go together at the same time, it would give the staff more time to keep areas sanitized and lessen the risks for everyone overall," Ortiz said.  
 UTEP aims to increase student engagement, research, and activities as classes resume face-to-face for fall, but will continue to share updates regarding how classes will be held as new information becomes available.  
 Nicole Lopez can be reached at [email protected]; @nicoleilopez on Twitter.