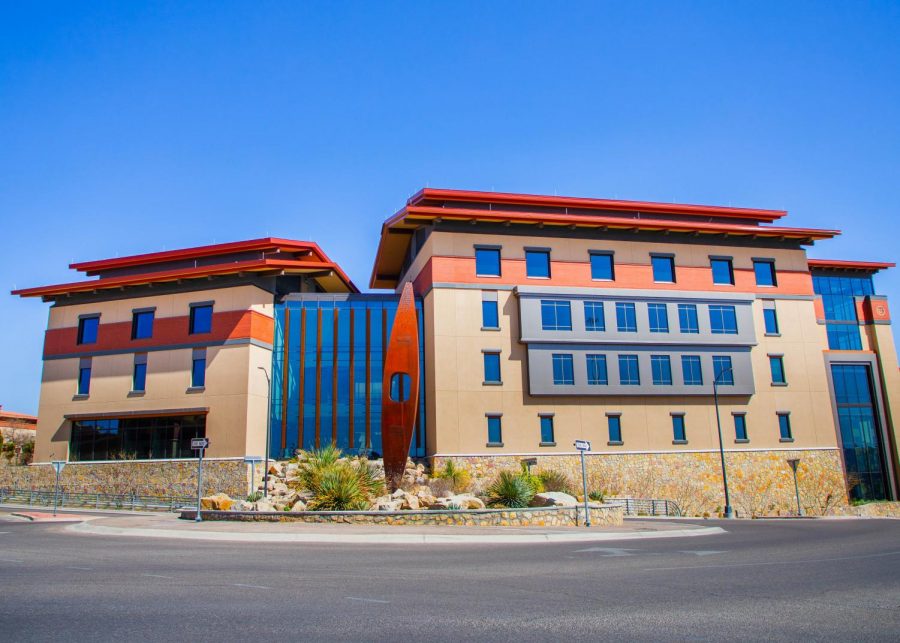 Jasmin Campoya
UTEP announced the expansion of its COVID-19 vaccination program to household members of students and staff March 19. UTEP is encouraging students and staff to register their family members, especially those who may need assistance navigating the registration system.
Like many other students and faculty members at UTEP, Priscilla Carrasco, administrative services coordinator for the electrical and computer engineering department, was waiting for the perfect opportunity to be able to vaccinate her family members.
Carrasco was recently able to vaccinate her father, Ricardo Carrasco, her mother, Teresa Carrasco, and her husband, Raul Jacquez, through UTEP's vaccination program. Before she was able to get her parents and husband vaccinated through UTEP, she originally signed them up through the city's program.
"I was able to get them registered, but they never called me back," Carrasco said. "I barely got an email back from the city for my mom and dad, but it's been a while since I registered them."
Carrasco and her family only waited a month before they decided to turn to UTEP.
"Once (UTEP) opened up the portal, I was able to get them in the very next day," Carrasco said. She said she did not encounter any problems with registering her family with UTEP.
"Through UTEP it was very easy," Carrasco said. "It was a simple questionnaire and automatically, as soon as I registered, they gave me an appointment for the very next day."
When Carrasco took her family to UTEP to get vaccinated, she was impressed with the university's clinic process.
"The way UTEP organized it was just unbelievable," Carrasco said. "It was very well organized, and my parents didn't have to wait long."
Jose Rivera, dean of UTEP's School of Pharmacy, is one of various directors running the vaccination program by helping keep things in order and operating as smoothly as possible.
"We have a really good setup," Rivera said. "We have that space available from the interdisciplinary research building, which was conducive for us to set up a clinic and it has all the elements we need."
UTEP's School of Pharmacy saw a need to do what they can to vaccinate more people, thus they established the campus clinic.
"(School of Pharmacy) went to UTEP administration and we explained that we have the capacity to do this," Rivera said. "We have the capacity of receiving, storing, maintaining inventory control, preparing the vaccine using sterile techniques, and administering the vaccines."
UTEP's clinic has experienced long lines with some people having to wait past the time of their appointment, but the vaccination team does what it can to keep the wait as short as possible, Rivera said.
"Right now, we have a good path for getting people in and out and getting a vaccination observation," Rivera said. "We also have a vaccination preparation room to set up a flow of work that works very efficiently."
Carrasco said she did not have to wait more than an hour to get both of her parents vaccinated on the same day.
"It was actually really quick," Carrasco said. "UTEP President Heather Wilson was there which added a personal touch especially with my dad given everything he went through during the summer with cancer, and he survived it."
Carrasco was eager to get her mother and husband vaccinated as soon as possible because, like her father, they have a medical history that could put them at risk of complications if they were to be diagnosed with COVID-19.
"They're both high-risk," Carrasco said about her parents. "My dad is a cancer patient, and my mom has diabetes. Carrasco's husband developed blood clots, so is also a high-risk patient."
Carrasco said she feels more at ease now that her family members have received the COVID-19 vaccine.
"I feel a lot more comfortable knowing that they are vaccinated and protected," Carrasco said. "Given their health conditions, I'm at peace knowing that they will be okay."
According to Rivera, UTEP has vaccinated 12, 224 people, including students and staff from UTEP, people from independent school districts, UTEP retirees, people from senior programs at UTEP, and household members of UTEP students and staff.
UTEP will undergo reevaluation to be able to continue providing the clinic in the summer to those who want to get vaccinated.
Nicole Lopez may be reached at [email protected] [email protected]; @nicoleilopez on Twitter.