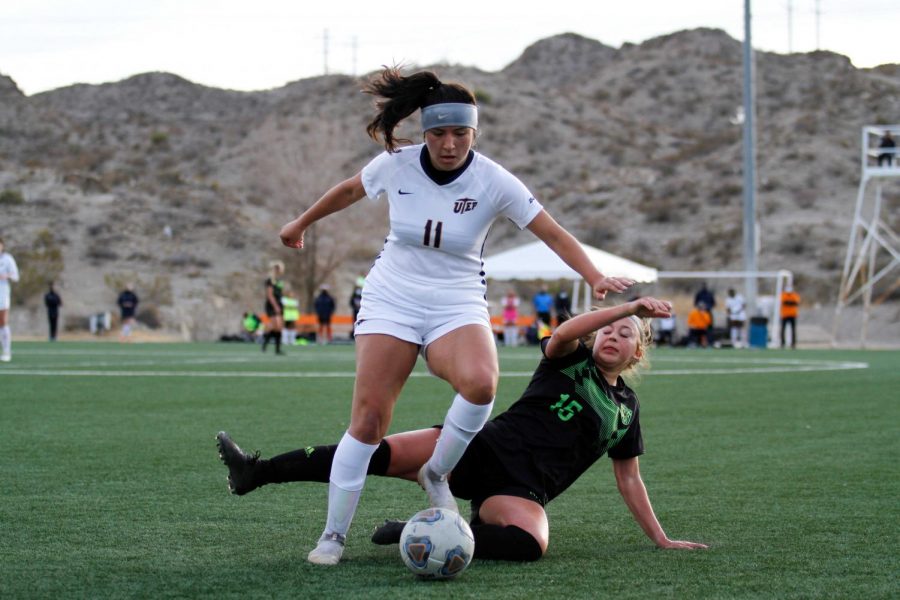 File photo by Alberto Silva
The UTEP Miners (3-4-1. 2-1-1) closed out its home season with a second-half comeback against the North Texas Mean Green (3-4-1. 2-1-1), gaining a 1-1 draw Friday, April 2.
UTEP spent most of the match in its own territory as North Texas took 33 total shots on the day, the most of any team that the Miners faced all season.
North Texas' Devyn Flannery scored the first goal of the match at the 32nd minute of the game on a Brooke Lampe's assist. Lampe played a high ball that skipped past UTEP's defense which allowed Flannery to score against Miner goalkeeper Emily Parrott. The orange and blue goalkeeper ended up having eight saves in the match; Kelsey Brann had three saves for the Mean Green.
At the 35th minute, sophomore forward Tessa Carlin almost had the equalizer for UTEP, but her shot was off the goal. Four minutes later, UTEP sophomore defender Emerson Kidd, with a header, had another shot that went wide right off the net.
With just 14 minutes to play in the match, UTEP started playing shorthanded as Cayla Payne was expelled from the game after receiving her second yellow card of the match. After Payne's expulsion, UTEP was still able to go on the offensive and at the 79th-minute mark, Kidd scored the equalizer to tie the game up for the Miners.
Even though Parrott had eight saves in the game, the first four saves were over the first 13 minutes of action since North Texas had the game's control since the beginning. UTEP's goalkeeper also had a pair of saves in the last minutes of the game, including a diving stop on an attempt by Marie Elle DeFrain with only 19 seconds remaining on the game's regulation.
Overall, the Miners had 11 shots and four were on goal, the Mean Green had 33 shots, and nine of those were on goal.
"What a gritty performance from the girls tonight," UTEP's interim head coach said. "To have to play down a man and equalize is a real testament to the girls' spirit after a really hard week of very little training. The staff was incredibly proud of the girls fight and determination throughout the whole game."
Currently, the Miners have seven total points in the Conference-USA standings, which places the team fourth overall in the West division. UTEP remained unbeaten at home with a record of 3-0-2 but has yet to win a game on the road this season in four games.
The orange and blue will play against UTSA 6 p.m. Monday, April 5 in San Antonio, in a game that had to be rescheduled from earlier in the season.
Heriberto Perez may be reached at [email protected];@heriperezlara on Twitter.