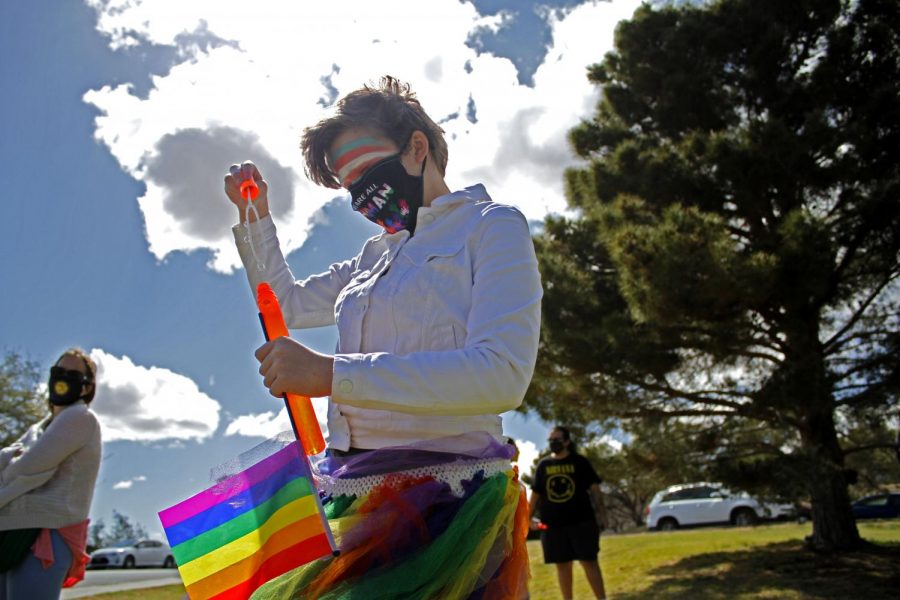 Alberto Silva Fernandez
The Borderland Rainbow Center (BRC) hosted a rally March 27 to bring together and honor young members of the transgender community in El Paso.  
The "We See You" rally was held at Memorial Park, where families, children, and people of all backgrounds were welcome to join and participate in the walk ahead of International Transgender Day of Visibility on March 31.  
 BRC has been hosting webinars and other forms of virtual meetings for people to participate at a distance, but Dexter Zapien, coordinator of the rally, wanted to give members an opportunity to gather in person and celebrate, practicing social distancing.  
"With the pandemic, we've had a little bit of trouble reconnecting with each other," Zapien said. "With the work that Borderland Rainbow Center has been doing, reaching out, and trying to foster these community events, even online, we're able to maintain those connections."  
BRC didn't have a large digital presence before, but when it decided to revamp its social media once the pandemic broke, the organization noticed an increase in members and participation.  
"At first, we (transgender community) were really spread out and sparse, but now that we all had to come together virtually, it's opened up the opportunity for so much more," Zapien said about being able to host in-person events.  
Members of the transgender community are often left with a lack of confidence trainings and mental services specifically for the issues they deal with, Zapien said.  
According to Zapien, having an organization regularly holding events is one of the most important steps in addressing these situations.  
"This event is really just to help people recognize that they're not alone, which is especially important in light of the pandemic," Zapien said. "Trans youth, in particular, are under attack right now with regard to legislation and, in general, we just wanted to make this visibility."  
Zina Smith, a participant at the "We See You" rally, was not only able to connect with other participants, but they also achieved exactly what Zapien was hoping for: being able to feel that they are not alone. 
"It's nice to have people who accept you and understand you," Smith said.  
Although Smith grew up as a military child and is new to the community in El Paso, they have become rather involved with the LGBTQIA+ and transgender community by looking into support groups and making friends along the way.  
 "I have several cisgender friends who do accept me and it's really nice to see people outside of the (LGBTQIA+) community to see that we are people and that these people exist," Smith said. "We have feelings too."  
BRC is open to everyone, whether they are a part of the LBGTQIA+ community, or if they simply want to show their support. The organization offers mental health services, support groups, and food pantries, available for the El Paso community, in hopes that it can make a state-wide difference.  
"Not only are we working in a community at a microlevel, but we're also hoping to impact positive change for the LBGTQ+ community in Texas in general," Zapien said. 
Smith and Zapien agree on one thing: making people more aware of those who belong to the LGBTQIA+ community and their ease of access to resources. 
"We are always offering new ways and groups to educate people, not only in workshops, but in therapy as well," Zapien said. We're always just trying to stand by our community to make sure that everyone is represented and that everyone feels safe."  
Smith, as a transgender member who has undergone their fair share of issues with being respected for their sexuality, stresses the importance of acceptance.  
"Just general acceptance and awareness is essential," Smith said.  
With Pride Month set to take place in June, the community of El Paso can expect more from BRC. 
"We have a lot planned for Pride Month," Zapien said. "We just hope that we can continue to unite the El Paso community with LGBTQ+ affirming."  
Nicole Lopez may be reached at [email protected]; @nicoleilopez on Twitter.