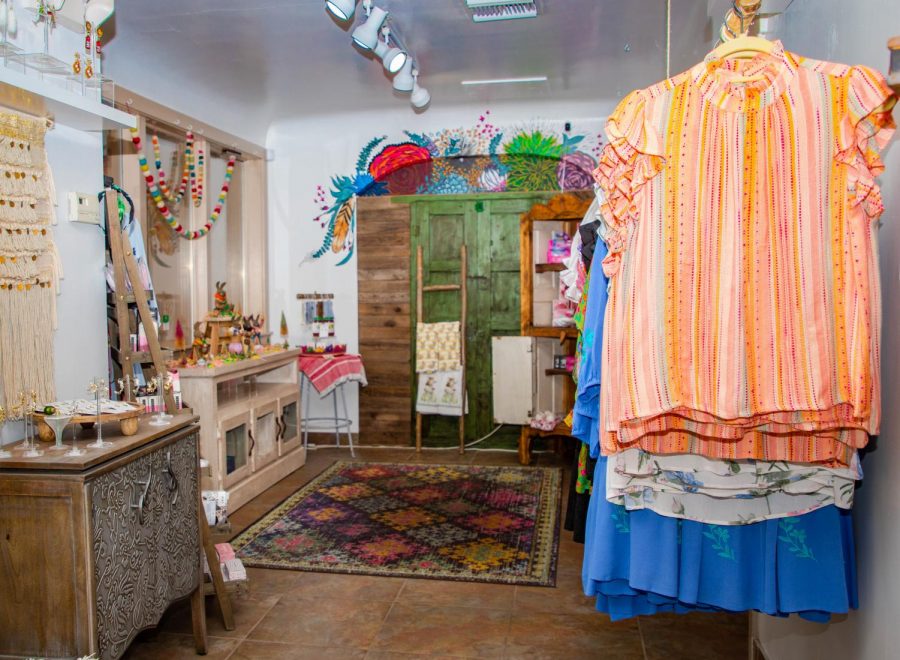 Jasmin Campoya
Despite the challenges COVID-19 has approached businesses with, local boutiques in El Paso are making adjustments to in-store and online sales to keep their operations up and running.   
Between March and July of 2020, more than 120 businesses in El Paso closed for good, according to data from Yelp.  
Gesuina Legaspy, owner of GAL Boutique, understood the possibility of losing her business, just as more than 120 other business owners did in El Paso. Her persistence is what allowed her to keep GAL Boutique afloat.  
"I thought to myself, 'I'm not going to go down like this," Legaspy said. "There is no way that I'm just going to let this kill my business."  
Business did indeed slow down for Legaspy at the beginning of the pandemic. It was during spring of 2020 that she took advantage of the spare time she now had, to learn more about how she could help her business grow.  
From attending online pop-up sales to purchasing designer gowns, Legaspy got creative. She began to investigate lower price products offering high-quality fashion for customers alike. 
"People still need accessories, they still wear sunglasses, jewelry, masks, and now they're wearing more loungewear," Legaspy said. "I changed my structure that way people could purchase what was trending." 
Legaspy also considered efficient means of delivering her products to her customers. 
"Since we (employees at GAL Boutique) weren't yet allowed to come to the store, I was constantly either shipping or going to people's houses to deliver stuff," Legaspy said. "I did what I needed to do to save myself." 
On Next Sunday, a boutique located at The Fountains at Farah, experienced similar problems.  
"I took a step back because I really thought we were going to have to close," said Erika Lee Williams, owner of On Next Sunday.

Come May 1, 2020, Williams realized people were buying more than she expected, considering the stay-at-home order.  
"I saw this trend as an opportunity to not give up just yet," Williams said. "We revamped our online store and made it more user-friendly."  
Williams experienced a 200% customer growth with her online store after she decided to freshen it up.  
"Thankfully, my business has been able to make some upward growth during the pandemic," Williams said.  
Because of the customer growth, Williams decided to hire more people to help keep up with the business of On Next Sunday.  
 "Just in December, I hired someone to do all the social media and she does a good job of having a plan," Williams said. "We're very flexible with what we post and how much we're posting." 
Business also grew for Dos Femmes, a local boutique operated by Lexi Johnson. By investing more in packaging, the content on the Dos Femmes website and its social media, the quality of its products and its customer service, it has been able to keep business on par.   
"Our business has exploded since the outbreak of coronavirus because we had extra time to focus on perfecting everything," Johnson said. "We raised the bar on every aspect of our business during COVID." 
According to boutiques such as GAL, On Next Sunday, and Dos Femmes, jewelry has been a popular accessory as of recent. As an easy way to style and accessorize at home, these businesses decided to sell more jewelry to appeal to more customers.  
According to the boutiques, clothing will always be in demand, but with more people at home, earrings, rings, necklaces, and bracelets are on the rise.  
Dos Femmes is currently working to expand its jewelry line considering how much it has helped the boutique.  
"We were very lucky to have our website up and running way before COVID hit," Johnson said. "We were able to transition our business to home and operate from there to continue our business."   
Legaspy, just like Johnson, understands the power having an online presence provides her boutique with. GAL Boutique, in addition to its website, utilizes story posts and videos on Instagram because it wants to provide more interaction than just the minimal interaction from feed posts.  
Legaspy feels the more she utilizes video and audio for her boutique's social media account, the more people can gain a sense of the products her boutique has to offer. 
Legaspy also has her employees and herself model the clothes at GAL Boutique to show customers her products are suitable for everyone.  
Denisse Olivas, marketing lecturer at UTEP, emphasized how much virtual services, social media, and websites can help these boutiques and their target audiences, especially during this virtual time.  
"Small businesses are learning more about what they can do with technology," Olivas said. "It is critical for businesses to become nimble by providing products in a digital way so that they can be found more often online." 
Olivas also mentioned how creating advertisements, working on search engine optimization, and understanding where your target audience is at, is what has helped these boutiques not only keep up with the struggles of the pandemic but also grow.  
"At this point, going digital or having that presence in addition to in-person services, is the best way to connect with a consumer," Olivas said.  
Nicole Lopez may be reached at [email protected]; @nicoleilopez on Twitter.