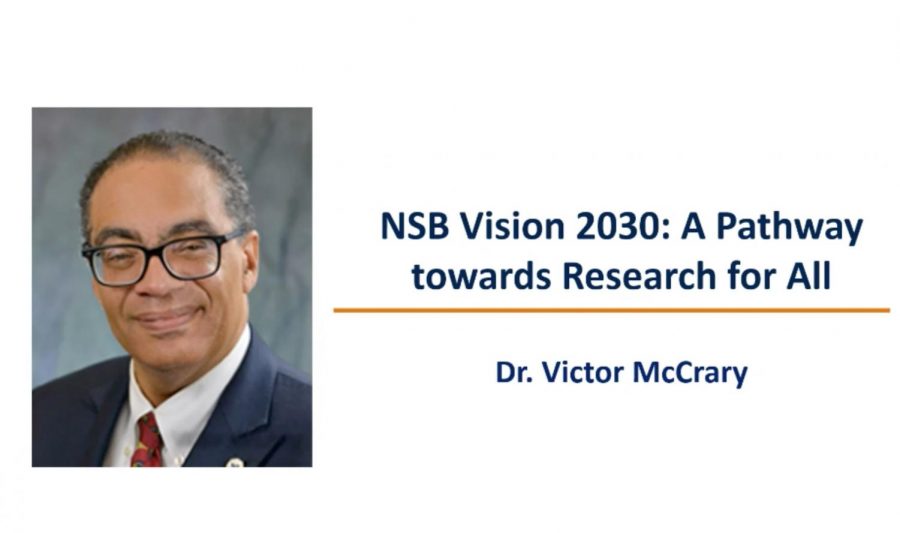 Vice Chair of the National Science Board (NSB), Victor McCrary, said he believes the United States' science and technology leadership is at a crucial moment in time. Its success is based on  the decisions STEM leaders  make from this point forward.   
"Vision 2030 embraces what we as a board, the governing board over the NSF (National Science Foundation), can do over the next ten years," McCrary said during his Jan. 26 virtual Special Research Forum hosted by UTEP's Office of Research and Sponsored Projects.   
At the forum, he was joined by UTEP President Heather Wilson, who became a member of the NSB in 2020. Here, McCrary and Wilson work with the NSF to recommend and encourage research and education and advise the president and Congress on policy matters related to science and engineering. 
"Vision 2030: Vision for the Future" is a recently published NSB report. In his presentation, McCrary highlighted some of the key sections of this report that the U.S. and NSF would need to have done by 2030 to adopt emergence trends in science and engineering.    
Going into this agenda, McCrary stated data was obtained at Vision Listening Sessions at Washington University in St. Louis, Santa Fe Institute, and Arizona State University, among others. Attendees were asked about the emerging trends they saw in their field that were affecting their practice, such as science and engineering.  
McCrary reminisced from the Vision Listening Sessions, pointing out that "the U.S. remains a magnet for the world's best talent."  
According to the NSB, the U.S. must have increased STEM skills in its workforce to create opportunities amongst the American population, as well as having created "an accessible and attractive S&E (science and engineering) enterprise" that reflects the country's demographics and geographic more accurately.   
Stressing a goal to increase the number of demographics in the S&E, McCrary said it is important to recruit and retain women and other historically underrepresented groups to offer more opportunities to everyone and create a thriving economy.   
"Our nation's diversity is one of our greatest strengths and leveraging this strength by broadening participation in the U.S.'s S&E enterprise will be crucial to individual opportunity and thriving economy," McCrary said.  "To close this talent gap, we must accelerate progress and increase the participation rates currently of underrepresented groups, the 'Missing Millions."  
McCrary moved forward to NSB's plans of achieving these goals by developing STEM talent, delivering benefits from research, expanding the geography of innovation and fostering a global S&E community.  
Bringing attention to these goals and the need to be technologically advanced in order to not be surpassed by another nation, McCrary expressed his approval of President Joe Biden's newest executive order to rejoin the Paris Accord so the U.S. can reach global achievements.  
"You (UTEP) are already thinking or doing many of the things board members believe we need to achieve the vision," McCrary said. "This is not just the NSF''s vision, this is not just the civilian vision, it's everyone's vision." 
Sven Kline may be reached at [email protected]; @SvenKline on Twitter.