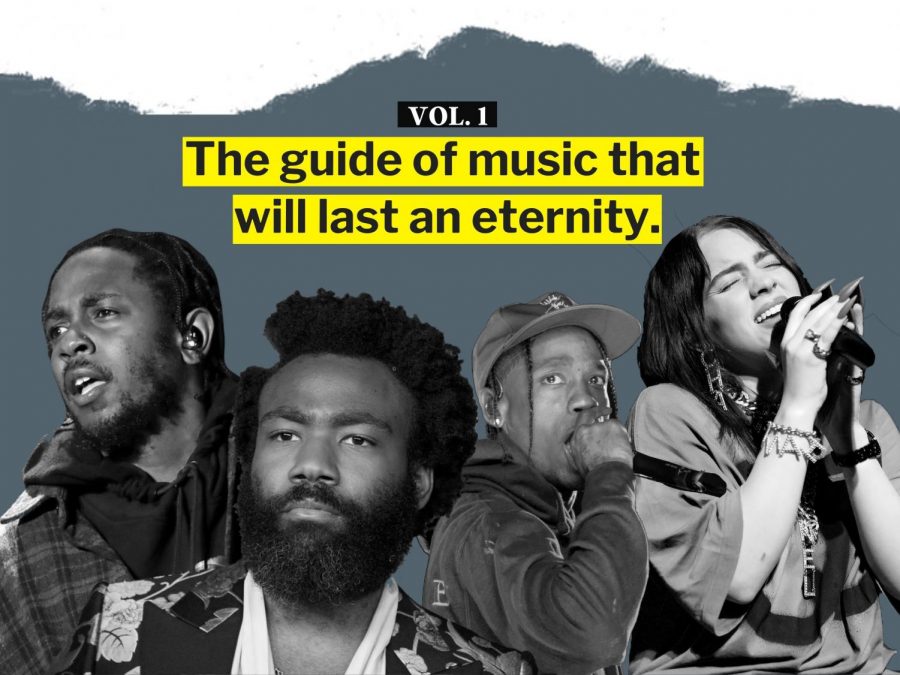 Whether the occasion is celebratory or even just a car ride, music has been at the center of people's daily lives for the power it has to put our feelings into rhythms and words.  
But what music in today's generations will stand the test of time?  
Covering three main and basic genres of this past decade, Rap, Hip Hop and Pop, here are the artists and tracks I think will remain consistent throughout the next years and possibly even when I'm long gone.  
RAP/Hip Hop 
Though I cannot say I am an avid fan of the genre, there are individuals that catch my attention such as Kendrick Lamar, Travis Scott, Cardi B, Childish Gambino, Doja Cat, Lizzo, Tyler the Creator and The Weeknd.  
Collectively these artists have made mile deep impressions upon the world with their iconic tracks with some and have remained idols, sponsors and celebrities to this very day. 
Kendrick Lamar 
Growing up in Compton California, Lamar wrote poetry and lyrics which would spur his career with his first mixtape. His work was noticed by Top Dawg Entertainment, sparking his fortuitous career in the music industry.  
Today, Lamar has nine albums with popular tracks such as "HUMBLE," "King Kunta," and "Money Trees," which have solidified his fame into the world.Seeing how Rap is a consistently listened genre, Lamar has become a staple and is an artist that future generations will come across.  
Childish Gambino 
Though unfamiliar with his musical works, I am more than familiar with the quirky fun-loving individual Donald Glover, and the hit show he starred in, "Community."  
Glover first began his acting career while attending New York University. He wrote in a sketch comedy group, which led him to be recruited by none other than comedian, actress and producer, Tina Fey, who invited him to write for the NBC hit show "Thirty Rock." Three years later Glover began his work as part of "Community" in L.A.  
On the same day as the premier of "Community," Glover released his second mixtape, "Poindexter." His first two mixtapes would define his "quirky" rapping to change into a more serious approach.  
In 2018, Glover released his hit viral song and music video "This Is America" that not only spurred controversy around the issues surrounding the United States but became a fast trend on social media. Glover is a major title in the rap genre, political world, and dare I say even a subject for history books later in the century, as an artist who mixed creativity, art and comedy to make truth.    
Cardi B 
One of the first female Dominican rappers to become popular in American mainstream media, Belcalis Almanzar, better known as, Cardi B, ravaged the music scene like a shockwave. Like an air raid siren, her debut was all people talked about when she initially entered the scene with her single "Bodak Yellow." The single was featured in her Grammy award winning album, "Invasion of Privacy," in 2018. –Cardi B was an immediate hit among audiences and could be found everywhere in collaborations such as "I Like It," with singers Bad Bunny and J Balvin or distinguished "WAP" hit with Megan Thee Stallion.  
Ever since the beginning of her career, Cardi B has had quite the extraordinary success, making her one of the decade's top–grossing artists and a landmark in the genre. As Dr. Tyrell of the Bladerunner film says, "the light that burns twice as bright burns half as long — and you have burned so very, very brightly."  
Travis Scott  
With the recent fad of going to your local McDonald's and ordering the Travis Scott Meal, this artist will be remembered not just for his music but the shenanigans that follow suit.  
The prominence of Scott is colossal, appearing and collaborating with some of the media's biggest names, it's almost impossible to find someone who doesn't know the name.  
In 2018, Scott released "Astroworld," an album that would bring the flaming heat of "SICKO MODE," a popular track with iconic rhythmic melody.  
Pop  
As I reflect on society's mainstream musical interest, the Pop genre remains timeless.  But in this past decade, Pop has taken inspiration by elements of the Rap and Hip Hop genre to showcase some legendary songs that are sure to stick around for quite some time.  
From figures like Beyonce, Bruno Mars, Taylor Swift, Adele, Lady Gaga and Katy Perry to Ariana Grande, Rihanna, Kesha, Harry Styles, Billie Eilish and Drake, these pop artists bring elements from different genres to create another level of music. 
Billie Eilish  
With such a fast-paced arrival to success, Eilish first hit the scene, appearing in SoundCloud with her debut "EP Don't Smile at Me" in 2017.The EP hit top fifteen in the U.S., United Kingdom, Canada, and Australia, leading her into booming territory two years later with "When We All Fall Asleep, Where Do We Go?" with her number one track "Bad Guy." The album won her five Grammy's, including the Best New Artist, Album of the Year and Song of the Year awards. 
With her debut success Eilish would go on to further her fame and appear in numerous media, such as shows like 13 Reasons Why, HBO's Euphoria, and even perform on NBC's SNL. 
It's without a doubt Eilish's productions will live on for years to come and may even be pronounced a significant historical musical figure. Afterall, she dethroned Lorde as the youngest artist to have a number one single and be nominated for several awards.  
Bruno Mars 
With early beginnings in the musical world, such as being raised in a musically inclined family of six and later producing in L.A. Bruno Mars is not a stranger to the industry. Mars and his band, The Hooligans, reached fame in 2010 with the hit track "Just the Way You Are," that made the artist a headliner.  
Since his arrival, Mars and The Hooligans have collaborated with various big-name artists like Maroon 5 and One Republic, appeared in movies and shows like the soundtrack of "The Twilight Saga: Breaking Dawn- Part 1," and performed at the Super Bowl XLVIII Halftime Show. With his use of elements like reggae, R&B, soul and funk, Mars alongside his band remained a consistent trend throughout the 2010's and show no sign of quitting anytime soon. With their 100 Billboard titles they destined to remain relevant in the years to follow.  
Kesha 
Kesha Rose Sebert, or Kesha, debuted in 2010 with her hit album "Animal" that may have tempted many into brushing their teeth "with a bottle of Jack" with the hit single "Tik Tok" followed up by "Take It Off."  
As if her success with "Animal" wasn't enough, the same year she released her album "Cannibal," with hit critical acclaim with self-titled track "Cannibal," "We Are Who We Are," and of course, the unforgettable "Blow."  
Although her popularity isn't what it was a decade ago, Kesha remains relevant to this day as a well-known figure. There's a reason why her music will perhaps out live all of us and maybe even the apocalypse itself, and it's because it's perfect for any occasion and person looking to remember what it feels like to be young again. . .  
Mainstream artists come and go frequently while others take time to gain their following and fame. No one can accurately predict the future, what will last and what won't, but by looking at an artist's skill, artistic ingenuity and following I can draw up an assumption.   
Sven Kline may be reached at [email protected]; @SvenKline on Twitter.