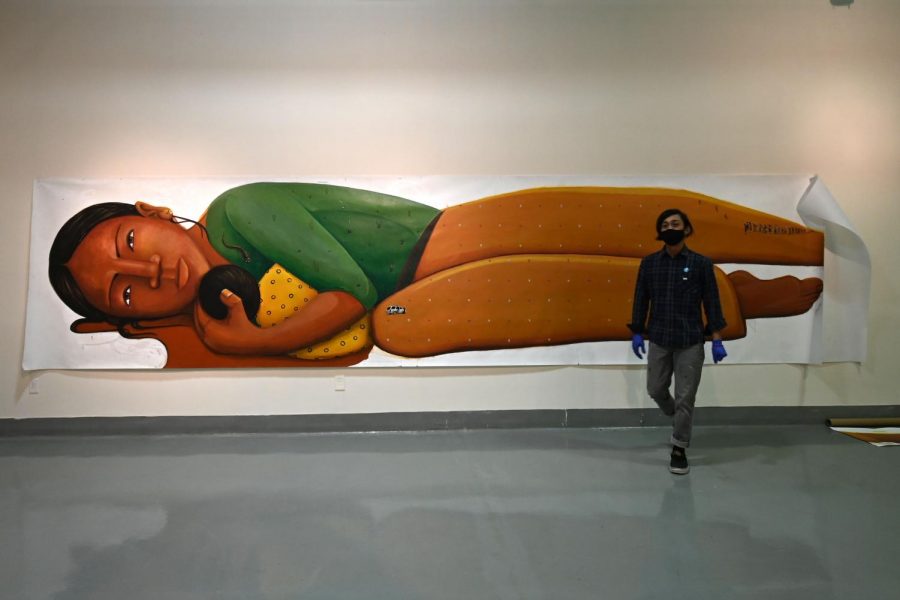 The Rubin center's community curator, Ramon Cardenas has plenty of hands-on experience in the art world. He ran his own commercial screen-printing company, Maintain Studio.  
He and his wife Christian Pardo Cardenas make up Los Dos, a collaboration that creates murals, teaches workshops and recently participated in an exhibition in New Zealand. Despite his success, he decided that he needed to come to UTEP to formally learn how things work in museums.  
"It's an amazing opportunity to be here and get my degree and professional experience at the same time," Cardenas said. "I want to do the best I can and focus on engaging the university students and bring in underrepresented and diverse artists to the gallery space." 
Before being named curator, Cardenas had some working in museums. He'd organized small pop-up shows like the yearly Chalk the Block. While interning at the Rubin Center, the team  recognized the unique experience Cardenas held and created the curator position for him.  
He's currently working on his first professional curating job, "Manipulation". "Manipulation" is an exhibition of Jellyfish Colectivo's work. 
"When we were thinking about shows to do in this Covid time, we wanted to work with area artists because a lot of institutions and artists aren't working," Cardenas said. "We want to be supportive of artists that are established here."  
Cardenas is a longtime advocate for local artists. When he wasn't working on commercial prints with larger companies, he reached out to artists to print their work and make it more accessible.  
He is passionate about community involvement too. As a part of LosDos alongside his wife, he taught workshops in collaboration with the El Paso Museum of Art. In 2017, he and his wife painted a mural on the Durango bridge that included a section for community members to paint.  
"It was the largest scale project that we've ever done. It was about 575 feet long by 20," Cardenas said. "It was cool to get the community involved because that's a lot of what LosDos focuses on: community engagement and access in the form of public artwork."  
LosDos' reach has expanded internationally. They created a mural for the 'This is America' exhibit in New Zealand. The exhibit was a survey of American art with an emphasis on the upcoming presidential election. Though they couldn't go abroad because of travel restrictions, their mural is on display. Cardenas has a dream of helping other's artwork go international like his did. With his new platform, he'll be able to. 
"There's print making facilities and studios, so I think I really want to utilize all the things that UTEP has to offer and work with visiting artists to engage with the students and create projects that could use those tools," Cardenas said. 
In addition to workshops with artists, Cardenas has a goal of connecting El Paso artists to the New York and Los Angeles art markets.  
"A lot of curators and institutions are starting to take notice in this area," Cardenas said. "It's politically in the spotlight and a lot of people started visiting the area and recognizing the unique environment and the artists that are here." 
The Rubin center has a goal of bringing diversity to El Paso and Cardenas wants to take it as far as it will go. He wants to show the community artwork that they might not have otherwise seen. With the reopening of the gallery on Oct. 29, community members will have a variety of exhibitions to view. 
Exodis Ward may be reached at [email protected]; @alexodislee on Twitter