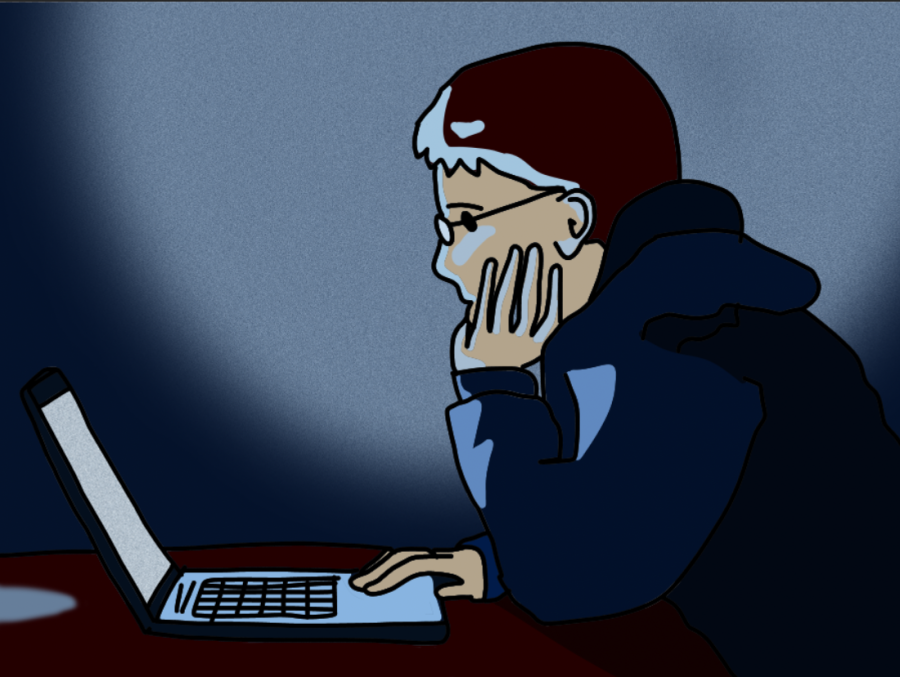 Illustration by Hugo Hinojosa
After almost three weeks since the start of the fall semester, UTEP unveiled its COVID Data Dashboard Thursday, Sept. 10 that "reflects the total number of UTEP faculty, staff and students who tested positive for coronavirus through the voluntary UTEP Coronavirus Proactive Testing Program or who self-reported a positive test result from an outside testing facility by week."
However, this new data source does not reflect the cumulative total of UTEP-affiliated coronavirus cases since March when the virus first struck the county. It only goes back to Aug. 24.
Many universities throughout the nation have been utilizing dashboards or trackers to regularly provide the public data on the spread of the virus at their campuses since the beginning of their fall semesters.
UTEP President Heather Wilson told The Prospector that the university monitors the spread of COVID-19 each day and that "we have to operate in the presence of the disease."
Wilson told the El Paso Times in mid-August that the university had no plans to share its COVID-19 data online, but that it would provide the information whenever asked. UTEP is now providing that information online.
According to the university's new dashboard, UTEP reports 25 positive test results through its coronavirus testing program and 16 self-reported positive cases as of Sept. 14.
UTEP's recovery plan
Prior to the fall semester, UTEP revealed its plan on how to reopen the campus based on a "campus recovery matrix" which details how and when the university can shift back to a fully-operational campus by levels.
The recovery matrix is broken down into five recovery levels: Restricted Campus, Limited Campus Operations, Low Density Operations, Medium Density Operations, and Open Campus. Each level is inspired by the Centers for Disease Control and Prevention's (CDC) guidance to institutions of higher education and is subject to the number of documented cases over a 14-day period.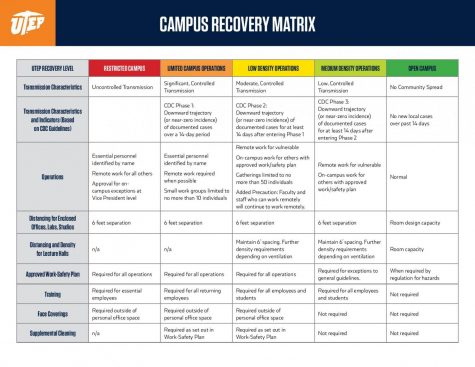 Currently, UTEP is operating at Low Density Operations, where remote work is implemented for vulnerable cases, gatherings are limited to no more than 50 individuals, and a separation of six feet is crucial.
A lag in reporting COVID numbers, data not broken down
Out of the more than 10 institutions under the University of Texas System (UT System), UTEP was one of a handful of universities that fell behind in sharing positive cases with the public. UT institutions like the University of Texas at Austin (UT) and the University of Texas at Arlington (UTA) have been utilizing dashboards or trackers since the beginning of the fall semester.
New Mexico State University, a commuter college like UTEP, has also been utilizing a dashboard since late August.
When The Prospector inquired why the university did not utilize a dashboard from the very beginning, Wilson said that the university usually gets requests for COVID information that varies, so UTEP's approach was to give each requestor an exact answer individually, rather than using a public page.
That has now changed, but the data on the dashboard is not broken down by gender, whether the cases are attributed to students or staff, whether the cases are related to athletics, or anything other than positive test results from UTEP's testing program and cases that are self-reported.
The New York Times has been tracking the presence of COVID-19 on U.S. college campuses and it shows UTEP has recorded 103 positive cases of the virus since March, but UTEP's new dashboard only reflects data since classes began in late August.
The dashboard is split into two columns; "Self-Reported Positive Cases" and "UTEP Coronavirus Proactive Testing Program Positive Cases."
Based on information the university provided The Prospector, 4,077 people have been tested for the virus as of last week which yielded 23 positive test results.
In comparison, the City of El Paso reports a cumulative total of 21,965 positive cases of COVID-19, 474 cumulative deaths, and 2,837 active cases of the virus as of Sept. 16. The city breaks down its data by gender, age group, ethnicity, and by cases with co-morbidities, among other analyses of its data. In 2018, the city had a population of more than 680,000, according to the United States Census Bureau.
In a virtual news conference before the fall semester, UTEP reported a positivity rate for its testing program that's less than 1%, but its dashboard does not explicitly reflect the university's positivity rate. The university recently announced an enrollment of 24,879 for the Fall 2020 semester, but based on UTEP's current recovery level, only a fraction can be on campus.
"While we're at the low density operations, it does allow us to have a class of 50 in a room designed for 550," Wilson said.
It is unclear whether classes that are currently remote will be able to shift to in-person instruction in the middle of the semester if UTEP's recovery level allows for further reopening.
Testing as a strategy
UTEP's coronavirus testing is free for enrolled students and employees who will be on campus during the fall semester and who are asymptomatic. Testing only asymptomatic individuals helps identify cases that are not known. Athletes are also subject to  testing as they arrive on campus for voluntary workouts through a commercial provider and required to be tested as they start their perspective seasons, according to the National Collegiate Athletic Association guidelines.
"We will continue to proactively identify people who are sick and don't know it so that they can stay home until they get better," said an official from UTEP's  University Communications office. "We continue to encourage UTEP faculty, staff and students who are going to be on campus this semester to get tested. They can consent at consent.utep.edu"
New rules were also implemented by UTEP's Housing and Residence Life to further combat the virus and keep students and staff safe. The policies include the reduction of capacity in dorms, an enforcement of masks and an isolation apartment in case students test positive for COVID-19.
Currently, tests are being administered in the Fox Fine Arts Complex lower level courtyard, the breezeway between the Engineering and Classroom buildings, the Union breezeway, and the Undergraduate Learning Center patio. Any change in location will be communicated within UTEP's Resuming Campus Operations website.
Victoria Almaguer may be reached at [email protected]; @victoriaalmagu9 on Twitter