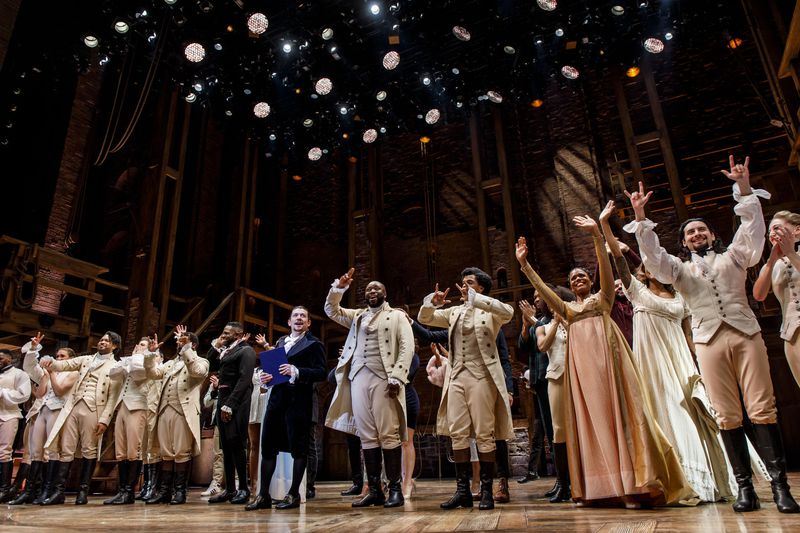 Courtesy of Disney+
On July 3rd, the most coveted Broadway seats became available for everyone at home through the Disney+ streaming service. 
Written and composed by Lin-Manuel Miranda, "Hamilton" premiered off-Broadway in 2015 and the film was recorded in 2016 with the original cast. The musical tells the story of the Founding Fathers of America, Alexander Hamilton. This story is not just about revolution but it is a revolution itself. Its use of hip-hop, rap, rhythm and blues as part of the musical, along with the inclusiveness of its cast, is what sets this Broadway show apart from others. "Hamilton" has a significant cultural impact because it is the story of how America looked years ago represented by how America looks like today.  
"Hamilton" introduces an immigrant narrative, which I had not seen in a Broadway show before, much less in this very distinctive way with a very inclusive cast.  
The character of Alexander Hamilton is identified as an immigrant not only because he had to travel to this country to start anew but also because he had to work harder than most to get far in life.  
"Hamilton" tells the story of flawed characters, each going through different paths but all of them seeking to leave their own mark and their legacy behind.  
"Hamilton" resonated years back with so many because it gave representation to people of color, immigrants and women.  
Now, seeing it on film, I believe that "Hamilton" represents and transcends its message in a very different manner.  
Art is always a tool for us to spark up conversation regarding what is going on around us at the time. As mentioned in several interviews by the creator Lin-Manuel Miranda and the director Thomas Kail, one of the main objectives behind this show is to help people probe and question many aspects around them. Because of the time the film was released, "Hamilton" can now be a symbol of all the pain our country and our world are going through.  
Here are these four friends, Hamilton, Laurens, Mulligan and Lafayette, who are young and eager to spark up a revolution. They seem to mirror all the young people out there currently marching down the streets wanting their voices to be heard and demanding change.  
"Hamilton" also speaks about whether the world is wide enough for all of us with different stances and beliefs to live and thrive in.  
It is a story that speaks about legacy and what we want it to be for our future generations and what path are we willing to take to make that possible.  
After I finished watching the film, I had a different feeling I had from when I listened to the soundtrack countless times or even seeing it live a year back.  
I got a sense of pride of the country that I was seeing being founded by these flawed characters who gave their all for the next generations.  
However, I also felt a bit of heartache knowing what the current state of our country is. Daveed Diggs, the actor who plays Lafayette and Jefferson, addressed this similar feeling and concern in an interview with Robin Roberts. He said how "Hamilton" serves as an inspiration for our country he mentioned that " now is a good time to examine the show as an example of how to hold your country accountable and to start demanding the change you need to see."  
I found those words to be equally resonating as the film itself. "Hamilton" made me realize that I now have a responsibility to make the America that exists on that stage, become a reality. 
I feel the story and the lyrics reverberate in me because I see how young people are rising up, going out on the streets or calling out to action through their social media, or just helping in any way they can.  
Whether it is through the Black Lives Matter movement or by advocating rights for dreamers and immigrants, to stop violence against women, or so many social justice causes, I see a nation that can reflect the America I saw in "Hamilton."  
This is a story about legacy, dreams, passion, courage and the representation of the journey of those who are willing to give it all to rise up even when the odds are against them, can be seen. 
Amid chaos, loss, pain, confusion and so much uncertainty, "Hamilton" can help us reflect on what journey we will embark in the future that, now more than ever, is changing at a quick pace. History has its eyes on us; let us not throw away our shot at this New World that we are building. 
The Prospector may be reached at [email protected]