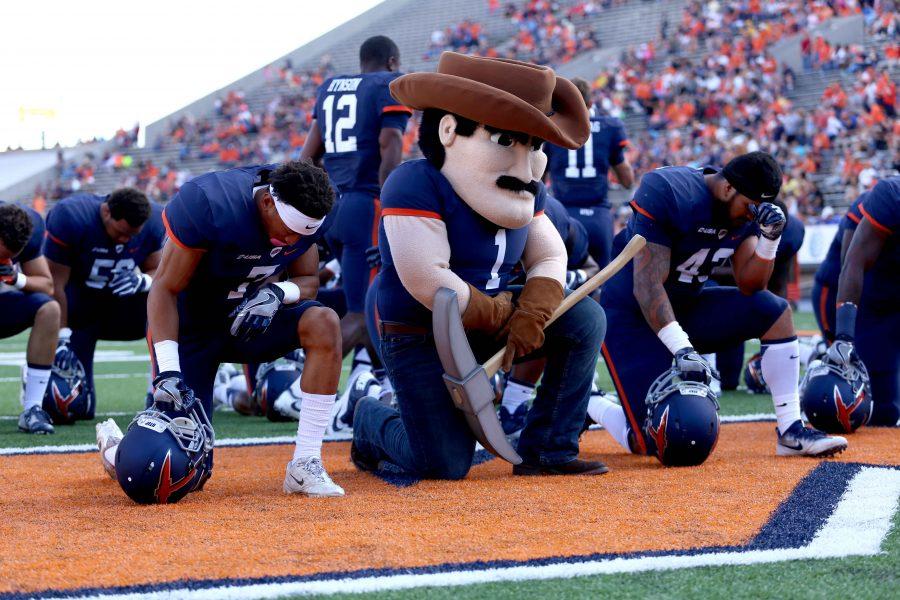 Gaby Velasquez / File Photo
When one thinks of UTEP sports, there is usually one event that springs to mind for most new students or alumni. The 1966 National Championship in Basketball helmed by legendary coach Don "Bear" Haskins. Immortalized by the 2006 film 'Glory Road' directed by James Gartner, which gives a Hollywood version of the true story of the first all African American starting five to win a national championship and its impact on breaking racial barriers in college basketball.
The Naismith Basketball Hall of Fame recognized the 1966 Texas Western championship team in 2007 and the first full team inducted with that honor.
Haskins was the coach of UTEP from 1961 to 1999 and won 719 games in his time with the leader of the team. Leading the Miners to 11 NCAA Tournaments, including a sweet 16 appearance in 1992, Haskins was inducted into the Hall of Fame in 1997.
Before Haskins becoming the head coach at UTEP, another Hall of Fame Coach was already on the roster as a player. Playing from 1961 to 1964 was future Arkansas national champion head coach Nolan Richardson. Richardson coached at Bowie High School for 10 years before getting his first college job at Texas Western Junior College.
In 1980 Richardson won a junior college championship with that team and became head coach at the University of Tulsa from 1980-1985. After being hired at Arkansas in 1985, Richardson would go on to coach the Razorbacks for the next 17 years, winning 365 games while there. Richardson led his team to three final fours and a Championship over Duke in 1994. He was elected into the Hall of Fame in 2014.
Nate "Tiny Archibald" is the only basketball player from UTEP ever to be named to the hall of Fame for his play. Playing three seasons for the Miners, Archibald averaged over 20 points a game during his stay at UTEP. Drafted by the Cincinnati Royals in the second round of the NBA draft, Archibald would become the only player to ever lead the NBA in total points and assists in a season. In 1981 Archibald won his only NBA Championship as a player with the Boston Celtics.
At one time, UTEP dominated the domain of track and field in the NCAA. From 1974 to 1982, the Miners won seven indoor and six outdoor track titles. There were also seven cross-country championships from 1969 to 1981.
The greatest achievement by any Miner alumni in track may be the Olympic and world record by Bob Beamon. Beamon, who jumped 29 feet 2.5 inches in the Mexico City Olympics, still holds the Olympic record over half a century later with the second-longest jump ever recorded. Considered one of the ultimate track and field achievements of the 20th century by many analysts due to its lasting impact, Beamon's Olympic jump record is the longest standing record in the Olympics. "Bob Beamon's job always gives me that bit of motivation to think, when you catch one it'll be really big. It was a special jump back then and a special jump right now." bronze medalist Greg Rutherford of Great Britain said to USA Today in 2016.
Suleiman Nyambui won four straight 10,000-meter NCAA titles to go along with three straight 5,000-meter titles. Nyambui went on to win a silver medal in the 1980 Olympics in the 5000 meters.
Recent UTEP football grad Aaron Jones just completed his third season as a running back for the Green Bay Packers. Jones had his thousand-yard rushing season and was a big part of the division-winning 13-3 Packers.
Overall, UTEP has some unique sports history and two world-renowned venues in the Sun Bowl and the Don Haskins Center. Getting the experience of seeing the Miner athletes give their best representing UTEP is worth the price of admission. The good news is that your tuition already pays for this benefit, so why not take in a game.
Michael Cuviello may be reached at [email protected]