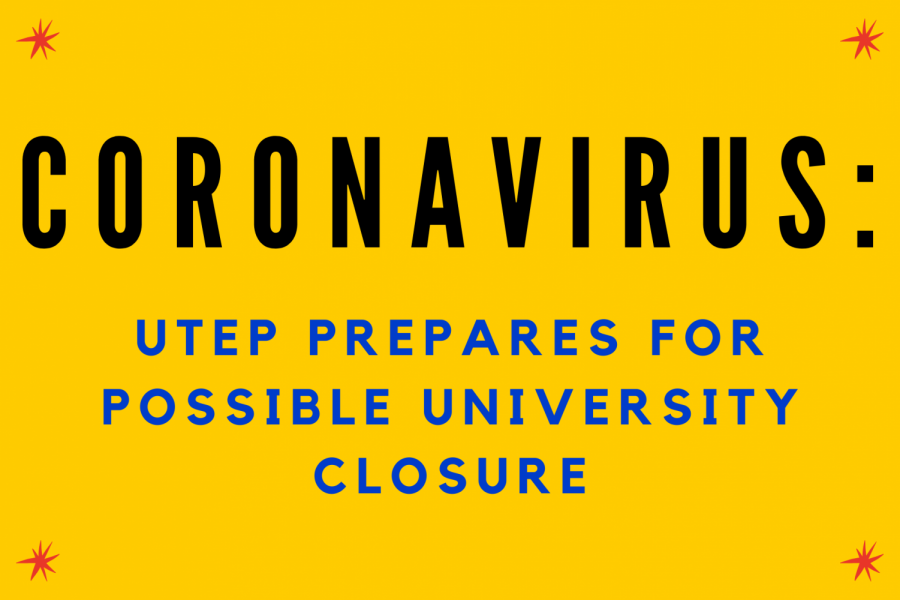 For more coverage on COVID-19 and its impact on UTEP, El Paso, the state and the nation, visit The Prospector's Coronavirus page.
Updated at 9:41 p.m.
The University of Texas at El Paso's (UTEP) Technology Support Services will offer remote teaching workshops and webinars for professors to prepare for the university's possible closure due to a recent outbreak of COVID-19, or coronavirus, that has reached major U.S. cities like Dallas, Texas and areas in New Mexico.  
The webinars will start Thursday, March 12, according to an email sent to faculty and staff. The webinars will go over creating and using pre-recorded lectures, holding virtual classes and office hours and using Blackboard and OneDrive for assignments, tests, and grading.  
The University of Texas at Austin, the University of Texas at San Antonio, Baylor University (BU), the University of Houston, Texas Christian University and Texas A&M University-San Antonio announced Wednesday that they will extend spring break by a week.  
At BU, classes will then take place online for a two-week period through April 3. The university is asking its faculty and staff to prepare for the online transition through the week of March 16. International travel for BU students, faculty, and staff has been cancelled through the end of March and the university has started the process of returning students studying abroad or on mission trips to the U.S., according to an email sent by BU President Linda A. Livingstone. Similarly, UTEP has suspended all university-sponsored travel to regions with a Centers for Disease Control and Prevention (CDC) Travel Health Notice Warning Level 2 or above or a coronavirus State Department Travel Advisory Level 3 or above. 
As of Wednesday, UTEP will not shift to online classes, according to an email sent by UTEP President Heather Wilson. The email reminds students, faculty and staff traveling to countries with a CDC risk assessment Level 2 or above to report their travel to UTEP's Department of Environmental Health and Safety (DEHS) using an online form or by calling (915) 747-7124. When returning to the U.S., they will also need to self-isolate for 14 days before returning to work or school.  
The online form can be found at DEHS's website.   
UTEP faculty and staff can learn more about the university's Technology Support Services' webinar and workshops calendar at campusedge.utep.edu/teaching-remotely
For additional information and updates on the coronavirus for the UTEP community, visit utep.edu/coronavirus  
Valeria Olivares may be reached at [email protected]