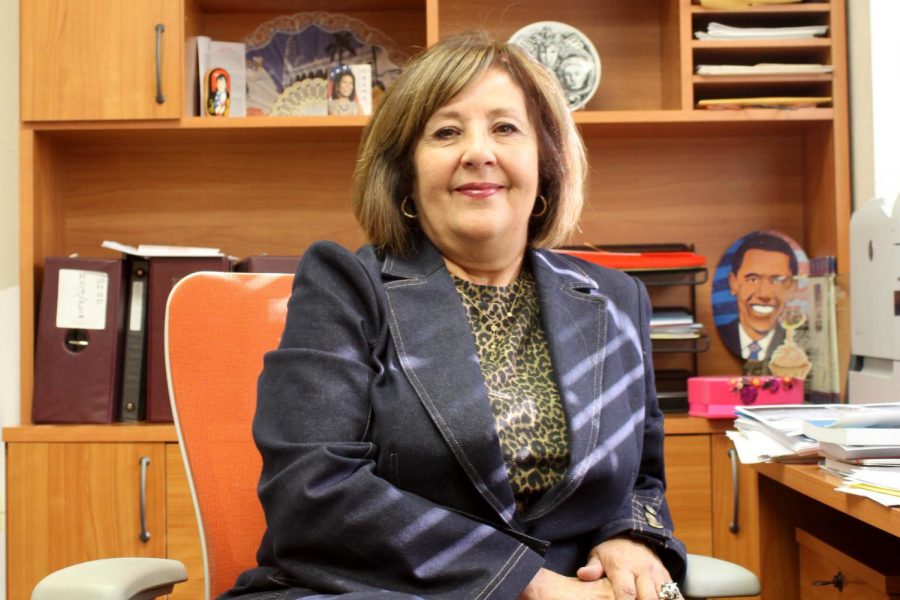 Exodis Ward
There is an assortment of knick knacks in Juliette Caire's office. In her 20 years as executive director of Gaining Early Awareness and Readiness for Undergraduate Programs (GEAR UP) partnerships at UTEP, she's collected quite a few. The Frida Kahlo statuette is a reminder of what a strong Latina is. The Don Quixote statue that holds her business cards is a hand-carved gift from a Bowie parent who she helped. The plate with faces represents her identity and the multicultural background of El Paso. She says she would display more but wants to avoid clutter.
There are also many plaques and certificates on her office walls. One of her favorites is her distinguished achievements certificate from Dr. Natalicio for her work at UTEP. The blue plaque praises her GEAR UP program in El Paso, which is a model nationwide. GEAR UP is a government program designed to increase the number of low-income students pursuing post-secondary education. Their main goals are to enrich academic preparedness and increase access to college while engaging parents throughout the process.
She has three million-dollar club plaques hanging that she received for spending millions of dollars on programs for students. Her earliest is from the year 2011 and some of her more recent ones she hasn't even had the chance to hang up yet.
"I think that being able to run a program that's respected in the community and I think growing the program from 300 to 3,000, I'm proud of that," Caire said. "We want to make it (high) quality and we tried to try to give students enrichment where they might not otherwise get. I know we're touching students out there and I think that's what I'm proudest of, just being able to do my job well."
Last year, Caire was recognized for her previous research expenditures reaching $2.4 million from a single grant from the U.S. Department of Education for GEAR UP partnership.
Her most recent grant is for $13 million.
"Our grants are awarded for six-year periods and we're partnering with the Ysleta Independent School District," Caire said. "That's another thing about GEAR UP, we help schools develop strategic plans, so that when we leave, they have something to sustain our efforts while we were there."
The program's success is shown with their last batch of students, who it guided from 2011 to 2017. When compared with the class of 2012, the class of 2017's high school graduation rate was 98.4 and there was a 23.1 percent increase in post-secondary enrollment rates. For students at UTEP, the freshman year retention rates were 73 percent.
"We were very purposeful in doing the activities we did with the kids," Caire said. "We did a lot of the TSI camps … We want to have them have fun, but we want to make it meaningful and just kind of keep trying to connect as they grow, you have to grow with them."
Caire says her mentors gave her the steppingstones that led to her current success.
Caire began work at Job Corps in 1986. She worked closely with kids to teach them life skills to apply to the workforce. There, she learned how to work with a government entity and how to do paperwork properly. Though she loved what she did, there was no room for growth, so she moved to work with Region 19 Head Start.
In 1996, Caire became the mental health coordinator for all Head Starts in the West-Texas region and oversaw the mental health care of more than 3,000 preschool-aged students. Caire was mentored by Teresa Pena, the first female associate superintendent in EPISD, and built the program from the ground up. Eventually, Caire was able to include infants in the program.
"These women believed in having a good work ethic. They're very detailed people and wanted you to do well. I think that was the most important part in helping me to succeed," Caire said. "Teresa Pena has been one of the people who influenced me most in building up confidence, just letting me be independent and giving oversight."
Caire's long-term goals for herself are to continue teaching the youth about college and guide them on their college journeys.
While she sifts through informative postcards she plans to send to parents, she discusses what she hopes to do in the future.
"I look forward to growing our community here in the city as far as helping them and just increasing the quality of life for the youth here," she said. "I want my legacy to be that I worked to impact change to promote equal educational enrichment opportunities for all students regardless of socio-economic status."
Exodis Ward may be reached at [email protected]