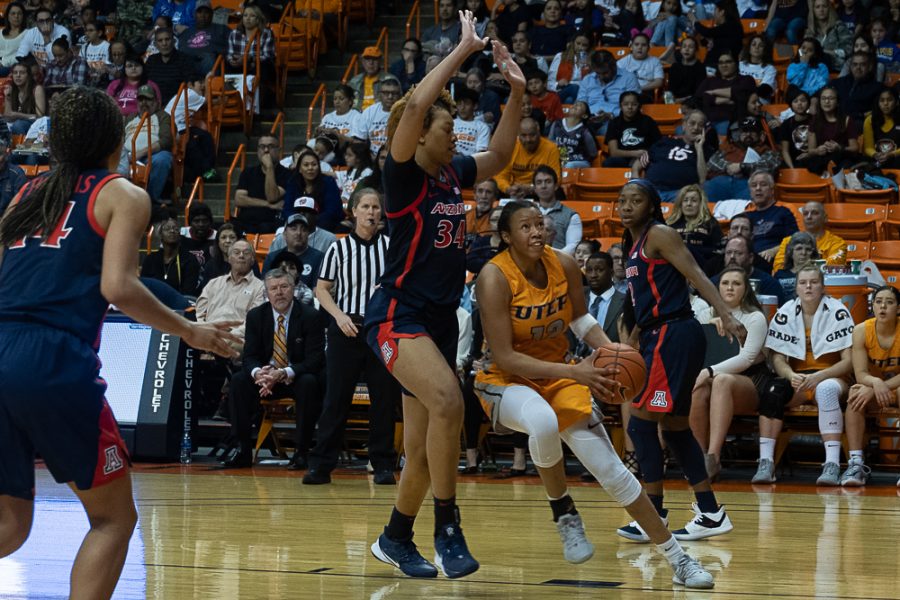 Michael Cuviello
After missing multiple games of the 2019 season due to injury, UTEP senior Ariona Gill has displayed a level of perseverance and courage that sets her apart from the average college basketball player. Due to injury, Gill was not expected to be able to start the season and was still in a walking boot just at practice prior to the Miners first game of the season.
Gill, overcoming all odds, has started all but one game for the Miners this season. Standing at a mere six feet, Gill has been a force on the boards for UTEP all season, even though she is constantly battling players of greater size. Currently fifth in conference with 8.8 rebounds a game, Gill has played a huge part in the team's improved rebounding.
As a team, UTEP has improved four rebounds a game from last season, constantly beating opponents on the board with  an undersized lineup.
Hailing from Las Vegas, Gill transferred from San Jacinto College where she averaged 11.3 points and 9.5 rebounds a game as a sophomore, leading the team to its first appearance in  National junior College Athletic Association Championship with a 24-9 record.
As a junior at UTEP, Gill started the first 12 games of the 2019 season before  missing  eight consecutive games with an injury then taking on a sixth man role upon her return.  For the season, Gill averaged 8.7 points and 4.4 rebounds for the season.
Constantly battling recurring effects from her injury, Gill has been a model of consistency for the current season. In a 82-76 versus the University of Charlotte Feb. 6, Gill took over the game as she scored 25 point and 14 rebounds to lead the team. Gill described this game  as her favorite game of her career.
Whenever Gill was called upon to make key plays, she continued to be a leader for the Miners.
While Gill may be considered soft-spoken off the court, her play has spoken loudly to her  leadership on the court. Teammates have responded well to her play with a surprising 15-12 record this season,. and a tournament berth.
In a recent El Paso Times article Gill said "Leadership can mean talking, playing a role on the court, leading by example. Leadership can mean anything, it just depends on the person. For me I lead on the court."
Speaking about what was the best thing about playing for the Miners  Gill said "The fans at UTEP make every moment the greatest said Gill and I am very honored to have been a part of this Miner team."
Michael Cuviello may be reached at prospector.utep.edu