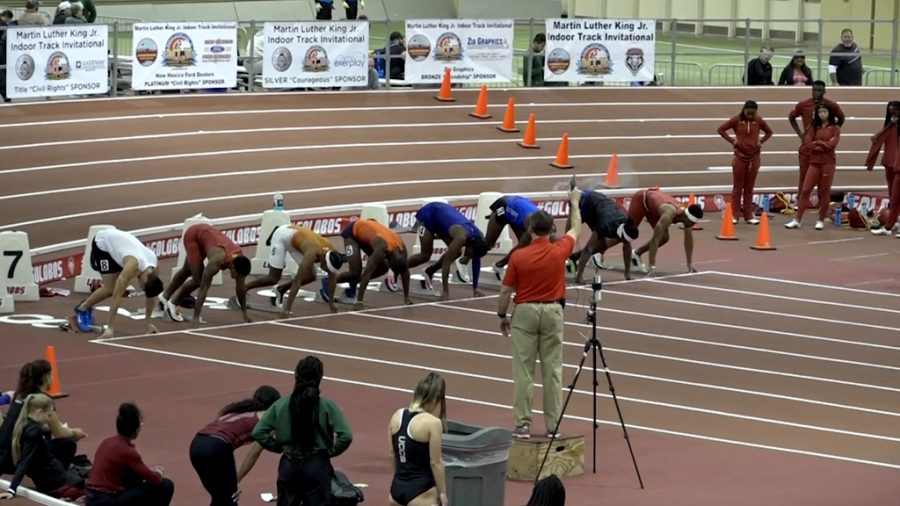 Curtesy of UTEP
Senior Shakeem Smith broke his own school record for UTEP in the Corky Classic in Albuquerque, New Mexico, this past weekend, shaving another 0.01 off his record with a time of 7.89. Unfortunately, that only resulted in a fourth-place finish in the 60m hurdles. Smith has the second and third fastest times in C-USA this season.  
Overall, more 20 personal bests were set for the UTEP track team.  
Rising star and freshman sensation Titus Cheruiyot won his third 3000m run of the year with a close victory at 8:09.57 Cheruiyot won the race by one-fifth of a second of the runner- up.  Cheruiyot is considered a strong contender for the conference championship in the event with the second-best time in Conference USA (C-USA) this season.  
Sophomore Chantoba Bright won her second event of the season with a 12.98 triple jump to edge out the field. Bright had previously won the long jump at the Martin Luther King (MLK) Invitational.   
Coming within 0.07 of the 39-year-old school record in the 400m dash, senior Sean Bailey won the gold with a personal record time of 46.37. Bailey has the top two times in C-USA this season and has two more chances  to break the UTEP record set in 1981.   
Freshman Jevaugn Powell finished third about a second behind with his second top four finish of the year in track. Powell is also developing into a contender for the conference championships.  
Finishing in third just a little over a second behind the winner, Carolyne Chepkosegei finished the mile in 4:59.08. Just over two weeks ago, Chepkosegei ran 10 seconds faster at the MLK Invitational. Currently, Chepkpsegei has the third best time in C-USA this season.  
Junior shot putter and Franklin High grad Benjamin Coronado placed third on the day with a personal best of 17.47m, which also moved him into third place in the conference.   
Junior Karol Koncas posted a personal and conference-best this season at 20.03m.  
Although sophomore Maribel Caicedo did not make the finals in the 60m hurdles, she still posted the best time in the conference at the meet with a time of 8:37.  
"The men's side displayed a very good meet, tons of new personal bests were set on that side. The team strongly improved their position for the conference meet," said UTEP Head Coach Mika Laaksonen. "The women didn't have a bad meet either as a few individuals stood out races."   
UTEP will compete next compete Feb. 13-14 at the Don Kirby Elite Invitational hosted by New Mexico.  
The Miners will also send three distance runners Cheruiyot, Korir and Chepkosegei to the Iowa State Classic Feb. 14-15. Cheruiyot and Korir will run in the 5k and Chepkosegei will compete in the 800m.  The C-USA Championships will be held Feb. 22-23 in Birmingham, Alabama. 
Michael Cuviello may be reached at [email protected]