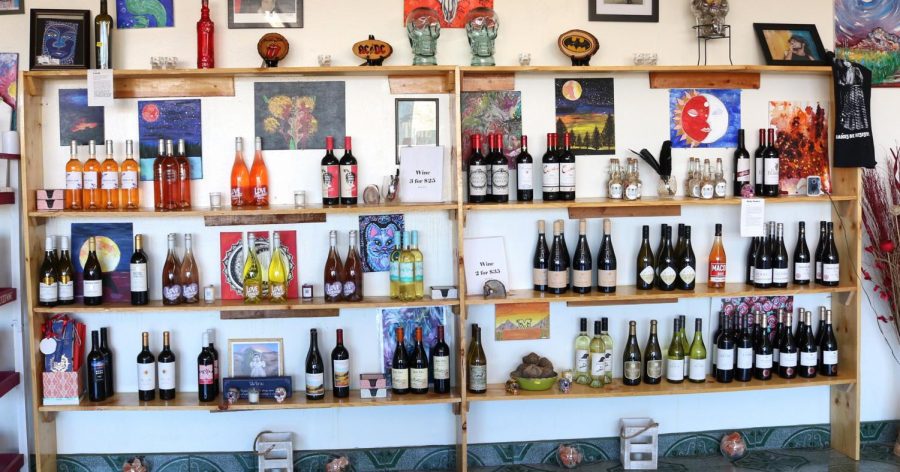 Maria Ramos
Most don't expect to walk into a liquor store to find crystals, handmade candles, natural teas, and spiritual artifacts along with wine and spirits, but at Third Eye Wine and Spirits, that's the reality.
This unique liquor store has only been open for about a year and it's located on 4808 Montana Ave. open at 1-9 p.m. from Tuesday to Saturday.
The owner of Third Eye is Naomi Jay, who was born and raised in El Paso. After living in Houston for a little while, Jay returned to her hometown after learning about spiritual boundaries and the benefits of connecting with the universe which is ultimately what inspired her to open her own liquor shop with a special twist.
"The idea behind the store is to bring people in who are searching for a spiritual place. This place is not a religious space and is more about being open and free," she explained.
Jay saw the necessity to offer a store where one can find the tools to become spirituality balanced, while not leaving out the fun of drinking and doing art.
"You can have both. You can be spiritual and still have fun while understanding boundaries, too. (Most) spiritual stuff can give you a headache (because) we are humans and we make mistakes," Jay said. "The same thing goes for drinking and having fun but everything in excess can be damaging."
Customer Shantell Lloyd-Thomas initially checked out the store with her daughter Jamelia, leaving her impressed with the sheer variety of products for sale.
"I heard first about the yoga classes but never made the time to come. I finally came today to check out their products. I think it is better to come and see the products in person than ordering online," Lloyd-Thomas said. "I am loving all the crystals so far. I am planning to buy some crystals and protection packages."
Products available for purchase include organic teas, crystals, protection crystals packages, candles, sage, amulets, activated charcoal, teapots, bracelets, necklaces, incense, incense holders and rocks.
The variety of candles are one of the most distinct items in the store because they are all handmade by Jay  natural ingredients such as essential oils, soy wax, herbs and crystals.
The purpose of each candle varies: Some are for love and peace while others are for fast money.
Customers have also left online review praising the quality of the products sold by the store.
"Best way to clean your soul is to sage. This place showed me how to meditate and remove ill thoughts. It's not a one-off thing, this is a lifestyle and energy place. You'll feel it when you walk in. P.S. the candles are wow!" wrote Michael Wallace III on a Google review.
Third Eye also offers tarot readings by appointment, which are performed by Jay herself for a period of 30 minutes per session.
"It is good if people make an appointment so I can be ready to do it, you know to be balanced," Jay said.
Another service offered at the store is "energy cleansing" meant to cleanse and balance people's auras. Oxford Dictionary defines aura as "a supposed emanation surrounding the body of a living creature and regarded as an essential part of the individual."
This service, meant to help clients feel relaxed and positive, is performed by Jay as well and can last from 10 to 20 minutes.
"The idea is to provide direction and help teach people how to remove bad energy (which helps) people learn to take care of themselves, so they can feel good," Jay said.
One of the most popular activities from this spiritual store is "Create 'n Sip." People can create their own paintings with the guidance of an instructor while enjoying wine. The instructor for this class is Brandon Soto who is an El Paso native studying art at UTEP with a concentration in all levels of education, while also double majoring in religious studies.
Soto has led the art classes since July 2019 and is convinced that these types of events are a good chance for people to try something new and to contribute to El Paso's artistic community.
"These types of events are for the community because they are fun and safe social environments. They are already set up to relieve (the) stress of planning and thinking of ice breakers and things like that," Soto said.
The attendants get to try the "wine of the week" while creating their very own art pieces, with the goal of introducing clients to new wine flavors instead of getting them drunk.
The art classes are open to anyone older than 21 and they are held at 7:00 p.m. on Fridays and Saturdays. The cost is $30 per person and for two people it comes out to $50.00 and it is recommended to book ahead of time online.
"Considering the fact that we are also a metaphysical store and sell things such as crystals and sage, we are exposing our city to a different way of living. I believe our store and what we do at the art classes are so genuine and real that it encourages overall unity in the community, brings people from all walks of life together and accepts everyone for who and what they may choose to be," Soto said.
All money made by these classes goes to promote local artists.
"Curiosity is beautiful. The store itself is a safe place to be yourself and ask questions that you don't understand, but here is a safe place to ask. There is no dumb question (and) at the end of the day the application of knowledge is power," Jay said "This is where you come and learn and I want people to come in here and nurture themselves, take care of themselves. The idea behind this is to teach people how to love themselves. I want my community to love themselves and to love each other."
Browsing the selection of products and scheduling activities and/or appointments can be done online here.
Maria Ramos may be reached at [email protected]