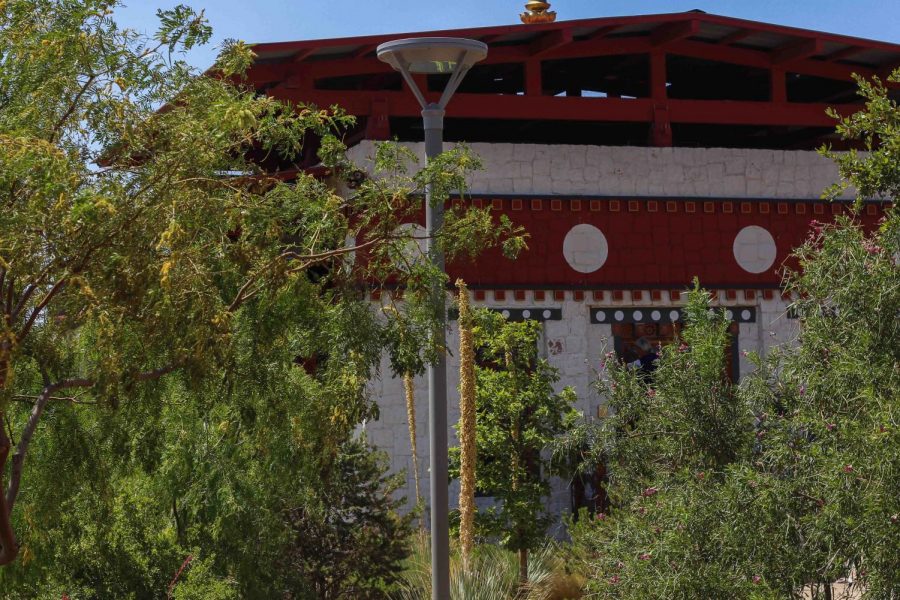 Claudia Hernandez
In an expedition halfway across the globe, UTEP President Emerita Diana Natalicio and Associate Vice President for Student Engagement and Dean of Students Catie McCorry-Andalis embarked on a trip to continue their dedicated efforts in cultivating the unique connection shared between UTEP and the Kingdom of Bhutan.  
The trip started off with the flight being diverted to London in place of the projected route due to a typhoon. Natalicio explained that despite this being the next best solution, the diversion caused unforeseen additions to the flight resulting in a bit of discomfort throughout the lengthy trek. 
"El Paso and Bhutan are exactly on opposite sides of the globe so we're 12 hours apart. Day is night, night is day. That's hard to adapt to for just your internal clock, but it's also a long distance," Natalicio said. "We ended up in not very comfortable seating and it's a long flight … a long time to be wedged into a tiny little space." 
However, despite inconvenient conditions, a deep admiration for the journey prevailed. 
"The flight into Bhutan is beautiful. You're flying into the Himalayas which is very different than any other airport … In the old days the pilots were not Bhutanese and now almost all of them are and that's really terrific," Natalicio said. "It's considered to be an outstanding airline for safety and all kinds of things when you consider they fly into those mountains in kind of a circuitous route. It's pretty impressive."  
It is significant to note that the country of Bhutan seldom receives visitors and is rigorously particular with its tourism, making sure to have sanctioned tour groups that regulate passage. There are limited flights entering Bhutan and not just anyone is authorized to be certified in piloting the aircrafts that do enter since they take great pride in their autonomy from total reliance on foreign talent.  
Bhutan's sister country is Nepal.  
"Nepal has struggled because they've opened their doors to trekkers and they've had a tremendous challenge of cleaning up and managing this large group of people," Natalicio said. "Bhutan is very protective of their beautiful country and made a conscious decision for this not to happen. They want tourists to come but they want them to come under certain conditions."  
"A lot of that is to make sure the country preserves fundamentally who they are as a nation, this is a nation that measures things in Gross National Happiness (GNH) and they are intentional and thoughtful about it," McCorry-Andalis said.  
According to GNH USA, a nonprofit that seeks to "increase personal happiness and our collective wellbeing by changing how we measure progress and success," GNH is defined as a socioeconomic development model that is "a measurement of the collective happiness in a nation."  
It is apparent that there is not only substantial importance placed on the contentment of the nation's citizens, but also the preservation of their way of life and ardent value in familial and cultural ties.   
"I think in a small country like that, it's somehow easier, more personal to be a loving member of your society, it feels like it's a family for them," McCorry-Andalis said. "In a great big society like ours, it's a little bit more difficult to identify in that way. They are very loyal and committed to the future of their country, it's really quite nice to see."  
It had been six years since the last trip to Bhutan and there is much to be said about the rich history of this bond that originated with UTEP's architecture in 1917, with the construction of Old Main when Kathleen Worrell, the wife of UTEP's first dean Steve Worrell, saw a Bhutan spread in National Geographic and was instantaneously captivated by the featured Himalayan architecture.  
"The story is that the wife of the first dean had an interest in (National Geographic's Bhutan) story and thought that the buildings in that set of photographs resembled buildings that related well to mountains. And she thought this Franklin Mountain kind of looked like those Himalayas," Natalicio said.    
Turns out that the decision ended up being especially congruous to the dry climate, mountains and higher elevation such as with the inset windows that counterbalance the, often sweltering, intensity of the sun.   
"It represents a sort of jewel that we would've never been forgiven for not discovering. It was so obvious that this is a connection that we needed to make," Natalicio said. "I think it's important to emphasize that it is a partnership and I don't think there's another university anywhere that has stepped up. One of the reasons that I think it's important that UTEP did that is because of this fortuitous architectural connection with Bhutan. … We were very fortunate that we got this architecture that somebody back then kind of unwittingly just liked the look of it and all of a sudden we were off and running." 
The architecture has also benefitted the community and spread awareness about the Kingdom of Bhutan. 
"Because of our architecture and the work that we've done with our cultural events and activities, you have kids in elementary school around here who know where Bhutan is," McCorry-Andalis said.  
The connection, however, eminently transcends shared architecture.   
The timeline progresses to the 1970s when Jigme Dorji, UTEP's first Bhutanese student, enrolled and later received his degree in engineering. Today, he is a very successful businessman and entrepreneur in his homeland.  
Subsequent to this first enrollment, more Bhutanese students began to trickle in. At its inception, funding for a program was not feasible in the sense of scholarships, so there was a requisite for students' families to ensure that there were enough funds to satisfy sponsorship demands.  
However, with Bhutan mobilizing its transition from a monarchy to a fully functioning democracy, the government began instituting investments into higher education. They would now be needing to occupy positions never before considered preliminary to the shift from a monocracy to a democracy, such as the establishment of a tax system and people proficient enough to operate it, a concept not often considered when the king's beneficence attended to such matters.  
This democratic shift, which was methodical in prioritizing the inclusion of the necessary disciplines for the kingdom's sociological growth, then accelerated the momentum even further with the implementation of scholarships and identifying qualifying candidates.   
"I would say roughly about 13 years ago is when it really began to take hold and that was because we established several formal partnerships with some agencies in Bhutan, the Royal Civil Service Commission is one, the Ministry of Education, the Ministry of Health," McCorry-Andalis said. "They have some very specific needs of educating their community and they were sponsoring students to come to UTEP specifically. Our first large cohort that we got was nine students at the time, all graduate students and today, it has just completely expanded with more coming our way."   
There are currently 44 Bhutanese students enrolled at the university and more than 100 alumni.  
The students are unique in their experience in that most of them often do not get the opportunity to go back home throughout the entirety of their academic stay, not to mention having to acclimate to an unfamiliar culture.  
"I was a study abroad student in Brazil for a year," Natalicio said. "There was nobody else with my scholarship in Rio de Janeiro, so I had to plunge directly in and I was terrified, but it was the best thing to ever happen to me." 
A trip to Bhutan from El Paso lasts roughly two and a half to three days to and from, not to mention the cost. Students coming from there are among some of the study abroad attendees that are the furthest away from home. Technology can only suffice so much to compensate for the yearning to be near their families and these trips to Bhutan are designed to bridge that gap.  
"Students are not able to go home … for four years. They're here and a few of them travel, but many of them are here and they make that commitment. It was wonderful to see some of our alumni there, but we (also) have to assure parents if they're going to trust their children to us for four years," Natalicio said.       
The Bhutanese students can also be distinguished by how avidly committed to their education they are because of their entrenched moral imperative to contributing to the improvement of their country.   
"UTEP is held in very high regard and I think it's the type of education that they are receiving here. They have access to education first and foremost, but then they're not only getting phenomenal professors, it's that engagement," McCorry-Andalis said. "Whether it's research in a lab or student teaching, those are invaluable to them particularly when they go back to a country that is really new to what they're trying to make happen, it's so important for their success and they're just so grateful to UTEP for giving them that opportunity … Our big challenge now is to take more of our students to Bhutan." 
There are hopes for a faculty-led, short term study abroad program to launch in 2021 which McCorry-Andalis says is exciting since they have already contacted a couple of interested professors and will involve a partnership with Royal Thimphu College.  
The purpose of this trip was to make certain that that same gratitude was also reciprocated on behalf of the university to its esteemed partners. Natalicio and McCorry-Andalis express their enduring respect and appreciation by fostering the unprecedented relationship that has been cultivated and rooted in authenticity between UTEP and Bhutan in hopes of keeping the connection continuous and consistent for many years to come.   
"Through the years it has grown, but it doesn't grow without nurturing. There has to be a set of relationships on both ends, UTEP and Bhutan, that are committed to deal with the many dimensions of a program like this because these programs aren't just straight forward. I don't know any other university that has a relationship with Bhutan the way we do, so we've had to build it," Natalicio said. "(This trip) is to thank them and to nurture the relationship going forward so that we're able to continue to be able to work with our partners in Bhutan on behalf of the Bhutanese students that are coming to UTEP with big dreams."   
Sasha Minjarez may be reached at [email protected]