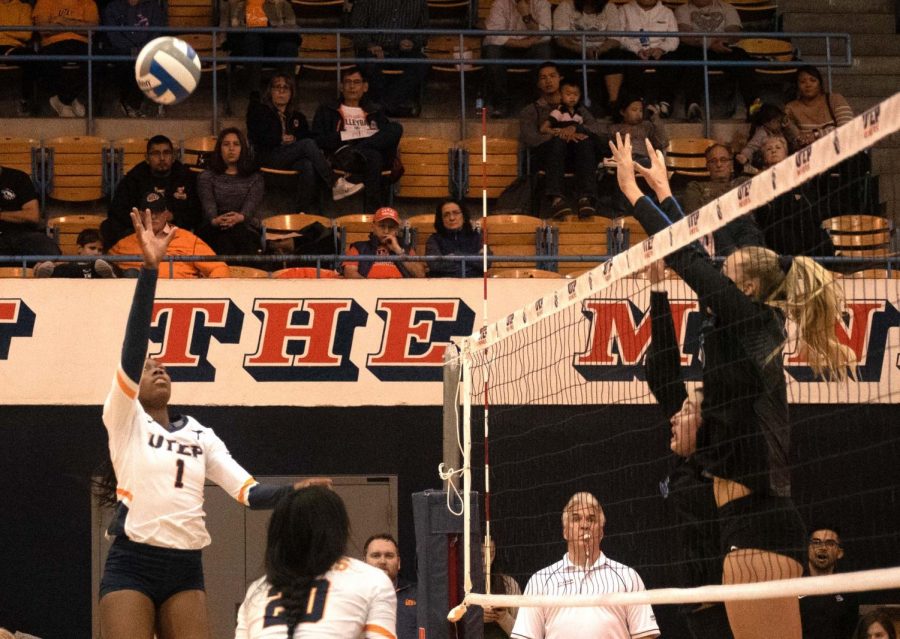 Daniel Rey Perez
The UTEP Miners have won 13 games this season following the win  against the North Texas Mean Green 3 sets to 1 Sunday. This victory brings the overall record for UTEP to 13-12 and 6-6 in the conference. 
The first set of the match was highly contested, with both teams going back and forth with the lead. Neither team led by more than 2 points in the entire set. UTEP found itself on the wrong side of set point in the first match until the team railed off three straight points that originated on a kill from junior Anamirija Mikovic. 
In the second set, after briefly leading 2-1, the Miners trailed the entire set en route to a 25-21 loss. Throughout the match, North Texas' Valarie Valarian was an unstoppable force with 22 kills overall for the match. Valerian is second overall in the conference in kills with 410 for the season. 
"You know I am extremely proud of my team again for the effort they showed. We executed against a team that has two of the best arms in the conference," Ben Wallis said. "Valerian is probably an All-American because she has the ability to go up over the top of you. She got 26 of their points on her own. She is a complete stud, but the fact of the matter is that we held her in check when we needed to." 
Flipping the script on the previous set, the Miners never trailed after losing the first point of the third frame. UTEP led by as many as 11 points as they closed out the set 25-16. 
The two teams went back and forth in the early stretches of the fourth and final set. UTEP finally created some room to breathe with a five-point lead at 12-7. The Green Wave came no closer than two points as the Miners pulled away to a second consecutive 25-16 victory in the final set. 
While North Texas was led by a dominating performance from Valarian, the Miners had a balanced attack all around. Sophomore Serena Patterson led the team with 10 kills, followed by juniors Mallory Yost and Cheyenne Jones with nine apiece. Yost led the team in blocks with 7. 
Sophomore Kristen Fritsche led the team with 22 assists along with junior Syenna Masaki's 17.  
"We are playing pretty good volleyball," Wallis said. "I expect to make the tournament and be competitive versus the best conference teams." 
The Miners currently sit eighth in the conference and can clinch a tournament bid with a victory or a loss by either Alabama Birmingham or Charlotte. UTEP has two games remaining on the schedule, including a road match versus Charlotte at 4 p.m. Nov. 14. 
UTEP returns home for the final match of the season against nationally ranked Rice Owls (22-2, 11-1) at noon Saturday, Nov. 16. 
Michael Cuviello may be reached at t[email protected].