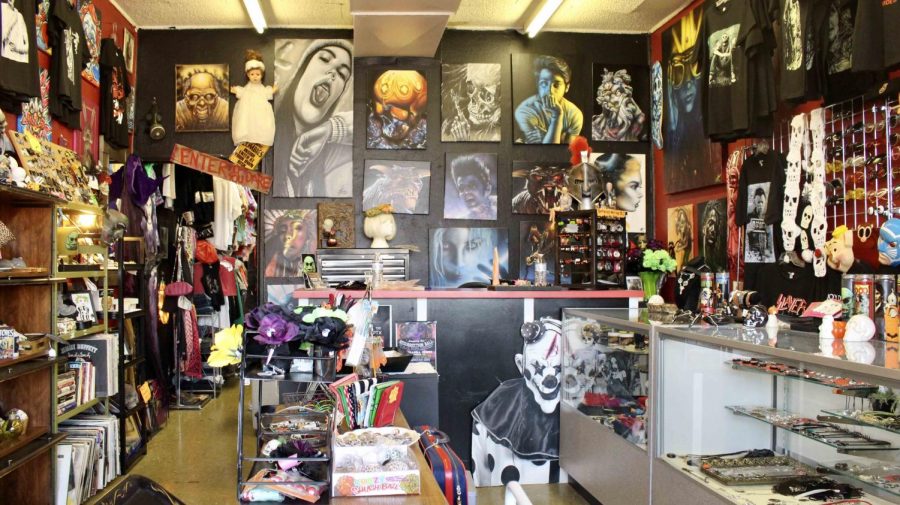 Carolina Alvarez
Members of the community who like oddities, curiosities, goth novelty items and dark clothes can shop at these unique mom-and-pop stores in El Paso.  
The downtown curiosity shop, Tooth and Veil, is where all sorts of novelty items, unique pieces of bizarre and macabre furniture and fashionable clothing can be found.   
Shop Owner Michelle Bocanegra, also known as "Deady Page," initially opened shop August 2018 in a location on Virginia Street, then moved to its current location in March 2019.    
"I've been collecting the curiosities and oddities for 11 years now, so I have three storage units. It was a lot of stuff," Bocanegra said.   
She then added that she buys a lot of oddities herself to recreate them, knowing others might find them interesting. Bocanegra saw the need in El Paso for a shop like Tooth and Veil, so she took matters into her own hands. 
"My store does feature a lot of local artists. We have everything from antiques, we've got curiosities, we've got oddities and, of course, when you're dealing with these kinds of things, you're usually going into the occult, so we have a lot of occult items as well," Bocanegra said. 
Bocanegra also mentioned that a lot of the items are reused to be unique and one of a kind.  A majority of the items she displays are recycled, such as baby head lamps, toy dinosaur earrings as well as jewelry made of different kinds of bones, including human bones.  
Other items that can be found are locally obtained oils and ingredients that can be used for spells and teas. In fact, Bocanegra will host classes in January for little night crawlers on how to create some potions and spells.  
While in search of the right herb, one can also search for the right attire with shirts made by Bocanegra herself and even antique clothing for that old school goth look.  
 Another item one may find in stock is vintage medical equipment, which seem to be the most popular items.  
"They're not just used for display; there's a lot of people who are into BDSM and that kind of lifestyle, so they buy them for different reasons," Bocanegra said.  
Bocanegra also carries variant wet specimen, which she describes as taxidermy pieces in alcohol or another preservative liquid so one can look at them.  
Giving a brief history of her wet specimen, she informed that such things are traced back to the Victorian era, when people were not allowed to bring their pets while traveling to other countries.   
At Tooth and Veil, prices vary from $1- $2000 dollars, ranging from jewelry pieces to an entire coffin. The store hours are Tuesdays through Saturdays from 12 p.m. to 6 p.m. The store's website is Toothandveilshop.com  
Another place with a similar aesthetic is Dreadful Things Tattoo Parlor, located 2226 Montana Ave. owned by Francella Salgado.   
Aj Ariano, one of Salgado's female artists, was more than willing to discuss the store's background.  
"(Salgado) founded this place in 2014, now we're kind of reestablishing ourselves here as a tattoo shop here but we still have the main store front as a gift shop," she said.  
Ariano also added that the shop used to be a gift shop located in the Northeast. The business has been growing since.  
One of the strangest things that Ariano enjoys from the shop is the collection of human bones that are displayed around.  
"I love doing quotes on tattoos, talking about tattoos, watching tattoos get made, I love the aspect of it and I love being around weird stuff all day," Ariano said.   
Prices may vary from $1- $500 all over the store, not including tattoos. Visitors can find all sorts of unique items like crystals, herbs, fashionable shirts and other artworks made by Salgado herself.  
"One of the brands we do carry in the holiday season is Sour Puss" Ariano mentioned.  
Dreadful Things is open Tuesdays through Saturdays from 1 p.m. to 7 p.m. To find more information on Dreadful Things and the events they host, visit its Facebook page.  
"Come see us for your next tattoo. We have something for everybody," Ariano said. 
Located at 2225 Montana Ave., The Red Door Vintage is another unique store that sells oddities, accessories, clothing and lots of other distinct items people with unique tastes would enjoy. The store is open seven days a week and its hours are available on its Facebook page.
"Awesome place for us eccentric types!" said J.H. Hood in a Facebook review of the store. "(There are) tons of amazing clothing, jewelry, hats, stickers, magnets, accessories, incense, you name it."
Based on the opinion of 129 Facebook users, Red Door Vintage is rated 4.8 out of five.
Another groovy store one can swing by is the Headstand located 4409 Dyer, owned by Stan Stack and open since 1975.  
Stack's inspiration to open up the Headstand was out of the ordinary; he explained that he was going to community college, working at a retail store and people would say he could run a small business.  
Eventually, an opportunity came up to purchase products from a downtown store that was going out of business and with his family's encouragement, he opened up shop. 
 "We got very lucky and survived," Stack said. 
Stack highlights that his store is ideal for music lovers. 
"I call ourselves a rock 'n roll department store," Stack said, obtaining a great variety of merchandise surrounded by different music and people who love music.  
One may find leather jackets, vinyl records, décor, studded bracelets, pipes, knives, jewelry and  more.  
"Our goal was to figure out what our customer needs were and we would provide what they had a hard time finding, this was all pre-internet so people couldn't find things easily as they can now," Stack said.  
Prices at the store vary from incense sticks costing 10 cents to rare items costing as much as $400. 
"Most of our stuff generally runs between $3 and $30," Stack said.  
The store is open Mondays through Saturdays from 11 a.m. to 7:30 p.m.  except in December when they are open all seven days of the week so "customers can shop on their only day off."  
Although there are four holidays in which the Headstand is closed, which are Christmas, New Years, Thanksgiving and Fourth of July, Stack said that people are still surprised at the amount of stuff he sells.  
"People who come in that door are always surprised if they never been here before, there's just so much see," Stack said.   
Teddy Baylón may be reached at [email protected]