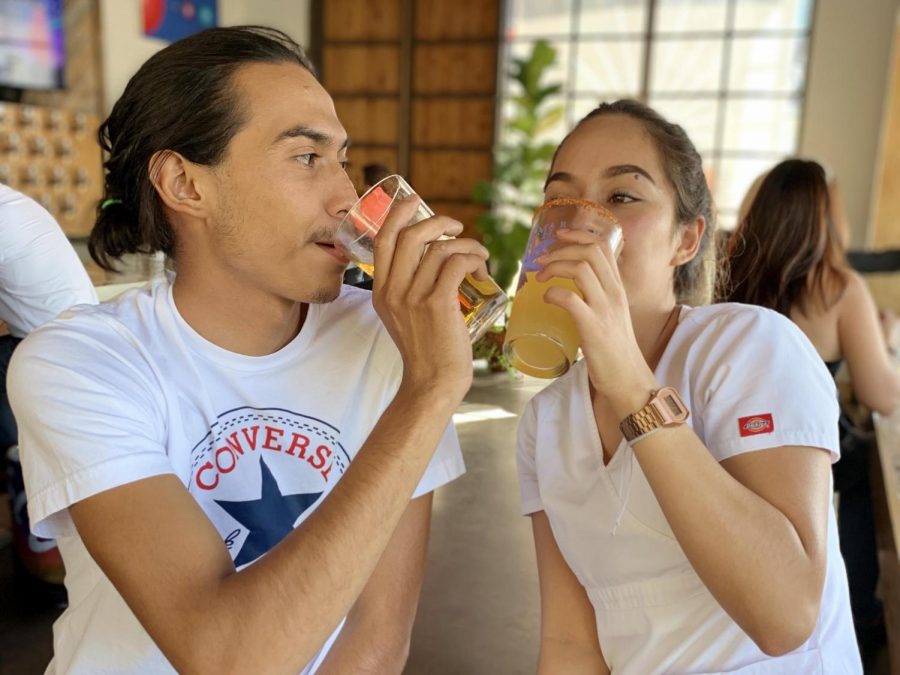 Daniela López Martínez
A common stereotype many imagine when entering college is the nightlife of shot-gunning tall boys, finishing off kegs and downing shot after shot at the local bars and clubs, but for some students at UTEP, their attitude toward alcohol has experienced no change since enrolling. 
For those who suffer from an addiction, the increased accessibility of alcohol during college becomes problematic.  
UTEP, for example, is only a short walking distance to Cincinnati Street, a strip of popular bars where many students get together over the weekend to escape the perils of mid-terms and research assignments by binge drinking. 
Carol Galbicsek, a writer for the Alcohol Rehab Guide wrote, "Roughly 80 percent of college students – four out of every five – consume alcohol to some degree. It's estimated that 50 percent of those students engage in binge drinking."  
Although UTEP offers different programs and holds events to raise awareness, some students feel discouraged to seek help from the university.  
Jarid Holland, an English major with a secondary in Education, recounts from personal experience why he would not recommend aid from UTEP programs.  
"Even though they charge you a large amount of tuition and those services are 'free,' they recommend you to other places and they'll stop seeing you after 4 or 5 visits," Holland said. "They push you away a little too fast without giving you much help and I don't think that's right, so I just say get outside help to begin with." 
Other students like Nakeesha Ward, an English American literature major, consume just as much alcohol as they did before entering college but acknowledge that binge drinking is a big problem in universities due to the social expectations. 
"(I drink) the same amount, I'm not a big drinker and that hasn't changed," Ward said.  
Ward believes that drinking is a problem among students, not due to stress of school, but rather to "allotted time" such as "football games and tail-gates" where alcohol is so easily accessible but is consumed more to the point that it becomes a social habit.  
UTEP's Collegiate Recovery Program (CRP) helps and addresses students who need help recovering from different kinds of addictions, including alcohol.  
Valerie Barela, a CRP coordinator, spoke about things students who are concerned with how much alcohol they are consuming can do to help reduce their overall intake amount. 
"Using timing to space out drinks, making sure you know how much a standard drink size is, making your own drinks so you know how much you are consuming," Barela said. "It can even be something as small as adding ice cubes to your drink."  
Students who are concerned about their drinking can look to the B.A.S.I.C.S. program, which stands for Brief Alcohol and Substance Intervention for College Students.  The program, offered by the CRP helps students "examine their own drinking behaviors" and learn the effects of alcohol.  
Despite the conflict of how to resolve abusive alcohol consumption, students are encouraged by fellow classmates and university staff to seek out aid whether in or outside UTEP. 
Sven Kline may be reached at [email protected]