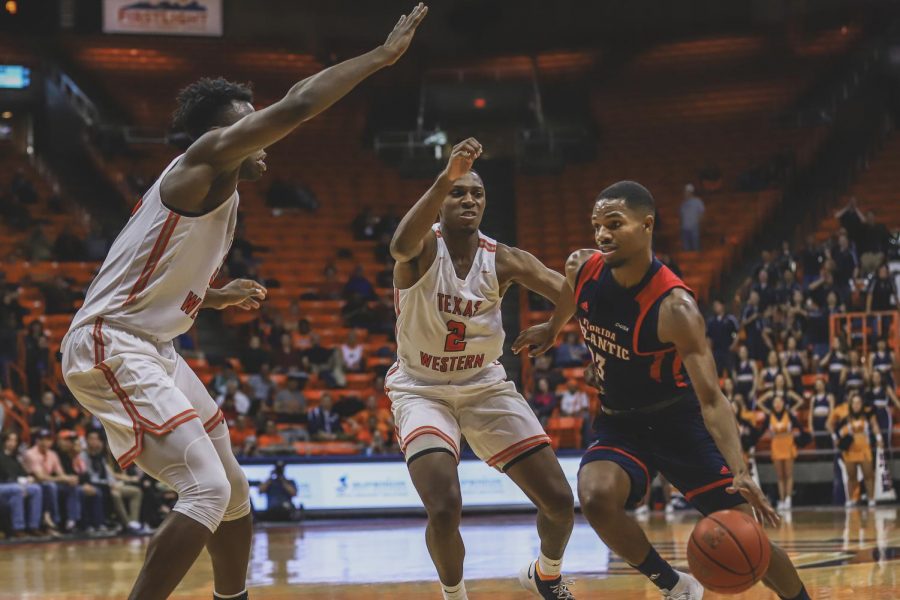 Gaby Velasquez
The UTEP men's basketball team(7-15, 2-9) were defeated by the Florida Atlantic Owls (14-10, 5-6) 61-48 in an exceptional shooting performance by the Owls. Florida Atlantic shot 13-of-26 from three and were 23-of-58 from the field. The Miner son the other hand had an abysmal shooting outing going 15-of-53 from the field and 5-of-27 from three. The Miners have now lost four straight and are currently in 13th place in the Conference-USA standings.
" We struggled shooting the basketball tonight and give the credit(FAU) they made some shots tonight and we knew coming in that they were a good shooting team," head coach Rodney Terry said.
Florida Atlantic senior Anthony Adger finished with a game-high 27 points shooting 8-of-11 from three-point land.
"Adger has been playing really well as a senior making shots and he did nice job of working his game and doing what he does best," Terry said.
The Owls shot 7-of-15 from three in the first half while Adger shot 3-of-6 from three in the first half. Florida Atlantic led the Miners 30-19 going into halftime. The Miners 19 points at the half is the second-lowest scoring first-half this season after their 17 point first half performance against Rice. UTEP also shot 23 percent from the field in the first half.
Freshman guard Nigel Hawkins led the Miners with 12 points, while freshman forward Efe Odigie led the Miners with 10 rebounds and chipped in with seven points. This was Odiege's 12th double-digit rebounding performance.
The Miners were down 42-36 at the 12:13 mark in the second half but as it was all night the Owls were knocking down three after three halting the momentum of the Miners.
Currently sitting at 13th place out of 14 teams in the conference the Miners are on the outside looking in when it comes to making the conference tournament.
The top 12 teams making the postseason conference tournament with the bottom two teams being out of the tournament.
"It's one game at a time right now for us and we're working hard right now to get in that position in the conference tournament and you wanna get these guys that experience," Terry said.
The Miners will be in action again against Florida International University(14-10, 5-6) at 7 p.m. Feb. 9 at the Don Haskins Center.
"They're a fast-paced team and they like to play up-tempo and we're going to have to put the ball in the basket," Terry said.