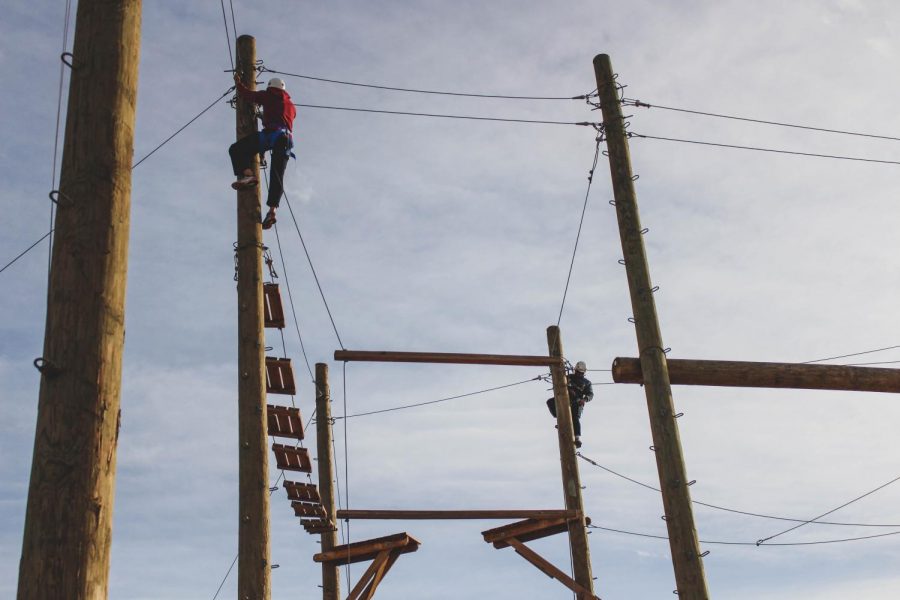 Claudia Hernandez
Since 2001, the UTEP Recreation Center has given students the opportunity to learn new skills and develop teamwork through the Challenge Course.
Alicia Coltrane, the Outdoor Adventure Program (OAP) coordinator of the Challenge Course, said the course has two parts: the low activities, which are no more than two feet from the ground, and the high ropes, which are mostly 20 to 40 feet off the ground.
Coltrane said the course operates on group dynamics, with participants filling different roles to complete the course.
"It's about leadership. … You might get people who can lead, people who are following, people may have communication issues. So, we work on that," Coltrane said.
The challenge course was an idea born by the former assistant director of the UTEP Recreation Center, Kit Keeton-Pettit, after she learned about special courses in Arizona that focused on at-risk youth and helped them personally improve, even after society seemed to give up on them.
While UTEP students are not necessarily at-risk, Coltrane said, the concept of personal improvement applies with the Challenge Course as a useful tool to develop students, all the way from new student orientation to graduation.  
"We utilize it for building up our students. … Our students go through many things coming here as first-time college students," she said.
Coltrane said it is fascinating to be a part of the students' lives and see them along their journey through their education and jobs, and roles as students and adults.
"What we use to develop our students through leadership, through social engagement, through all those pillars in life – you can do that here with our challenge courses."
Last week, students who work at the recreation center were trained to be facilitators for the challenge course. Coltrane told The Prospector that course must be staffed by students which is why it is important for groups to reserve a spot in advance.
"It's not just open to just come and it's there for you. We have to staff it with our students. So right now, during this week, we are training our student staff that works in Student Recreation Center to be facilitators out here for the challenge course," Coltrane said. "So we need to know how many are coming so we can reserve a spot for them."
"I hope that we can get more students; I really want more people to be involved with it. And especially our students here," Coltrane said.
The cost for the Challenge Course ranges from $15 to 30 per person for UTEP students and reservations are needed at least two weeks in advance. For nonprofit groups with no connection to UTEP, the cost ranges from $25 to 40, and for corporate groups $50 to 100. Non-UTEP groups must make reservations at least four weeks in advance.
For information, call 915-747-5103, visit the Recreation Center at 3450 Sun Bowl Drive or online at utep.edu/student-affairs/rsd.