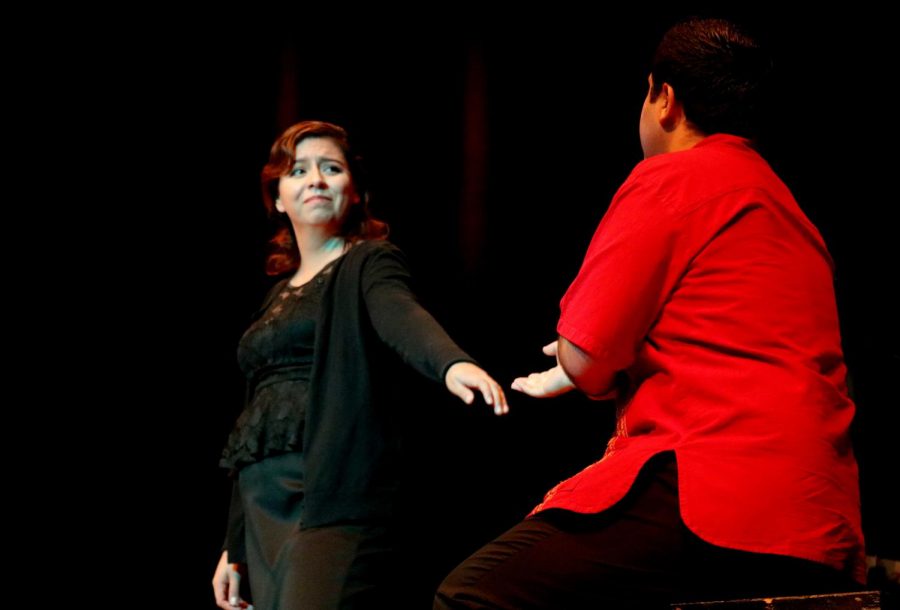 Priscilla Gomez
Opera UTEP made their debut on Friday, Nov. 2, with their Fall Opera Showcase. The double casted performance included acts from composers Samuel Barber, Giacomo Puccini, Jorge Martin, and Gian-Carlo Menotti.
UTEP's Department of Music Vocal Area offers Opera UTEP for undergraduate and graduate ensemble credit. This Opera Workshop teaches students the fundamentals of operatic performances.
Students meet four times a week for six hours all semester long. However, with the help and guidance of Opera UTEP director, Cherry Duke, students are able to put on successful shows for the community.
"Six hours is not nearly enough time to put on a show. The students have to come with their music learned, and we help them as much as we can but there's not a lot of time," said Duke. "Many of our students are brand new to acting or moving while they're singing, there's a lot of real teaching that has to go on before they're able to do this, but I think you'll see we achieved a pretty good result."
They started the night off with Samuel Barber's 10-minute comic opera, "A Hand of Bridge." The act consisted of two unhappily married couples playing the card game Bridge. The act included performances from UTEP students Aníbal Acevedo, Emilie Merritt, Antonio Motta, and Alejandra Sandoval.
Sandoval was one of many lead performers on Fridays show. She was able to show audience members her talent by performing as Sally in "A Hand of Bridge," as well as Suzuki in the three-act opera, "Madama Butterfly."
"Madama Butterfly," made its debut in 1904 in a northern Italian city called, Brescia. Therefore, she, as well as other performers, had to learn how to sing operatic songs in Italian.
"First you have to go translate that text because of course I did not know, and then we learn what's called "IPA" which is the International Phonetic Alphabet, to be able to say it correctly," Sandoval said. "It's just really interesting and really challenging, but it's really awesome."
After cast members performed a few Giacomo Puccini pieces such as "La Bohéme," "Suor Angelica," and "Madama Butterfly;" they ended the night with Gian-Carlo Menotti's "The Telephone."
This 20-minute romp gave the audience a great laugh by focusing on how a giant telephone was a distraction in a couple's relationship. Though the opera was written in the 40s, it speaks to our battle with cell phones today.
An additional showcase is set for Sunday, Nov. 11, at 2:30 p.m., at the Fox Fine Arts Recital Hall at UTEP.
Ashley Johnson may be reached at [email protected]