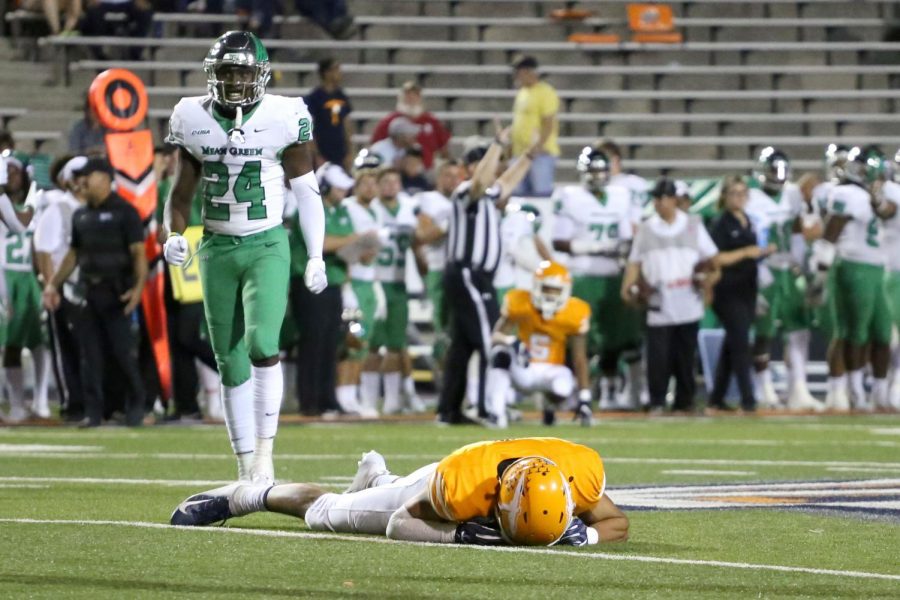 Gaby Velasquez
Another promising start for the UTEP Miners (0-6, 0-2) ended in defeat Saturday, Oct., 6, against the North Texas Mean Green (5-1,1-1). The Miners did put up a fight against the nations 12th best offense, which averages 443 yards a game, but in the end, it was not enough.
In a highly contested battle against the defending Conference-USA Western Division champions the Miners certainly had things rolling in the first half.  
Starting with a 39-yard field goal by senior kicker Jason Filley. UTEP started off the game with a 3-0 lead when senior quarterback Ryan Metz went 2-for-3 for 44 yards.
Then the ball was in Mason Fine's hands, the North Texas quarterback is ranked fourth in the nation with the most passing yards. Fine connected with sophomore wide receiver Jaelon Darden on an 18-yard touchdown pass on the next drive.
On the Miners next possession, Metz who started in the place of the injured junior Kai Locksley, capped off an eight play 82-yard drive with a 28-yard touchdown pass to junior running back Quadriz Wadley.
For most of the game, the front-runner for C-USA offensive player of the year Fine was held in check.
Fine who now has 1,624 passing yards on the season to go along with 15 touchdowns and one interception was held to 138 passing yards going 9-for-19 through two quarters. This was a testament to the Miners defense which allowed Fine to have 294 yards on the evening passing as opposed to his season average of 328.
"I thought we had a solid game and everybody stepped their game up and when we needed a stop" senior defensive back Khani Smith said.
Smith had 5 tackles on the evening four of them being solo.
Turnovers were a stop sign on the Miners road to a win again as UTEP had two in the form of interceptions whereas North Texas commit any.
"That's the big thing for us right now are turnovers and we have to win the turnover game and eliminate them" head coach Dana Dimel said.
Metz stepped up in a big way for UTEP having a career-high going 16-for-33 with 313 yards, two touchdown passes, two interceptions and also was the first Miner quarterback since Jameill Showers in 2013 to throw for over 300 yards.
"I think Metz did a really good job at finding open receivers and he did some really nice things out there," Dimel said.
Metz's big target on the night was senior wide receiver Warren Redix who had a career-high seven receptions as well as a season-best 131 receiving yards.
"Ryan threw it up and a couple times and I made a couple of plays," Reddix said."We're definitely close to winning we just have to eliminate mistakes and we'll be fine."
The moniker for this game is how close the Miners are to winning as it was within reach tonight.
"We're really close it's right there for us the last four games and we've overcome adversity with the amount of guys we have injured but to come out and perform against the defending conference champs the way we did is an attribute to how much we've improved," Dimel said
The Miners had one last shot for a win on the final drive of the game with a 4th and 17 play that was unsuccessful after a throw by Metz to senior tight end David Lucero brushed off Lucero's fingertips, that play would've put the Miners in great field possession with a minute left.
"We were right there and David made a great effort and it would've been a heck of a play but everybody played a really great ball game tonight," Dimel said
UTEP will have a bye week next week but will then head to Ruston, Louisiana on Oct., 20, to play the Louisiana Tech Bulldogs.