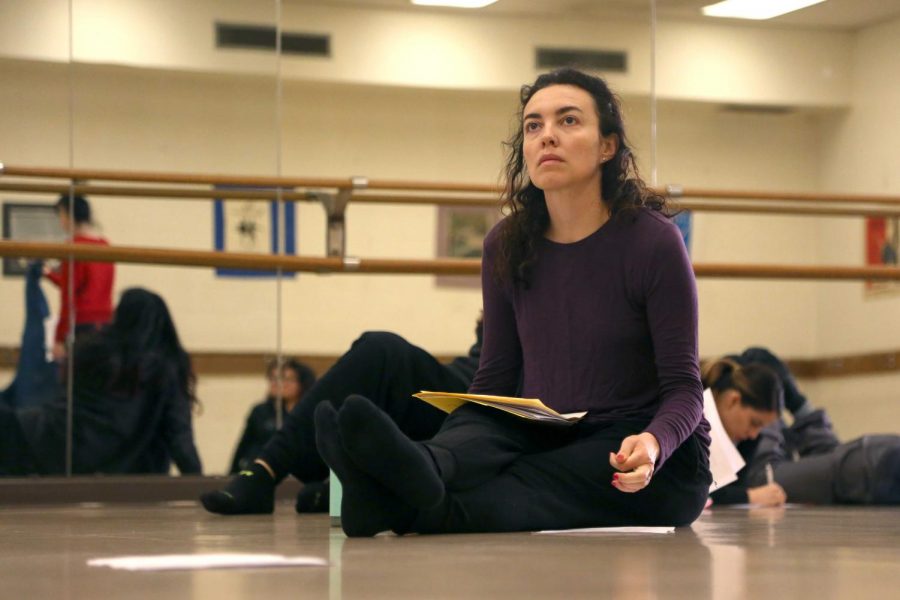 A traumatic accident changed the course of Cristina Goletti. While walking on the streets of Italy, she was hit by a motorcyclist from the back, causing a life-altering injury.
Goletti, a dancer and associate professor and chair of the theatre and dance department at UTEP, found herself bedridden for a little while, but the stillness was enough to make her determined to dance again.
She currently serves as president for the World Dance Alliance Americas, and is one person on campus that seeks to change how women and minorities succeed in the arts.
Before moving to El Paso, Goletti had an elaborate career of dancing and traveling around the world. Her education includes a master of fine arts from the University of Colorado at Boulder with a secondary emphasis in gender studies and somatics (study of bodywork and movement).
Born in Italy, Goletti received her first taste of dance when she began taking ballet lessons. 
Despite the setbacks she may have encountered, including the lack of dance training in school, she found a way to make it work.
"In Italy, unfortunately, dancing is not a part of the school curriculum, so I always have to have my academics first and my dance on the side," Goletti said. "So, from an early age I've been working really, really hard."
She sought to improve her craft and decided that she would audition for the London Contemporary Dance School, which according to her, is the best in the world.
Goletti was called back for a second audition, which she was forced to miss due to her obligation to a show she had already been cast in.
Thinking she missed her chance, she returned home from vacation, where she received a letter from the LCDS congratulating her on her admission to the school.
"I came back from holiday and there was a letter from the school that said 'Congratulations, you've been admitted to the London Contemporary Dance School (LCDS)," she said. "I was like, 'I didn't even go to the final audition. How did that happen?'"
She took her once-in-a-lifetime opportunity and moved her life to London, a foreign country to her native Italy, and she spoke little to no English.
"It was very difficult, very complex to get adjusted. I was sharing an apartment, there was a different language, a different currency," Goletti said.
Goletti stayed there for two years and completed a one-year certificate in art education and soon after, auditioned for the post-graduate company at the school where she was accepted in.
"It's basically a company that represents work by emerging or renowned choreographers," Goletti said. "We tour extensively in England and then we also tour in a little bit of Europe."
Once her time at the LCDS had come to an end, she found herself in Ireland, where she continued to grow her opportunities.  In 2007, she and Nick Bryson co-founded Legitimate Bodies Dance Company, the dance company in residence at the Birr Theatre and Arts Centre.
The company has toured to some of the most important venues and festivals in Europe, the USA and Mexico, such as Aerowaves Dance Festival at The Robin Howard Theatre London, Dance House Limassol, Auditorium Theatre Rome and the European Parliament in Brussels, just to name a few.
In 2013 she moved to Mexico to work at Universidad De Las Americas Puebla as a full-time professor, becoming the school's chair of the arts department in 2015. During her time in Mexico, she co-directed the festival Performatica.
Goletti found herself in El Paso just four months ago in October when she became the chair of the theatre and dance department.
She says that the demographics of the population in El Paso and her personal experience with Mexico is what really attracted her to UTEP.
"One of my goals is to make sure that the faculty and the curriculum that we offer are absolutely aligned with the demographic of our population, but also with the mission of the school, of the university," Goletti said.
The department is revising its curriculum and looking at a way to bring in more performance studies and infuse them within the community and to become more art engaged with this community. In dance, specifically, they're moving toward two tracks. One track is performance and the other one would be a dance studies/community-engaged type of art track.  It is not necessarily for people who just want to dance or perform, but for people that want to use dance as a language for social change and social justice.
She believes this will help people understand the value of dance in terms of the larger academic institution and how dance can be absolutely at the same table with social justice.
"Dance is part of the way we understand the world," she said.
Her colleagues have also spoken highly of her. Professor and head of the dance program Myron Nadel says that in the short time Goletti has been here, she has already had an influence on the community.
"In only four months, our new chair of theatre and dance has been an inspiration for students and faculty in all our areas including, theater, technical and dance," he said. "Professor Goletti is intelligent, imaginative, competent, empathetic, and as they say in music, has 'the chops' to build a future for a university department of prominence, not only on the border, but in the entire country."
Goletti knows the potential UTEP and the students in her department have and the way they can make an impact not only on campus, but in the world of arts.
"You have a lot of women entering with this idea of 'I want to become a dancer or I want to become an actress,' but who gets to the top are very often men. So, what I'm hoping I'll be able to achieve while at UTEP is to make sure that my program is doing everything that we can to provide the tools and the confidence for young women that might not look like what a traditional ballerina might look or how traditional actresses look, that they have the confidence to go out and change the world," Goletti said.
"We need that. We need more Latinas. We need to see people on TV who have accents. I think bilingualism is fundamental. People that can bring this, that can bring forward this culture–this multicultural identity is super important in their work as artists, as citizens."
Along with the UTEP community, she also believes El Paso can be the start of the change she seeks in her students due to the strengths of the community when it comes to women in power.
"El Paso is great though, it has great women in position of leadership," Goletti said. "It's a really wonderful community and I think a lot of positive change are going to come out of El Paso."