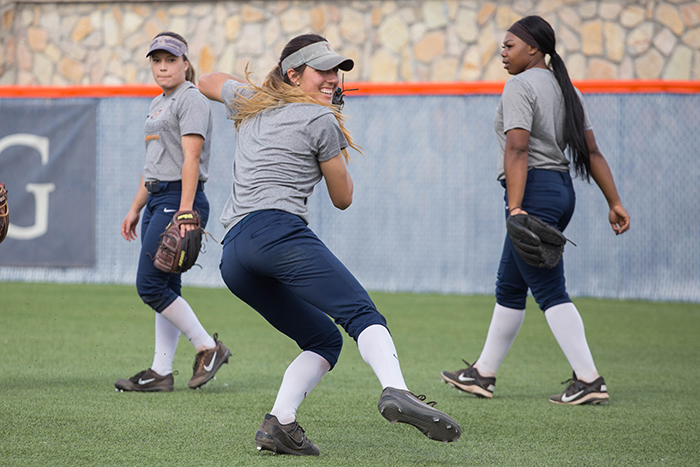 Michaela Román
Ariel Blair began playing softball at the age of 6 and instantly fell in love with the game. But where she is now, a key piece to UTEP softball's team, is something far different from where she thought she would end up.
When Blair was 14 and in the midst of her sophomore year at Hanks High School, she contracted a throat infection that would turn into something much worse. First her hands went numb and then her feet went numb.
"There was a short moment where I thought I would never play again."
After a week in the hospital with multiple CT scans, an MRI, blood work and other work done on her, Blair became paralyzed from the elbows down and the knees down. Blair went from fielding balls and running the bases at Hanks to being in a wheelchair.
She was diagnosed with Guillain-Barre Syndrome, a rare disorder where the body's immune system attacks the nerves. The exact cause of Guillain-Barre Syndrome is unknown.
"It definitely was something that changed my outlook on things. It was something I was able to triumph through just with the help of my support system, my faith in God and my family," Blair said. "I felt it in my heart that I was going to get through it."
A big part of her support system is her dad, former UTEP tight end Jason Blair (1993-96).
Although Guillain-Barre Syndrome forced Blair to go through something many don't, she didn't look down on it, instead she saw the silver lining to having the illness.
"I wouldn't be here today if it wasn't for going through that because it did make me realize that I can get through something like that–and it felt good to know that I had people behind me," Blair said. "Even now in college, my teammates, coaches, trainers and everyone is so supportive. They always remind me that I have that strength because they're behind me and support me."
Now, with her health back on track, Blair does not want what she went through to define her as a person. Instead, Blair said she can be defined as a Division I softball player who got the opportunity to accomplish something not many can claim—she earned the right to play for her hometown university at UTEP.
In her high school career, in which she played all four years of varsity softball for the Knights, Blair was named to the El Paso Times All-City first-team her senior year. During that year, she hit .469, recorded 25 RBIs, had six doubles, two home runs and was one of the biggest threats in stealing bases. In fact, she was third in the nation in bases stolen (39) and second in state in runs scored (65).
With UTEP being more than interested in adding a talent like Blair, she said she knew El Paso was where she wanted to continue playing softball.
"This is probably one of the best decisions I have ever made. I love being able to wear UTEP across my chest every game and to support my hometown," Blair said. "I want to make the community proud."
Not only would Blair bring major value on the field for UTEP, but also with her team-first attitude, she is also known as a person that lifts the spirits of her teammates and helps make the team the family that they are.
"AJ (Blair's nickname on the team) will go through a brick wall for anyone on this team," said senior Kaitlyn Ryder. "The definition of a great teammate is AJ. She picks everyone up, she is the first one that offers to do extra to make the team better, and she's just the type of person you can really rely on."
From day one with UTEP, Blair would see a lot of playing time as a freshman. During her freshman year, the center fielder played in 34 games and started in 22 of them. She hit .290, scored 15 times and was tied for the team lead with two bases stolen. In her first year (2016), Blair helped lead the Miners to their only winning conference record in program history (13-11 C-USA) and most wins since 2010 (23).
The following year, she made 32 starts and played in 38 games. Being the speedy player, Blair led the Miners in bases stolen (five). She also tied the team-high five sacrifice hits and batted a .265 batting average, totaled 16 runs scored with  47 putouts and four assists.
Fast forward to today, Blair has kicked off her junior season on fire.
During the Marucci Desert Classic tournament in Las Vegas earlier this season, Blair paved the way for UTEP to win their final three games of the tournament after losing the first two games. She batted an eye-popping average of .500, had a .538 on base percentage, stole three bases, scored three times and added one RBI to her impressive weekend.
"She's starting to put everything together and everything is clicking for her right now," said UTEP head coach Tobin Echo-Hawk on Blair. "She really worked hard this offseason to perfect some of her slaps. She's done a great job of listening and being coachable, I think that's a big reason why she's having the success she is."
As of now, UTEP is 8-7 after winning eight of their last nine games. Blair has been the lead-off batter for the Miners for the majority of the games this season, and it has improved the overall play for UTEP since the move.
Blair again leads the team in steals (six) so far, but she is much more than just her speed. She's fourth in batting percentage (.414), has 12 hits, has scored seven times and has a .452 on base percentage so far this season.
Since her first year to now, Echo-Hawk and Ryder said that the aspect that Blair has improved the most in is her confidence. She has more of the mentality this year to attack the pitcher and not let the pitcher attack her.
Blair's goal this year is to win Conference USA. She believes UTEP has the tools to do so.
"I know this year we definitely have the potential to do it," she said. "Everybody is 100 percent bought in. That's definitely a goal we're shooting for, if not, past that goal."
Aside from softball, Blair is a health promotion major and would like to pursue her dream of going to nursing school, specializing in neurology.
  Follow Mike Flores on Twitter @mikey__flores
Editor's note: The Prospector previously published a feature photo that was not Ariel Blair. It was another Softball player. Since then, the photo has been updated.