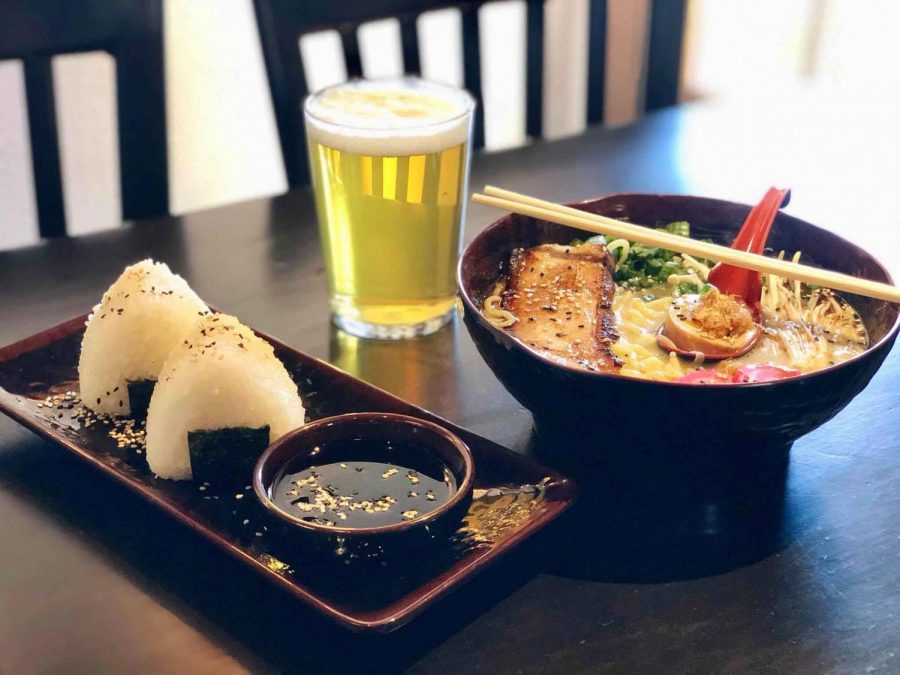 Kaedama, the popular ramen food truck has taken shape from a black 1976 VW bus, into a small yellow building on 204 Boston Ave. after a successful crowd-funding campaign through Kickstarter that helped the owners realize their dream of turning their bus into an actual restaurant.
Gabe Valencia and Andres Romero closed their food bus on Nov. 30 in order to prepare for the opening of the restaurant. About one month later, doors officially opened to a long line of eager fans waiting to get their hands on a bowl of ramen. Opening day was so successful that food actually ran out two hours before closing.
"It is exactly what I wanted it to be, but my thoughts about it were extremely unrealistic and it's just amazing how people will still line up to eat our food," Romero said. "It's a dream come true, very surreal."
However, some things have changed, Kaedama is not only serving noodles, they also serve beer from local brewery, Deadbeach. Though serving alcohol was always a part of their plan, it's no coincidence they chose to serve beer from Deadbeach as it was Kaedama's first "home" for about one year and the first place they opened their food bus to the public.
"I wanted to serve their beer first, just like they had us for our first time opening," Romero said.
The Food
Kaedama has made its name serving up ramen dishes, and it's more than just your average instant cup of noodles. These are hearty large bowls filled with tasty noodles and an even tastier broth.
The most popular bowl is the mouth-watering Tonkotsu ramen, a bowl filled with scallions, enoki mushrooms, uzumaki (pink fishcake), chasu (braised pork belly), mayu (blackened garlic oil), pork fluff, a soft-boiled egg and a flavorful broth. It's so good that I can eat it alone, and the 12 hours of preparation to make this pork broth is worth every spoonful. The broth is not spicy, but I like to add a bit of spice to my bowl and they are happy to oblige by adding a bit of chili paste and chili oil.
They also have meatless dishes for those vegetarians and vegans out there.
The Spicy Miso is another favorite with its miso broth, scallions, sweet corn, woodear mushrooms, marinated tofu, soft-boiled egg, chili threads and chili oil.
The Tossed ramen is a broth-less bowl that's perfect for any weather but is more of a spring or summertime dish. This is a colorful dish made up of purple cabbage, carrots, sweet corn, scallions, miso ginger vinaigrette, uzumaki, soft-boiled egg and seaweed salad.
Other bowls in the menu are the Curry and Ramon, both of which I have yet to taste, but sound just as delicious as the rest. Both can be customized to include your choice of tofu or meat such as chicken or pork belly.
With the new restaurant also come new dishes, such as small appetizers and desserts. Although I did not try anything from that side of the menu, the Pork Gyozas and Veggie Gyozas dumplings are on my list of must try on my next visit.
There's also the Edamame, Seaweed Salad, and Krab Onigiri, which is sushi rice stuffed with crab, spicy mayo and cream cheese. Desserts include a Matcha Chocolate Marble Cake, Dessert Ramen and Mochi of the Moment.
One item you may see missing is the popular sushi burrito which may break some hearts. The decision not to bring back the sushi burrito was tough due to its time-consuming preparation and will remain absent from the menu for now. Valencia and Romero are thinking of ways to incorporate the sushi burrito back in their menu.
The Service
Usually, with new restaurants there are some kinks to work out, but during my visit the service was great. The workers are friendly and quick to take your order. Drinks were brought to my table fast, and the food did not take long to be served. I've waited longer to get my bowl of ramen when their bus was still in service. It helps that the menu is not big and that there are more than three people-like during the food bus days-working to make sure the food comes out great.
Here's the thing though, I arrived at the restaurant about 20 minutes before opening and happened to be the first person in line. Not even a minute had passed and other patrons began arriving, jumping out of their vehicles to get in line behind me. By the time the restaurant opened their doors at 12 p.m. sharp, there was already a line of about 20 people waiting. I was able to get a table as soon as I went inside, but a few others towards the end of the line did not get so lucky.
It's safe to say that if you want to get your food fast, especially during the lunch rush, get in line early or be ready to wait just like the old days. If you don't feel like waiting, you may have an easier time going towards the later part of the evening, either way, it's worth it.
Hours: Tuesday – Thursday: 12 p.m. to 10 p.m., Friday – Saturday 12 p.m. to 12 p.m.
Location: 204 Boston Ave.
Prices: $4 – $10.50