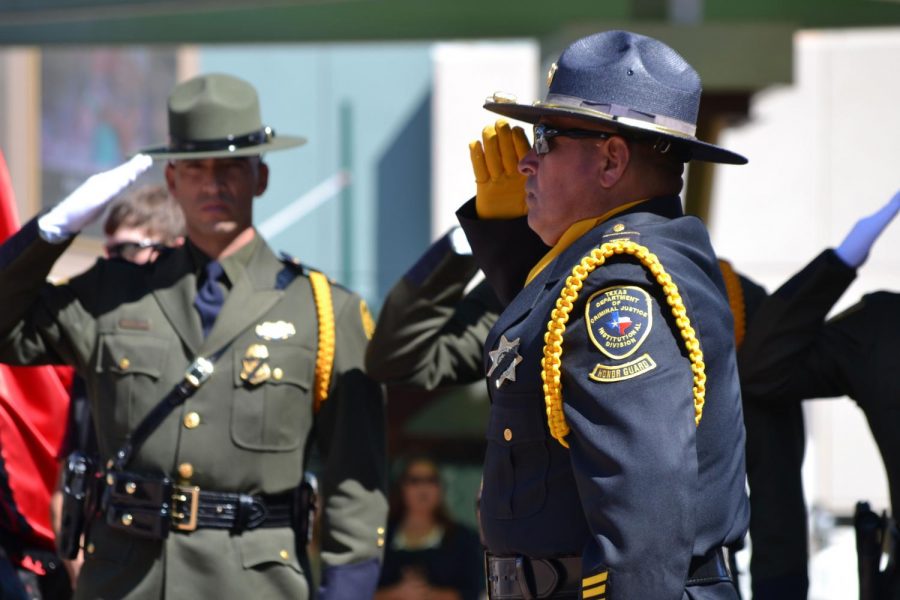 Claudia Flores
Family, friends and members of the Texas Tech and El Paso communities gathered to celebrate the life of Floyd East Jr., El Paso native and Texas Tech University police officer.
On the night of October 9, East was shot in the head by 19-year-old Texas Tech student Hollis A. Daniels after he was brought into the University's police station when officers found evidence of drugs in Daniels' dorm room.
The memorial was held at the Chavez Theater, where members of the El Paso police department, the Texas Tech police department, Lubbock police department, the border patrol and Corpus Christi police department lined outside the building as East's wife Carmen, his two daughters Ana and Monica and family members entered the theater.
"The loss of Officer East a week ago is a tragic reminder of the risk our public service faces every day when they wear their uniforms," L. Frederick Francis, chairman of the Texas Tech University System board of regents, said during the memorial. "It is they who willingly put themselves in harms to protect us so we can go live our daily lives."
East attended Andress High School in Northeast El Paso. In 2014, East joined the Texas Tech Police Department as a guard of Texas Tech University Health Sciences Center El Paso and he later pursued a peace officer license at the El Paso Community College Law Enforcement Training Academy.
"Officer East sacrificed being with his loved ones so he could eventually secure a career for himself and a better life for his family," Francis said. "Officer East dedicated his life to keeping our campus safe, he is a hero in every sense of the word."
During the memorial, Robert Duncan, chancellor of Texas Tech, Lawrence Schovanec, president of Texas Tech, Richard Lange, president of Texas Tech University Health Sciences Center El Paso, and a family member shared their grief and condolences for the loss of Officer East.
Angie Escarciga, a family member on East's wife family side, said the family wanted to show a picture of who Floyd was, but with such short time, they didn't know how. So they chose to share a mental montage.
"We'll remember the look in your face when you first got your badge and how happy you were to be learning so much on the P.D and how welcomed you felt, and how happy you felt to finally join a cause that was important," Escarciga said.
After East graduated, he received his peace license and was transferred to the Texas Tech Lubbock campus to complete his field training.
East had plans to transfer back to El Paso and rejoin his family once a position became available with the Texas Tech Police Department in his hometown.
"Thank you to all of you who eased the stress of bringing Floyd home to rest, we can never repay you for all of this," Escarciga said.
The ceremony concluded with the release of one thousand balloons to commemorate his memory.